Welcome to the Shift Number Cruncher. There were so many stories coming out of Hangtown last weekend that people are still trying to get caught up. As a result, there was an effort that kind of got overlooked that we feel deserves a little more stoke.

North Carolina's Broc Tickle has been making some noise all year long and last weekend he threw down two exceptional motos to earn eighth overall against one of the most stacked class of Lites competitors ever. Now we're paying homage to his #75, which has a history that coincides with the present day rather well: the regional qualifiers for the 2007 Air Nautique AMA Amateur Motocross Championships presented by Amsoil at Lorreta Lynn's begin this weekend up in Washougal and after some investigating we discovered #75 has some heavy Loretta's history. We also found a few other cool things sharing association to the digit. Enjoy.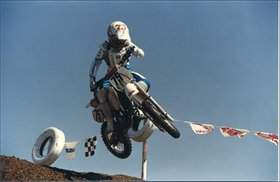 Craig Decker
photo: Decker Archives
Craig Decker
was one of the fastest minicycle riders in the country throughout the late '80s and early '90s and is a four-time Loretta Lynn's winner. A couple of his trademarks were his AXO gear and #75. We did a
where are they now
on this all-around good guy about a month ago.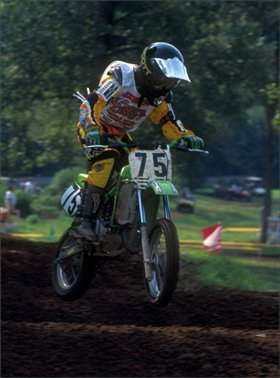 photo: Cox
Check out
Josh Hill
way back in 1998 running the 75 on a KX60. Josh was religious about this number as he ran it all the way through the A classes and into the pro ranks where he was #375.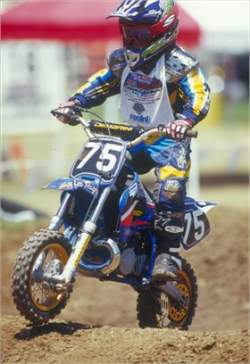 Justin Hill
photo: Simon Cudby
And check out his little brother,
Justin
, here representing the 75 pride! Justin gassed it to 2nd overall in the 51 (4-6) class 1 with 2-3-2 moto finishes. Cute little bugger, isn't he?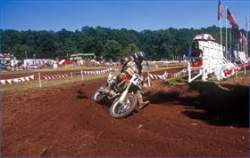 Jon Boruff
photo: Simon Cudby
Shown here notching the famous left-hander tree turn in 2002 we have Winchester, Kentucky's
Jon Boruff
. Jon has been attending Loretta Lynn's for over a decade. This year he is signed up to do battle in the Junior +25 and the A classes. I remember racing him when I was in the A classes back in the day and I'm stoked to throw him some love in the cruncher!
Jeff Pestana
was AMA national #75 in 1991. This Hi-Flier shot of him has to be at the famous '91
Hangtown
Mudder. Kind of cool to imagine that was some 16 years ago! Jeff is still riding all over Norcal and can still carry the mail.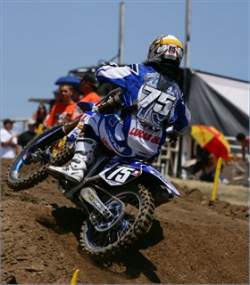 photo: Simon Cudby
Here's the new cat that knows how to show up and blow up! If you remember correctly, Lucas Oil/Star Racing's
Broc Tickle
came out swinging in the first supercross main event of his professional career up in the great white north and ran second. He carried the same mojo to
Hangtown
where he rode hard to 7-8 moto finishes. A feat that was perhaps overlooked in lieu of the RC/JBS battle, the RV/
J-Law
disagreement, and Ben Townley taking his first win. We have your back, Broc. Take that momentum into this weekend and make the east coast proud.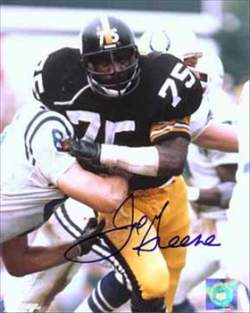 Mean Joe Greene
If you were a quarterback in the late 70s and saw #75 in a Pittsburgh Steelers jersey running toward you, that meant your ass.
Joe
is perhaps the most famous #75 of all – especially is you ask the highly partisan Steeler fans in the office.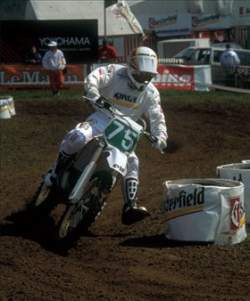 Donny Schmit
photo: Racer X Archives
However, the man who owns #75 in motocross. A true legend,
Donny Schmit
was the epitome of hard work, perseverance and absolute determination. When he died of a rare blood disorder in the winter of 1996, it was one the most shocking things I have ever heard. Like probably anyone who knew him, I remember thinking, 'Donny Schmit? He was Superman, there's no way we've lost him!' By that time, he had lived an amazing life, with wins all over the planet, including two world championships.
(
DC wanted to add this: One small thing he did that I remember vividly happened his last Grand Prix season, 1994. It was in Schwanensatdt, Austria, and it was the last GP win of his career. He was wearing this really cool black gear, riding the #3 black Chesterfield Yamaha. At the end of the moto, off the top of that huge, nasty, treacherous uphill after the finish line, out of nowhere he threw down a nac-nac! It was one of the coolest things I have ever seen. I still miss that guy a lot
.)

More
2006: Evan Laughridge - 2002 AMA Horizon winner
2005: Richie Owens - recently moved over to the WORCS series
2004: Billy Laninovich – earned it, but ran #132 instead
2003: Wally Silva – Southwick legend
2002: Ted Campbell - LeoVince Rider Rep/Privateer
1998: Jimmy Lamastus – Badass from Montana
1996: James Eickel – Ohio wild man
1994: Fred Andrews – One of the top privateers of all-time
1993: Joel Dengler – old school but still cool
1990: Mark Barnett – The Bomber, 'nuff said!
1989: Larry Jackson – We have no idea…
1986: Gordon Ward – the REAL inventor of the Heel Clicker
That's all we have this week and we hope you enjoyed it. If you have anything else, send it over to me here.