5 Minutes with ... Kerry Graeber
The 2007 AMA Toyota Motocross Championships kicked off with a wild weekend in Sacramento last week, with Ricky Carmichael engaging James Stewart in another thrilling duel, and the Lites class packing more drama than we usually see in an entire season! Kerry Graeber, AMA Racing's Vice President of Communications, had a front row seat at Hangtown, along with new AMA President Rob Dingman, and the VP of Government Relations Ed Moreland. We called him up for a little bench-racing on RC and Bubba, Ben Townley and Ryan Villopoto, and of course the Jason Lawrence Show!
Racer X: Overall, Kerry, what did you think of the event?
Kerry Graeber: I'm very happy with how the first motocross event of 2007 turned out. We had ideal weather, there was great racing and, as always at Hangtown, a huge, enthusiastic crowd. The Dirt Diggers had the track groomed to perfection and worked hard to keep it that way throughout the weekend. I think it was a good start to what should be another strong year for AMA Motocross.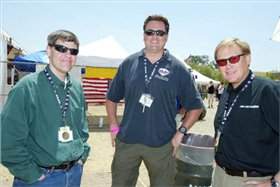 AMA Racing Vice President, Kerry Graeber (right) joined by AMA President/CEO Rob Dingman (left) and VP of Government Relations, Ed Moreland (center)

photo: Steve Bruhn

The first moto between James and Ricky -- where does that rate on your personal list of all-time battles?
Well, obviously I'm lucky to see a lot of motorcycle races because of what I do, but I have to tell you this one was special. I watched the first moto of the Motocross class from the announcer's tower and I was mesmerized. Carmichael and Stewart were just unbelievable and it's hard to comprehend how fast they were going. The level of competition between those two is amazing.

What did you think after James won the first moto -- did you think Ricky would rebound like that?
Let me tell you something, I ran into RC in the tower during the second moto of the Lites class and I'll never forget the look on his face. Call it focus, or determination, or whatever, but I remember thinking to myself at the time that he definitely wasn't done for the day. For him to come back the way he did in moto two just underscores what a great champion he is.

The Lites winner, Ben Townley, was almost as surprising to some folks as Ricky beating James. But you saw this guy at Daytona, right? Did you think then that he could come out and beat Ryan Villopoto in their first motocross match up since last July?
There's a reason why Townley is a former World Champion. I think he and Villopoto are going to be pushing each other all season. It should be fun to watch.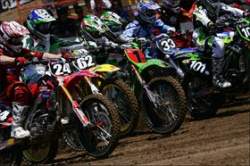 There's a reason #101 is a former World Champion

photo: Simon Cudby

The red number plate that defending champs wear... I loved it on RC's yellow bike, but on Ryan's green Monster Energy/Kawasaki, my personal opinion is that it gets a little lost.... Any chance to let him use a white number 1 on red?
[Laughs] I'll have to talk to Steve (Whitelock) about that. The point is to make sure the champions are easily identified. White and black backgrounds are used for the Motocross and Motocross Lites class respectively, so I guess those colors are out, though!

Of course, Villopoto's title defense started with that Saturday afternoon deal with Jason Lawrence.... Wow, the AMA had its hands full there. What did you think the moment you heard about it?
It was a pretty volatile situation from the moment it flared up. Emotions were definitely running high on all sides and everybody was trying to influence the outcome. In that situation the objective of our race officials is to calm everything down, get the facts and then render the appropriate decision. Given the complexity of this situation, I believe Steve and his crew made the right call.
I saw it, but it was from the mechanics' area. Once I got over there, the first person I spoke to about it was Dirt Rider's Jimmy Lewis, and the first thing he said was pretty much that it was 50/50 deal. Did you see it that way?
Well, as I wrote in the release we issued on Sunday morning, both riders share the blame in this incident. Lawrence seemed to be the instigator and had received warnings so his penalty was harsher but, again, both riders are at fault.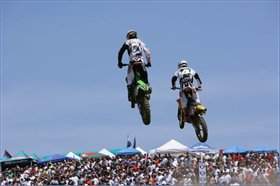 This was an epic battle

photo: Simon Cudby

Obviously, there was a meeting between the first and second practice where Ryan and Ben, then Jason Lawrence all came into the principal's office. But then it got out of control anyway. I saw a lot of banging and finger-pointing (literally) before it got ugly. How could that whole deal have been prevented?
It could have been prevented if the riders had done what they were told to do. That's the part of the story that seems to be overlooked. Warnings were issued after the first Lites practice session and if everyone would have just followed the directions of the officials this whole situation would never have escalated to the level it did.
I was outside the trailer, along with Kit Palmer and Steve Cox and Guy B. and Josh Allen and Chris Tedesco and pretty much every other race reporter when J-Law came over by himself and walked up into Steve's office. Were you in there? What did he say about the whole incident?
Yes, I was there and I can say unequivocally that Jason was fully aware of the seriousness of the matter. He took responsibility for his actions and the way he handled himself in that meeting had a bearing on the outcome.

There were more photos and videos of this one practice incident than anything I can ever remember in motocross! Did any of that play a role in helping the AMA sort the whole mess out?
Yes. I think our officials were very thorough in getting to the bottom of this. They spoke to both riders and teams individually, then there was a meeting with both sides present. Additionally, they met with the on-track officials who were on the scene. As for photos and video, you're right—we looked at several images and that certainly factored into the decision. I believe that our officials should use whatever resources that are available to them to make good decisions and in this case there were plenty.

Personally, I'm glad both boys got to race. But there will always be folks who want to see blood, be it blue or green in this case. J-Law did get the worst of it, both financially and as a result of the 40th pick in both motos, which certainly cost him a real shot at winning and maybe much more in the long run. Do you think that helped show that he was more at fault than Ryan, though both were out of line in the end?
As I said on Sunday morning, when a situation starts to get out of hand like this, our goal is to stop the behavior that is causing it. Our officials considered all the factors and took very specific actions designed to bring things back into control. Both riders were fined and since Jason's actions were what started everything, his fine was higher. He was also placed on probation and he knows that any further unacceptable behavior will result in very serious consequences that will affect his ability to challenge for the championship.
I think the most significant thing that came out of this is that Jason Lawrence stood up in front of the rider's meeting on Sunday morning, stepped up like a man and took complete responsibility for his actions. He also made what we believe to be a sincere apology. It will now be up to him to live up to that apology.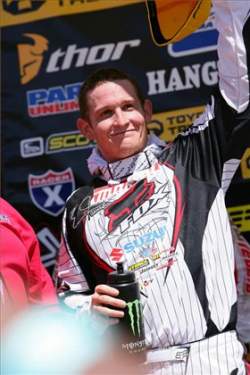 If you have an opportunity to see RC race this summer, do it!

photo: Simon Cudby

Now we go to High Point, which is J-Law's East Coast turf, but the site of RV1's first-ever AMA Motocross Lites win. Do you think they could have a clean race for the win?
Yes I do. It's in each riders' best interest to just focus on racing and we tried very hard to make that clear to them. Our hope is that this situation is now behind us. If it flares up again, we'll deal with it.

Okay, back to Ricky: Five races to go, hopefully... Sadly. That's a huge hole to fill on the Motocross class. How do you replace the irreplaceable?
You don't! But Ricky's legacy will live on. Thankfully we have part of this season to see RC and Stewart together and then after that we'll see who steps it up. There are plenty of up-and-comers on the horizon so I think the sport is in good shape. But I would tell everyone out there that if you have the opportunity to come see RC race one last time this season, do it!!!
Thanks very much Kerry.
Thank you Davey.