Monday Conversation 2: Ben Townley
Ben Townley was part of a moto-long battle of four in the first moto at Hangtown, but he came out in moto two and kicked it up a gear, putting the Lites class on notice that being strong in the end is going to be required all summer. Townley should know: he shares a trainer with the one guy you can count on for never running out of steam, RC himself.
Townley, a former MX2 World Champion and, more recently, the East Coast Lites regional SX champion, traded moto wins with his Monster Energy/Pro Circuit teammate Ryan Villopoto and is tied in points, but he left the first round a lot more confident and with a strong moto runaway under his belt already. Townley is adjusting quickly, and his fitness is going to be an asset as well. The Lites class is shaping up to be a great battle.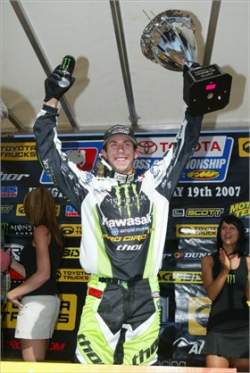 Mission accomplished for BT101

photo: Steve Bruhn

Racer X: Going into the weekend, what chances did you give yourself for taking the overall at round one?
Ben Townley: Well, outdoors should obviously be my strong point right now. I wasn't aiming for just coming out and winning. Specifically, I wanted to have good day and end up on the podium and find out exactly where I am really. That was my main goal for the day. That turned into two solid rides. I did win the overall, but I didn't think the first race was a solid ride in my eyes. But you take the good with the bad.
In your mind, how many of your competitors are potential winners in Lites right now?
Obviously, both Ryans are on it [Villopoto and Dungey]. They're both young and hungry and hard workers. I have spent time with both of them. The sport at his day and age requires 100 percent commitment to the sport. It's not like you can get away with being a softie these days. You have to put in the effort if you want the reward. I think those two are my main competitors as far as the outdoor championship goes. The Lites class is always exciting. Look at Josh Grant. He rode excellent in that first moto. I didn't expect him to do that. He rode well. I'm sure there will be performances like that all summer long.
You said in the press conference that you didn't feel like you were yourself in moto one but got it sorted out for the second. Is that something that happens again, or was that just a bad start to the season and forget about it?
Sometimes it's just how things work out. I had dirt in my goggles, and I made that mistake on that off camber and rode it like a girl for the rest of the race. I was a completely different person for the second race, but that's what you have to do if you want to be a champion. You have to learn quickly and adapt for the second moto. I was really pumped in that off-camber in the second moto, and I rode how I wanted to ride. That's what you have to do. Racing against Ryan with the #1 plate on his bike, he obviously knows how to do it. You have to be strong in all areas.
Is it any different having the defending champion as a teammate?
I don't look at it like that. I just go out there and race my race, and whoever I battle with, so be it. I don't look at Ryan as being any better just because he has the #1 plate. He's a great competitor and I enjoy racing him. It's been fun.
Compared to GPs, the race experience or anything, are there things here you didn't expect or you find strange?
I don't know if I should say this, but the AMA, the way they handle some things sometimes…. That can be surprising compared to GPs. As far as the day goes, you adapt to whatever, and at the end of the day it's two motos. You have your practices, it's like anywhere in the world. The tracks are different for sure. Other than that, they're just like being in a muddy field in New Zealand.
Who travels with you?
My girlfriend, Lucy, we live together. Rubin, who is from Belgium, he helps me out with my riding and stuff. Glen Dempsey [manager] goes to a lot of the races. Aldon, I just live around the corner from him. He helps me get fit for days like this.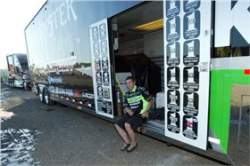 Ben would love to add another plate to those doors this summer

If you won the MX2 championship without Aldon, and now you're here working with him, in what ways has that picked up your game?
I always trained hard, both in Europe and here. There are little things, but I don't want to elaborate on that too much. It does work good for me. There are things Aldon does for me that are different than with Ricky. At the end of the day, it's what you put into it. Being able to pick up the things I have from him has been really great.
I'll put you on the spot with a bench-racing question: If you dropped Cairoli in this race today, where would he be?
I think he would be right up there, without a doubt. He's flying right now. I raced against him in 2004. He would get every holeshot. I was a terrible starter then. I had to pass him every time. He has come a long way since then. He is a very accomplished rider now. I would have no doubt that he would be right up there.