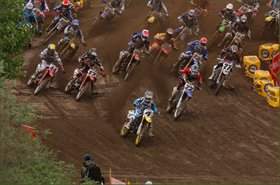 RC is back, and he's hoping to do this again...

photo: Steve Bruhn

Ricky is back, James is ready, the Kaw boys are all ready to battle it out, and the AMA Toyota Motocross Series is ready to blast off at Hangtown. We're also ready to get started with the Racer X Motocross Show on Motocross.com, which should be up soon. (Forgive us for the hiccups and bumping into the starting gate a few times; when it drops, it's on!) We will also have a show up tomorrow night of Saturday's activities, though we made need until late that night to get everything sorted. Just make sure you check here Sunday morning!
Today's Racerhead is coming to you from sunny Sacramento, California, where this weekend we're kicking off summer with the Hangtown Motocross Classic. If any of you fans need information on the event, check out www.hangtownmx.com.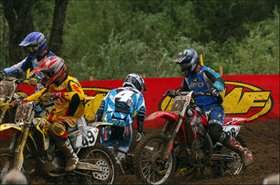 ...and not this.
photo: Steve Bruhn
If you're not, remember you can listen to the
Hangtown
Racer X Webcast on Motocross.com that will get going at 3:30 p.m. EST, 12:30 p.m. local time. It will be
Weege
and
Denny Stephenson
in the chairs, plus
Jim "Hollywood" Holley
,
Rodney Smith
, myself and
Steve Matthes
helping out. It's a dedicated webcast, and you can follow the laps like always on
www.amamotocross.com
.
It's a good time for some new stuff, because this could be one the best seasons of motocross we've had in a long time. The Lites' class is packed, and with RC and Stewart at least enjoying their last battles, and hopefully they will all go the distance. RC is even on top of our preseason
Toyota/Racer X Power Rankings
!
Unfortunately, there are a few top riders who won't be stopping by the Racer X trailer this weekend, as the season will be starting without the services of Makita Suzuki's Ivan Tedesco, Team Yamaha's Broc Hepler, and most recently PPG/Motoworldracing.com Yamaha's Justin Brayton. Brayton's team manager, Paul Lindsey, said this earlier today on Mototalk.
"More bad to news to report guys. Unfortunately, Justin fell at the Prequel and re-injured his shoulder. He had surgery yesterday, and although he is in good spirits and the surgery went extremely well, the bad news is that he'll be out for about three months. He's looking forward to getting back and proving what he can do on the 450, and with any luck he'll be back for the last four rounds, starting at Millville."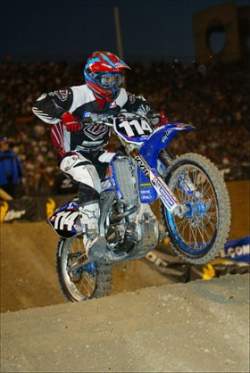 Tough break for Brayton
photo: Steve Bruhn
This is unfortunate for Brayton, who recently inked a deal with the Red Bull KTM team for 2008 and beyond. But Brayton is still with the PPG/Motoworldracing.com Yamaha squad throughout the summer.
As for Tedesco, we didn't really hear anything about him not riding until Steve Bruhn mentioned it to us that he suffered a pretty hard fall practicing at Glen Helen, suffering a concussion; there was also mention of this on the Transworld site. There hasn't been word on when he plans on returning, and that's another tough blow to an already tough season for Hot Sauce.
And speaking of TFS, he will again be blogging away all weekend long on his Weekend Window, so make sure you check it out.
We were able to get in touch with Team Yamaha's Broc Hepler a few days back for an update on his condition, and he said, "Well, I have been doing training and cardio workouts now, and things are progressing well and I'm making a lot of improvements. I just haven't been on the bike yet, so I will be missing some nationals."
This is really disappointing not only for Broc but for all of his fans, but you know that he's in good hands. Over the past few seasons Broc has been working closely with the UPMC Sports Medicine program in Pittsburgh, PA, who have a leading team of neuropsychologists, neurosurgeons, and scientific researchers to explore, understand, prevent, and treat concussions.
Through the center's Concussion Program, approaches have been designed to help prevent sports-related concussions, understand any long-term effects on an athlete, and determine when it is safe for that athlete to return to play following a concussion.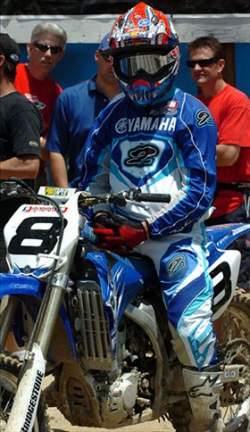 Langston won the MX class at The Prequel
photo: William Derrick
Out at the racetrack, the amateurs were on it this afternoon, including
Trey Canard
. This kid is someone motocross fans should not forget about over the summer, because when he's ready to turn pro, he's going to be up to speed in a hurry.
Simon Cudby shot Canard last Saturday at The Prequel, which was won by Brett Metcalfe and Grant Langston. He put together two really cool films that definitely got us in the mood for outdoor motocross! If you missed his Racer X Films, click right here.
I ran into Michael "The Rock" Rigdon today, and he was doing exactly what you would think a sound-testing proponent would be doing: Offering free sound tests along with the Dirt Diggers Club, and discussing the dbs with riders and their mechanics. I asked one of the guys with Rigdon how the testing was going, and he said most of the bikes were "right around 100 decibels," but he added that the most regular violators were Yamahas and "that little 150 Honda."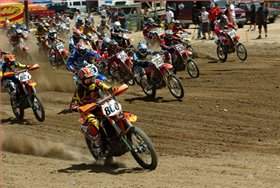 Mike Alessi shows off his starting skills at The Prequel
photo: William Derrick
Turns out he was talking about
"Bad" Brad Lackey
's Supermoto pit bike! The "first American" World MX Champion was there checking things out, as he celebrates 25 years since his "Good as Gold" 500cc Grand Prix title back in 1982.
I also ran into Donnie Cantaloupi out at the track. Donnie is a former Yamaha factory rider who had a tough go of it for awhile after his career, but he's doing good now. He was hanging with Bevo, just like in the old days.
Thankfully, the AMA Toyota Motocross Series has moved to SPEED TV, and their coverage of the Hangtown race will air next Sunday at 6:00 p.m. EST. Ralph Sheheen, Jeff Emig and Erin Bates will be working the call, with B.J. Smith and the gang from Chet Burks' Productions doing the shooting. Those guys know moto, so this is going to be good!
We will also have some late night coverage on Sunday after the race with highlights and interviews…. Okay, maybe Monday morning. Stay tuned.
Oh yeah, forgot to mention the holeshot award: This Sunday, there are THREE sponsors of the holeshot: MDK Motorsports, Moto-Tees and
Racer X
. The MDK/Moto-Tees Holeshot in the 450 class will be worth $750 a moto, while the MDK/Racer Holeshot in the Lites class will be good for $750 per moto as well.
The WMA is also here for their second round, and we will have highlights on tomorrow night's Racer X Motocross Show on Motocross.com. The track looks amazing, the weather is warm but not hot, and it should be a great race.
So while we've been focused on making this new show a success this week, we had to rely on Ping to help us out with this week's Racerhead. Without further ado, here's Ping.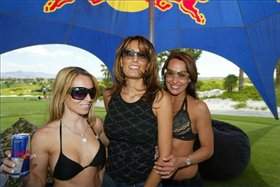 Red Bull anyone?
photo: Steve Bruhn
Thanks, DC.
Jeff Ward
was in Denver, Colorado, last weekend at the
Thunder Valley
Motocross Park. There was a Loretta Lynn's qualifier that his kids were racing in, but Wardy was putting in some laps himself and there was a purpose. Jeff is planning on racing the national there this summer. At 45 years old, Wardy still hauls the mail and anyone that lives in SoCal and has seen him ride at the local tracks can attest. As a past national champion, Wardy will go straight to the line for the motos on Sunday. But why Colorado?
"Our bikes are so good that I think they will be an advantage up there," said Ward. Adding, "The altitude causes a lot of guys to lose power and our 450 supermoto engine is ridiculous. We won't be down on horsepower. Plus, I like the fact that it is a physically challenging race. A lot of the guys will get tired and that will be to my advantage as well."
Jeff Ward is the only rider in history to win every titles in AMA Supercross (250) and also 125, 250 and 500 Motocross. He is also the current AMA Supermoto champion.
Michael LaPaglia told me in a recent Privateer Profile interview that he was looking forward to the nationals and that his main goal was to be healthy going into the first round. No such luck. At a recent Thursday practice session Michael and Josh Grant had a run-in. Or, more specifically, Grant ran into Michael. According to those who saw the incident Grant cut a corner of the track and slammed into LaPaglia. Michael tried to repay the favor in the next turn and when the two riders came together he went down. They exchanged finger gestures and then actually had their own UFC contest in the middle of the Glen Helen circuit.
The bummer is that Michael fractured his collarbone when he fell. He didn't realize how bad it hurt until he had calmed down in the pits. He had surgery on his shoulder the next day to repair a collarbone break and he won't race again until mid-June.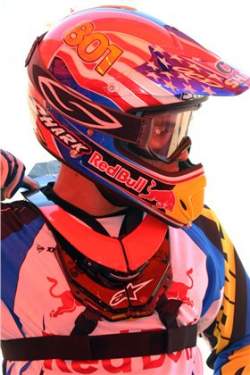 Jeff Alessi tries out the new Alpinestars neck brace
photo: Joe Bonnello
Alpinestars developed a neck brace for some of their top road racers to test and now that technology is being brought to motocross. There are design differences but the new brace is getting great reviews from pro test riders helping with development. Mike and
Jeff Alessi
may even be wearing the brace at this weekend's series opener.
KTM had a team introduction this week at a local track. It's kind of late in the year to be introducing a team but since they never had any press functions at the beginning of the year and they have several changes to the squad they thought now was a good time. Joaquim Rodrigues is back on the team again for the summer. The last time he rode orange he started on a 125 and then switched to the 450 for the national motocross series. He is riding the 250F now and says he is still getting used to the bike but he likes it much better than the 450 of several years ago.
Joining J-Rod in the 250F class is Martin Davalos, who is coming off a third at the Las Vegas Supercross, and Zach "snack pak" Osborne. He hates it when I call him that. In fact, I think he hates me now because I called him that during last years national broadcast. Osborne has shown flashes of speed but he needs to put together a solid series this summer. He's a good kid for sure.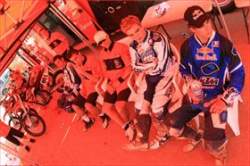 Introducing team Red Bull KTM
photo: Joe Bonnello
Then there is Thunder and Lightning, shake and bake, Pete and Re-pete or whatever you want to call them. The Alessi boys have moved into the 450 class and they seem like they are ready to go. Mike has proved in the past that he can ride the big bike; he's already gotten a podium finish at
Steel City
in his second race. And even though Jeff is nursing a perpetually sore right foot, he could have some surprising rides this summer. However they finish overall I am putting my money on one of them for the first moto holeshot at Sacramento. Who do you think will grab the first Lites-class holeshot? Vote
here
.
While the motocross race in Sacramento is the most anticipated race this weekend there is another series getting started on Saturday. The AMA Supermoto series kicks off at the Verizon Amphitheatre in St Louis, MO. The opening round is being promoted by Live Nation, the same folks that put the Supercross series together, and they know a thing or two about promoting events. The fact that they are taking an interest and getting involved shows that the sport of supermoto is healthy and growing. Go to www.amasupermoto.com for the complete series schedule.
Now on to a few other tidbits, which includes this from Racer X reader Phillip Lamb: "Just thought it's worth mentioning that Hangtown was the last place that Jeremy McGrath won an outdoor race."
Good call, Phil. We remember that year. It was 1998 and McGrath swapped moto wins with Suzuki's Greg Albertyn—MC's 2-1 getting the nod on his Chaparral Yamaha. Then he hurt his wrist and didn't show up at the next round of the series, which happened to be High Point.
Our Canadian boys sent us this:
"For the first time in our history,
Racer X Canada
is hitting the road with a racer support vehicle for the CMRC's Monster Energy Motocross Nationals. We have selected a rider from each region to pit with our 27-foot Fun Mover and enjoy the benefits of being a factory rider for a day! This unique program will give a few up-and-coming Canadian racers an unparalleled opportunity for exposure as each rider will be showcased in our magazine and online (print and video), and they will pit with our rig in the pro pits. Riders have been selected based on their talent, marketability and potential to make a splash this year and into the future. Stop by our rig at each national and say hello to the
RXC
crew and our factory rider for a day!
The Canadian nationals kick off next weekend in Ste-Julie, Quebec. Our factory rider for Ste-Julie is 17 year old Jeremy Medaglia who is the younger brother of Suzuki OTSFF's Tyler Medaglia. Jeremy scored points at Ste-Julie last year and he has been ripping up the track this spring and currently leads the 125 and 250 Intermediate provincial championships. Check out this awesome custom gear that Wrex has designed for him to wear next weekend!"
Finally, the L&M Racing team has launched www.sanmanuelracing.com, so go check it out.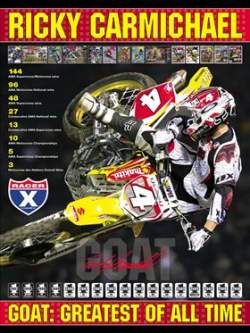 You can get this poster for free (with a paid subscription to Racer X) only at the 2007 AMA Toyota MX Championships.
For all of you fans attending the race, be sure to stop by the new, big red
Racer X
vending trailer which will be on vendor's row.
Mike "Fa Ba Man" Farber
will be manning the trailer, selling
Racer X
clothing and accessories, along with subscriptions to the very best motocross publication on the planet. And at all of the races we have a special offer for you: If you sign up for a subscription (which is only $20 for one year), in addition to the magazine, you will get a limited-edition
Ricky Carmichael
"Greatest Of All Time" poster, a hard-to-get Team Honda graphics kit from our friends at Throttle Jockey, and a chance to win either
James Stewart
or RC's signed jersey! If that's not enough, you will also get and the latest issue of Racer X Illustrated (featuring Lites title contender Ben Townley).
But if you don't have an extra $20 for all of those goodies, at least swing by and pick up a new "Hangtown 2007" sticker to add to your collection.
Okay, time to get back out to the track and work on some webcasting stuff. Thanks for your patience, and if you're in town next week for the High Point National, make sure you come to our party! Thanks for reading Racerhead, see you at Hangtown.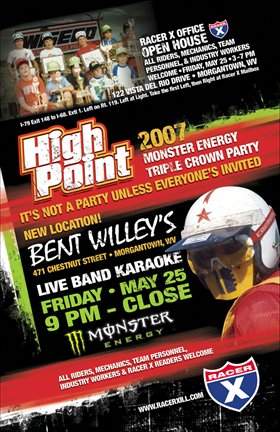 It's on next weekend!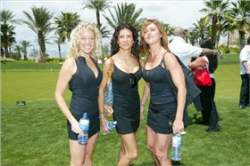 See you at the races!
photo: Steve Bruhn