5 Minutes with ... Grant Langston
Standing in the pits the Friday afternoon before the season-opening Anaheim Supercross, Grant Langston, his father, Gerald, his uncle Andrew, and his friend and former World and National Champion Greg Albertyn talked about the suspension dynamics of his Yamaha YZ450F. All agreed that Grant didn't look to be "one" with the bike on the Anaheim supercross track. They may have had it right, as Langston placed a lowly 20th in the main event on Saturday night. Less than a week later, the South African broke his collarbone in a midweek testing crash. The former 125cc World Champion, AMA 125cc National Champion, and AMA East and West Region Supercross Lites Champion finally made it back to action in supercross, but he never really found his rhythm on the big Yamaha. But that's all behind him now. Coming off an extensive R&D program centered upon his Yamaha YZ450F outdoor bike, Langston is now fully prepared to make a full-on assault on the 2007 AMA National Motocross Championship.

Racer X: Grant, what are you today?
Grant Langston: Actually, I just ran my race bike for a little while, and now I'm in the midst of getting a Toyota FJ Cruiser at Toyota of Escondido to use as a tow vehicle at the outdoor nationals. Other than that, I'm just getting prepared and getting stuff packed up for the weekend.
Before we get into talking about the nationals, can I get you to review your 2007 supercross season?
Well, I know one thing: it wasn't the season I had hoped for, for sure. Right from the get-go, we were a little behind. I didn't get on the Yamaha supercross track with the new bike until mid-November. And right away, there were teething problems. We didn't know what direction we needed to go in. We had ignition and electronic problems the first three days we had the bike at the track, and I got no riding in. We went around and around and definitely had some issues. When Anaheim came around, I felt more comfortable with the bike, but I was not sure what to expect. I wasn't comfortable at Anaheim because it was the first race of the year. I'm always uncomfortable at the first race of the year because I'm nervous and tight. I had the speed, though. I was third fastest in practice and battled with Ricky Carmichael a little bit in my heat race. I got second in the heat, which was okay and I felt better, but I was twentieth in the main event. I thought things were taken care of, but then we ran into a problem. For some reason I've always had an easy time finding neutral on a bike. I was especially finding neutral too easy on the Yamaha. The Thursday before the Phoenix Supercross, I hit neutral in the whoops section at the test track, went down, and broke my collarbone. The very next day, the part arrived to help with the false-neutral situation. So I was out six weeks. I came back and was doing a little better and almost got a podium finish at Indy, but ran out of steam. At Dallas, I felt good. But Seattle, with the track being all rutted up, I struggled and it was the same thing in Vegas. But while all this was going on, we were getting ahead of the game for the outdoors. I'd ride supercross on the weekends, and then we would use the majority of our time to prepare for the outdoors. I never felt in the swing of things in supercross.
It sounds like Yamaha is really taking the Motocross National Championship seriously.
For Yamaha, since Chad [Reed] is not flying the flag for them, they want me to be the guy for the outdoors. With Reed out, they've worked hard to get me and the bike in position to be ready for the outdoors.
As the Yamaha 450F outdoor program developed well?
Every time I go out on the bike, I learn a little more. I'm learning to ride the four-stroke. Also, the Yamaha has a very rigid frame. The frame is more rigid than anything I'm used to; I'm used to bikes with frames that are more flexible. I got the hang of the motorcycle this weekend at Glen Helen when I won The Prequel there. I don't know if the win meant a whole lot, but it worked as a gauge for me. I definitely look forward to getting stronger as I go this season. I'm curious to see how I do, as well, as I've never really raced these guys before outdoors. I think I'm as interested as anyone to see how this all turns out. They'll be a lot of guys going fast at Hangtown.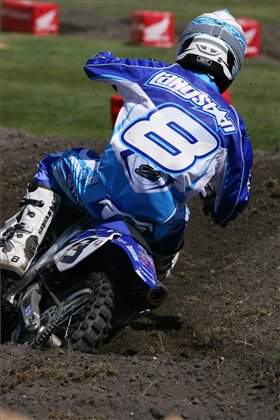 Langston is a former MX Lites National Champion who hopes to be a contender in the MX class

photo: Simon Cudby

What kind of results are you looking for at Hangtown?
Two solid results, for sure. I really want to try and be consistent outdoors. Ideally, I'd like to get on the podium, but I'd be happy with the top five.
What do you think about Ricky Carmichael's abbreviated outdoor schedule?
That's a tough question to answer. I guess it was the same thing in supercross. I'm not sure really why Carmichael is riding a part-time schedule only. Only he knows that. At the same time, you have to race with whoever is there on any given weekend. For sure, James [Stewart] is the favorite to win the championship. In the big picture, RC is going to be tough out there. With RC and James on their own level. If I can be up in third and be near them, I'll show that I've got some speed and endurance.
Who else do you foresee being in the 450F mix?
Well, those guys—Carmichael and Stewart—will have the edge, but then there are a half-dozen other guys who will be right there. Ivan Tedesco, Andrew Short, Davi Millsaps, Kevin Windham, and myself will be knocking on the door. I'm just going to concentrate on going into the season and looking at it one week at a time. I'd like to get as many podiums as possible.
Deep down, do you feel like you can run with James Stewart?
I hope so. Deep down I would like to think so. I have not seen James ride outdoors in a long time. Last year I was not at most of the outdoor nationals because I broke my ankle. The last time I saw James ride was when he and Carmichael split wins at Hangtown. I also saw him at Mount Morris where he crashed. I want to be at a level where I stay consistent, and if James or anyone else makes a mistake, I'll be right there. But if anyone were to come out and say, "I'm going to beat Bubba!" … that's a tall order. We all know James Stewart gets right out of the gate and goes very, very fast the first few laps. But we're all human, and we can make mistakes. The challenge will be to keep up.
All things considered, who, James notwithstanding, has a shot at the title?
Kevin Windham will be fast, for sure. Kevin Windham is a great rider, period. I guess it just depends on what side of the bed he rolls out of. He seems to be coming around lately, so he deserves to be considered a threat .Tim Ferry will also be pretty strong. Millsaps is pretty good, Short is pretty good, Ivan Tedesco is good and so is David Vuillemin. I'd have to say that Ferry and Windham are the two guys that will consistently be the two fastest guys.
And I'd assume you'd like to be right there with them.
Of course. If not, I'll be disappointed.
What are you hoping for come the last moto at Glen Helen?
To be in the top three.