5 Minutes with ... David Vuillemin
For 2007, David Vuillemin signed on with the Xyience/MDK Motorsports Honda team, and it's been a great match. Not only was DV12 a longtime Yamaha factory rider, one point away from claiming fifth in the AMA Amp'd Mobile Supercross Series, he also snagged the top spot in the prestigious U.S. Smokeless Tobacco Company Pro Privateer Challenge. His reward? A new 2007 Weekend Warrior Supercross Edition trailer from Giant RV and a $25,000 check. With the Hangtown Motocross Classic just a few days away, Vuillemin spoke about his past, present and future in American motocross.
Racer X: David, what did you do over the off-weekend?
David Vuillemin: Well, I went riding at a new track up near Adelanto [California] and also did some running.
DV12

photo: Simon Cudby

You didn't ride the Prequel at Glen Helen, huh?
No, I wasn't quite ready to race yet. I need to ride a little more and practice a little more. That's why I decided to use the weekend to ride and run.
You came up one point shy of finishing in fifth place in 2007.
My goal this season was to finish in the top five. I did really good, but overall, I wish I would have done a little bit better. It was a good season, but too bad I had that bad crash at Phoenix. I lost a lot of ground with my speed and fitness because of that crash. Overall, though, I'm satisfied. I can't say I'm happy, but I'm happy to get as close to the top five as I did, and I also recovered from that big crash, which was a big accomplishment.
You rode for the Yamaha factory team from 2000 through 2005. You're now part of the powerful—yet privately managed—MDK Honda team. It's going good, and I imagine there's not as much pressure as there was at Team Yamaha.
Yes, and the team is doing really well. All the people there are mellow and work hard. I never really felt pressure at Yamaha—they were a great team too. The pressure that was there came from the people involved in special projects; those types of things put more pressure on the riders. The team manager and the bosses of the team at Yamaha never made me feel pressure. They were great to work with. MDK is also a great team. They make goals and work hard to achieve them. They work the best way possible. [Steve] Lamson and all the partners involved in the team do a good job.
Like Tim Ferry of Team Monster Energy Kawasaki, you've been at this for a long time now. This season, after all the ups and downs he has experienced, not to mention the number of times he's been in and out of the factory trucks, when you see a rider like Tim place third overall in the points, does it make you yearn to ride for a factory team again?
You know, the factory teams…everybody wants to be on a factory team because of the equipment. MDK is a very good team. But Tim Ferry rode really well this year. It was his best supercross season ever. His results were excellent. When you take my eight seasons of history in supercross, I think I should be up in the top three. I don't mean this the wrong way, but I think I'm a better rider than Tim in supercross. But the last four years have been tough for me. Tim took the Kawasaki deal and did really well—he did more than his job. In fact, I'm bummed he didn't win the Comeback of the Year Award at the supercross banquet. He deserved it.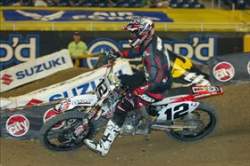 Vuillemin is very happy with the Xyience/MDK team

photo: Steve Bruhn

You didn't ride factory equipment in 2007, but was your MDK equipment up to par?
I never raced a factory 450 in supercross; I was always on a 250cc two-stroke. The 450 I rode for the MDK team was good and had a lot of power. It was great equipment and we got a lot of holeshots with it, so I don't think that was ever a problem. The bike was very good—good enough to be on the podium. MDK is a good program. Like I said, it's like being on a factory team.
Are you looking forward to the AMA Toyota Motocross Series starting this weekend at Hangtown?
Yeah, I look forward to it. It'll be the first time I ride the outdoors on a Honda. We tested good, and I feel good too. I'm not quite ready yet, so I have been doing a lot of riding and training. I'm working hard on my speed and fitness. Last year at Hangtown I did very good [ed. note: Vuillemin placed a surprising fourth overall] and I'm hoping to do the same. A top-five would be great. Basically, I'd like to be in the top five all season. It's doable. I'm not going to say I'm going to win and beat Bubba [laughs], but I have a realistic goal to be one of the best guys out there.
Would you ever consider riding the World Championship Series again?
Actually, we talked about doing the MX1 series this year. I had a deal to go there. I looked at both options: one, riding for MDK, and the other, riding the world championship. In fact, at one point I had a deal to go back to Europe—and I would have been happy to go back. My roots are there; I grew up there. I would have gone back to my hometown and it would have been old school. But the MDK deal came through and I wanted to put it all on the table this year. I wanted to do my best this year and I wanted to still race supercross. That was a big element in my decision.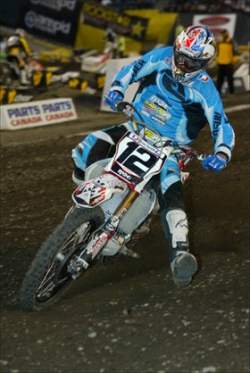 DV hopes to represent France at the 2007 Motocross of Nations

photo: Steve Bruhn

If chosen, will you race the 2007 Motocross of Nations for Team France?
If I am selected, I'll go for sure. I like Budds Creek. And with the Motocross des Nations, I've had great success there. We were second a couple of times and even won one year. I really like that race. This year, I want to begin the season strong and get chosen to be on the team.
Have you thought about what you'll do when you are done racing at all?
It depends on my ambition and what is best for my family and me. I can stay in the industry or I can leave it. When I retire, my ambition will be to make money. If I stay in the industry, it might not be the best place to make a lot of money. I might do something riskier—kind of like Greg Albertyn does with real estate. Some days I am like, Do I want to stay in the industry and travel to 30 races and not race? Yet some days that sounds kind of fun. Some days I feel like I'll want to go into the investment business, or do real estate or even open a restaurant. Maybe I could make more money that way. I could also go back to France and just chill…. There are a lot of things I can do. I guess it all depends on the ambition I have when I'm done racing.
The riders who have come from France to race in the United States have historically seemed to have a tough time being accepted by the U.S. audiences. However, you always seemed to fit in well here. You've always had a strong fan base, you've been great with the media, and what I find pretty damn charming is your relationship with the online community.
Yeah, coming from France, everything is different and a little difficult. But the United States is a newer country, and it is easy to live here. And with all of us being motocrossers, the world's greatest tracks are here. I made all my money here in the United States and we have lived well here. I met my wife here and America brought me a lot of things. I have had a lot of fun here, and I have absolutely nothing bad to say about it. It's been great here.