Betwen the Motos: David Bulmer
Chances are you've never heard of David Bulmer, but if you're a motocross fan, you probably shared the same dream. Bulmer's is about to come true: the Englishman will spend the next five months following the 2007 AMA Toyota Motocross Series in a motorhome! He's never been to a national, as we found out, so he's in for an adventure. He's also going to blog and post his experiences on www.ayearinmx.com.
Racer X: Welcome to America! A year in motocross, right?
David Bulmer: Yep, that's right. I thought it sounded a bit better than "Six Months in Motocross."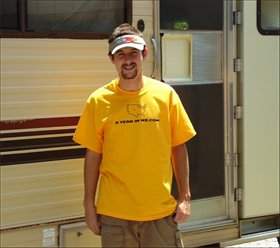 David Bulmer

[Laughs] Well what happens if it comes to the Motocross des Nations and you're still having a good time? There's World Supercross in Canada and a winter full of AMA Supercross, so maybe you could stick around.
Well, my Visa runs out at the end of January, so there's that situation. But I've got a return ticket from Los Angeles on the 17th of October, so that's when I'm planning to go back. But if anything does happen I'm flexible.
Let's start from the beginning: When did you become a fan of American motocross, and when did you come up with the idea to basically take the plunge and spend a summer following the whole series?
I was in America two years ago, and I got asked if I wanted to go to the Las Vegas Supercross, and of course I said yes, I figured why not? Since that moment it really has become a passion, and I've been trying to watch all of the races and get as much information as possible. As far as the trip is concerned, I was sort of toying around with it and was deciding whether to follow the supercross or the motocross. I was just seeing if it was possible. This while I was at University, just wondering what I was going to do afterwards. Once I finished University, I gave myself till Christmas to get a job, but that didn't materialize, so since then it's just been planning, planning and more planning. I wanted to see if it was going to be logistically possible, and then how I can go about getting a motorhome and all of that stuff I'd need to stay in America for six months.
So how much money did you have to save up before you felt comfortable committing to this?
Well, I had some savings before, about $6,000. And when I finished school I was doing temporary work, so most of my money was being saved, so I'm up to about $20,000. And that includes the price of the motorhome, but hopefully when I sell that at the end of the trip, I should get most of that money back. So I'm figuring it will be money that I get back.
That sounds good. When did you arrive in America?
I arrived on the 25th of April. I wanted to get here a little bit before so I could get everything sorted with the motorhome, and see a few things before I was just doing the driving between the motocross races. I wanted to do a bit of sight-seeing. It worked out really well getting here that early.
Did you make it to the Vegas SX?
Yes, I was in Southern Utah, and just visited Zion National Park, and I was kind of Southwest Utah, only about 150 miles away from Vegas, so I booked a ticket online and went down to the pits. I saw Jason Berry who works with you, and watched the racing.
Well, you don't have to be 150 miles away from Vegas to decide "Hey, let's go to Vegas." It happens to people in every corner of this country. Vegas is like the Brighton (England) of the United States.
[Laughs] Yeah. I live pretty close to Brighton, so I'm there every other weekend. It was the third time I've been to Vegas, and each time I go I keep thinking, 'I wish I had more money.' But maybe one day.
Have you ever followed the Grand Prix circuit?
I watched the British motocross, but I've never been to any of the Grand Prixs, other than the des Nations.
I was there myself, and that was a pretty spectacular race.
Yeah, the last two I've been took, and Ernee (France) was pretty crazy!
I know you set up a website (www.ayearinmx.com). What is the plan for the summer? I know that we've invited you to post some here at Racer X Online, but if fans really want to follow what you're doing, they can go to your website. So tell me a little bit about that.
Well, when I went to University I did website design, so I figured it would be a wasted opportunity if I did a trip like this without documenting it somehow. So the website was set up to do that. It got a blog where I've been trying to keep it up to date with daily entries, and I also have a map with photographs and GPS so it shows this geographical route of where I've been so far. And then I got the forum and a few other photo and video pages for anything I do or come across on my travels. It's coming along really nice and a lot of people have visited and I'm happy how it turned out, really.
I looked at it myself and I think it's very cool and I look forward to following it this summer, as well as seeing you this weekend. We now have to test you on your American motocrosss knowledge.
Uh-oh.
Who was the first guy to win a national on a four-stroke?
A national on a four-stroke? Oh… I'd have to say Carmichael, but that's not 100 percent, I'd say.
[Laughs] You're 0-for-1. Question two: When David Vuillemin first moved here, what number did he wear?
I know he wears 12 now, but I wouldn't know what number he wore I'm afraid!
[Laughs] O-for-two. Question number three: Steve Bruhn weighs 150 pounds, 170 pounds, or 270 pounds?
[Laughs] I'm going to have to go with 270 pounds!
[Laughs] Well right on, you're one-for-three!
That's more of my percentage!
For what it's worth, I'm really impressed that you would take on such an ambitious undertaking. I have a friend, Terry Pratt, who works at Cycle News, and way back in the day he took a year and followed Jim Pomeroy around the 250cc World Championship series, and he still talks about it as one of the best times of his life. So I think you're in for quite a journey and adventure.
Yeah, this is my third trip to America. I came here when I was 18 and did a three-week round in California, using buses and trains.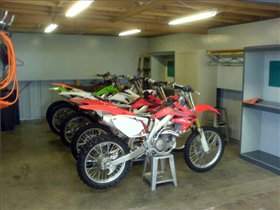 photo: David Bulmer

Oh, you're the guy who rides the buses in California? I think you're the first! It's not quite like back home, is it?
It's not! The second time I did a six-week tour of mainly the east coast, but I started in Iowa. So now this one is six months, and it's progressing in time scale.
My advice to you would be to make as many friend with factory mechanics as you can. They know the shortcuts and best routes, and I'm sure you'll find a few friends along the way. And who knows, I may call you up later to see if you can haul Garcia Vico's bike around, because he doesn't have a support ride right now.
I actually met him, I think. He was at "MX Heaven." I met him about a week ago, I think it was. But my first hasn't officially started yet, but everything that has went on already is crazy! I'm just looking forward to it.
I'm glad to hear that. One more question: Name all three Alessis.
Mike, Jeff, and …. Alessi Senior?! I can't remember his first name.
At least you know that TFS is not 150 pounds.
I had to work that out what it is in stone. There's 14 pounds in a stone, so it gets a bit mathematical.
But how many hands tall is TFS?
You got me there again.
Okay, David, we'll look you up on Friday at Hangtown, and good luck on your journey.
Thanks!