5 Minutes With ... Brett Metcalfe
While Monster Energy/Pro Circuit Kawasaki teammates Ryan Villopoto and Ben Townley have ruled the headlines in the 2007 AMA Supercross Lites tour, Brett Metcalfe has quietly stood in the shadows, awaiting his turn to race on the outdoor national circuit. Up to speed and fully rehabilitated from shoulder surgery performed on him last November, the Australia-born rider is finally off the disabled list and ready to take his place on the starting gate. This Sunday, at the 39th Annual Hangtown Motocross Classic at the Prairie City SVRA Park in Sacramento, #123 plans on being a frontrunner. With Villopoto and Townley—the West and East SX champs, respectively—already a highly-anticipated match-up here, Metcalfe only adds to the drama, along with Suzuki's Ryan Dungey, Yamaha's Josh Hill, YOT's Jason Lawrence, Honda's Tommy Hahn, Factory Connection's Josh Grant and Jake Weimer, and many more.
A few days after the Glen Helen Prequel — a race he thoroughly dominated with a double-moto sweep— we caught up with the rider who some believe has a genuine shot at the #1 plate outdoors. As always, humble and quietly confident, the 23-year-old was looking forward to this weekend.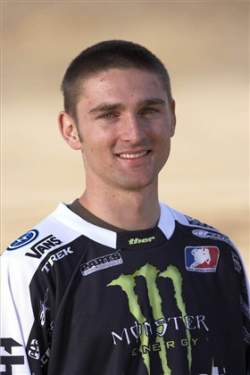 photo: Courtesy of Kawasaki

Racer X: Brett, what do you have going today?
Brett Metcalfe: I just got back from riding. I was out at Cahuilla Creek testing front forks all day. I rode quite a bit. We got there when it opened and I rode all the way up until they closed the place at around 3 p.m.
Was the Glen Helen Prequel your first serious race of the year?
Yeah, it was my first major race. I did the Four-Stroke National [White Brothers World Four-Stroke Championship] three or four weeks ago, so that and the Prequel were my first couple little stepping-stones back to racing.
Last fall, you suffered a pretty serious shoulder injury. Looking at the amount of time you've been out of racing, the injury must have been a little more troublesome than was first expected…
Yeah, I tore my rotator cuff at the Motocross des Nations and had surgery on the shoulder at the end of November. From there I was off the bike for three months. It took me a long time to heal-up. I sat out the West Region, hoping to make the East, but things fell short and I ended up sitting out that series, too. We tried to press on and make the last few, but things did not work out. So from there, I just began getting ready for the outdoors. I missed supercross, though, and that was a shame—it's the first time I missed out on a supercross series. It was frustrating not to be on the gate because I was fired-up to race. But you go through times like that as a racer. There was nothing I could do about it.
And your teammates Ryan Villopoto and Ben Townley go out and win championships…
[Laughs] That was like rubbing salt in the wound, for sure! But now I have another chance with the outdoors. I'm 100 percent fit and have a new chance to start from zero this weekend.
How long have you been riding the bike now?
I've been on the bike for five months now. When I first started riding again, things went really, really slow. The first week I rode, I only rode two times. The second and third weeks, I only rode three times a week. It was all so slow because the shoulder hurt and swelled-up a lot. We knew that if I pressed too hard, I'd end up going backwards.
When did you first begin to feel like your old self on the motorcycle?
Actually, on the Kawasaki supercross track. I started to ride a lot of supercross and really got up to speed. I had the supercross track dialed-in! I was kind of like, 'Man, I have better speed than the last time I rode supercross.' It got to the point where we had to decide whether I wanted to race supercross or not. But the team kind of decided to have me concentrate on the outdoors.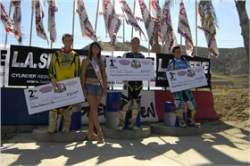 Metcalfe went 1-1 at The Prequel

photo: James Lissimore

Did doing so well at the Prequel help your confidence?
Yeah, absolutely. We had been doing a lot of testing to improve the bike to suit me, and obviously it all helped. Every time I ride the bike, I feel better and better; I can feel improvement here and there. And the Prequel was awesome for me. I came away with a couple things I want to work on, but it was a good race for me. For me, it felt good to get out there.
Last May at Hangtown, you rode to 5-2 moto scores for second overall. Did you think your season was going to get off to such a strong start?
Yeah, quietly, I did. I believed I could do it. Even in the December and January before the season started, I was riding outdoors and feeling really good. Heading into Hangtown, I believed in myself and knew I could pull a top-five off in the championship. And I did it. I wasn't as consistent as I wanted to be throughout the series, but I proved to myself I could do it. I believed in myself again. After riding two-strokes the two years before, I found myself in a hole and had lost my momentum. The 2006 outdoor series really helped me.
And then Mitch Payton came calling and signed you up to ride for his Monster Energy/Pro Circuit Kawasaki team…
Yeah, then Mitch signed me. Everything there is unreal. I look at how the whole team works and it gives me a good perspective on why the team has won so many championships. Mitch is just a great guy.
And with Townley and Villopoto being so successful in supercross in 2007, everyone seems to be hyping them as the guys to beat in the AMA Toyota Motocross Series. To that end, you're coming in under the radar a bit, aren't you?
I'm coming in way, way under the radar. I'm the darkhorse. Maybe even the second darkhorse! That's good for me. They're the two supercross champions and great outdoor riders, so on paper, they're the two main guys. I don't care, though. I'm calm and relaxed and 100 percent ready. Everything is perfect and I have done all that I can do.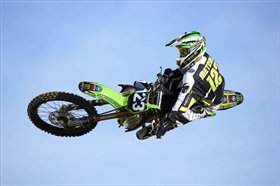 #123 is a darkhorse coming into Hangtown

photo: Courtesy of Kawasaki

What's your masterplan for Hangtown?
I definitely want to be in the top five. That would be good. That would allow me to get the ball rolling. I want to start there. At the first race I'm definitely going to be going for it, but I'm also definitely going to be calm. I'm a calmer rider than most. I know I'm going to give it all I have got from moto number one to moto number 24.
As far as results go, when the lights dim down after the last moto at Glen Helen in September, what will you be happy with?
Top three.
Who do you see having to brawl with in this thing?
Man, there are a lot of guys! My whole team — and that includes Goose [Chris Gosselaar] — will put it good performances. It's going to be a dogfight, man. There a lot of good young guys, too: [Ryan] Dungey, Josh Grant, Tommy Hahn, Jake Weimer, Josh Hill, Jason Lawrence. A lot of guys are really going fast. It's going to be real dogfight. It's going to take consistency. I'm going to have to stay strong both physically and mentally.
Okay, may man. Good luck up there.
Thanks a lot, EJ. I can't wait.