AMA Supercross Lites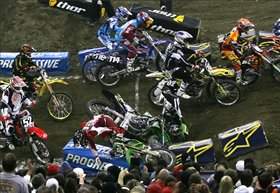 Darcy Lange started the main on his head

Five down, two to go, and Yamaha of Troy's Ryan Morais is still leading the Eastern Regional Lites championship—without winning a single race. Morais kept his string of top-five finishes alive with a hard-earned fourth-place finish tonight, and he actually stretched his lead to 10 points over Ben Townley.

The Progressive Direct Holeshot award went to Makita Suzuki's Ryan Dungey, who was on fire all night, setting the fastest lap time in practice, as well as the qualifiers. But Monster Energy/Pro Circuit Kawasaki's Ben Townley, who was second fastest in practice, got a second place start. Last week's winner, PPG/Motoworldracing.com Yamaha's Branden Jesseman, started third. The stage was set for what looked to be a very exciting main event, but Dungey made it boring by laying down 15 very fast and consistent laps, earning his second main event win of his career. Second place was Townley, who kept Dungey within a few bike lengths most of the main event. Third place went to Jesseman, who posted the fastest overall lap time of the Lites main event. The aforementioned Morais managed to work his way all the way up to fourth, preserving his title hopes. Overall, it was a good night for Yamaha, as three of the top five were riding blue.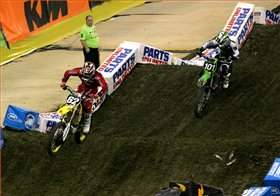 Dungey and Townley were this close for most of the Lites main event

AMA Supercross Lites main event results
1. Ryan Dungey (Suz)
2. Ben Townley (Kaw)
3. Branden Jesseman (Yam)
4. Ryan Morais (Yam)
5. Justin Brayton (Yam)
6. Mike Alessi (KTM)
7. Matt Goerke (Yam)
8. Tommy Hahn (Hon)
9. Darcy Lange (Kaw)
10. Broc Tickle
AMA Supercross class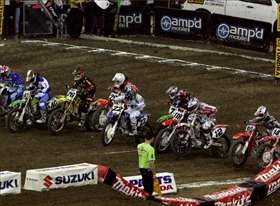 James got squeezed by Reed off the start

The exciting AMA Supercross class definitely made up for the uneventful Lites main event, as Monster Energy Kawasaki's James Stewart came from almost dead last to first to take a dramatic victory in front of the loud Indianapolis crowd.

San Manuel Yamaha's Chad Reed rocketed off the gate as Stewart faltered, badly. Reed crossed the Progressive Direct Holeshot line first and immediately stretched out a small lead over Monster Energy Kawasaki's Tim Ferry, and Yamaha's Grant Langston. Stewart, meanwhile, rode cautiously and exited the first whoop section in 19th place. It was going to be a very intense main event to see if James can make it to the front.

At the end of the first lap it was Reed leading the field, followed by Ferry, Langston, MDK's David Vuillemin and Makita Suzuki's Ivan Tedesco.

The next 10 laps were chaotic for spectators, but James Stewart cautiously and quickly carved through the field like a warm Butterball turkey on Thanksgiving Day. But it only took four laps for Stewart to make it to fourth place. On lap six he passed Grant Langston in the whoops for third, and by the midpoint of the main event, Stewart was in second place with his sights affixed to the number 22. The gap was only 5.6 seconds, and every person inside the RCA dome was on their feet and cheering.

Stewart tightened the noose on Reed's lead every lap, and by lap 14 he was right on the rear wheel of the Australian. The next lap Stewart pulled the trigger and made the pass in a very difficult timing section in which he was the only rider successfully jumping 3-3-3, opposed to Reed going 2-3-3-1. After Stewart made the pass Reed stayed close and even started jumping 3-3-3, but a slight bobble before the triple added a few more bike lengths to Stewart's lead. Stewart then cruised to a very hard-earned victory and extended his points lead in the championship hunt.

"I was a little nervous when I saw Chad out front, but I never gave up," Stewart told the crowd in his podium interview. And that's a key to winning championships—never giving up.

AMA Supercross main event
1. James Stewart (Kaw)
2. Chad Reed (Yam)
3. Tim Ferry (Kaw)
4. Grant Langston (Yam)
5. Ivan Tedesco (Suz)
6. Davi Millsaps (Hon)
7. David Vuillemin (Hon)
8. Andrew Short (Hon)
9. Michael Byrne (Suz)
10. Josh Summey (Hon)