Where Are They Now: Jo Jo Keller
If you subscribe to Racer X Illustrated, you probably caught the great feature on Jo Jo Keller that was written by Eric Johnson back in the February 2007 issue. It was a great story about one of the Northeast's finest riders. A few weeks ago word surfaced of Jo Jo Keller racing an area qualifier in Budds Creek, Maryland for the AMA/Air Nautiques Amateur National Championships at Loretta Lynn's, so we gave Mr. Keller a call to see what he's up to.
Racer X: Jo Jo, welcome back. It was great to see you riding at Budds Creek.
Jo Jo Keller: Well thanks, Davey. It's nice to be back riding. It's always been my first love, and everything I've been through in life, it's always been in the back of my mind. And just having the opportunity to get back out there has been a real blast.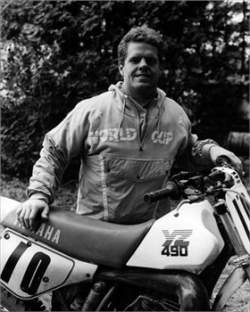 Jo Jo Keller posing with his YZ490 back in the day

photo: Paul Buckley

You rode the Plus 40 and Plus 45 classes, right?
Yeah, I rode them both. I figured I wanted to try and qualify for Loretta's, so I figured if I rode a couple classes, if something went wrong in one I'd still have a chance in the other. I rode both, and I ended up winning both motos of the 40 and stalled my bike in the first moto of the 45 and ended up going 3-1 for second overall there. So I ended up getting in to the regionals at Unadilla in both of those classes, so I can't wait for that.
Nice. I know you came up through the ranks. You were that last generation before Loretta Lynn's started—like in '82. It's nice that Doug Dubach came back for the first time, and now we'll have you out there. It's turning into a pretty neat Vet class down there.
It sure is. Like you said, I missed all of that stuff, and I always heard what a great time it was, but I never went down there. I was kind of a little old-school and didn't take it that seriously, and then when I went down this winter, I got the opportunity to go down to Millsaps and GPF, and I saw all those kids and how serious it is and everything, and now I'm really in to it. It's a lot different than I thought it was. I feel kind of guilty—I didn't realize the level of competition. Nowadays, you pretty much have to do it to get a factory ride. It's really special to see all the kids having a place to go and something that big that they can shoot for.
When was the last time you raced before your recent comeback?
Well, I raced in NESC back around 2002—I just raced a few of the Vet races. But I've just gone through a divorce and was down and out, and I was just trying to go have some fun. I didn't take it very seriously, but I rode then. Before that, I hadn't ridden since '93.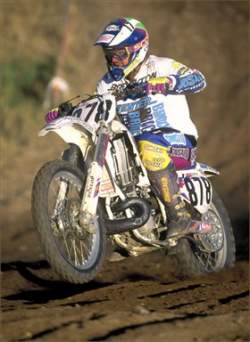 Keller circa 1993

photo: Paul Buckley

I know the article you did with Eric Johnson was really cool to go back and see what a dynamic career you've had. But a lot of people probably don't realize what you've been doing for the last decade.
I've been shoeing horses, and it's funny, because when I was younger my uncle was a farrier, and I'd travel with him to the barns and would watch him shoe. And I really liked it. It's one of the few things I was really in to, and I ended up racing and he ended up quitting horseshoeing to be my mechanic when I was first signed with Moto X Fox and then Honda on the support program. So he ended up going with me, and everything goes full-circle. After I got done racing, I ended up going off-shore fishing for a while on the Grand Banks of Newfoundland, doing that long lining for swordfish. A lot of people have seen that movie The Perfect Storm, and I was out there during that, and on some of those same boats you saw in the movie, so that was quite an experience.
But when I decided I wanted to stay on land, I went to a farrier school down in your neck of the woods—in Martinsville, Virginia. I slowly got in to it. I didn't want to commit till I knew I was done riding, because I still always had dreams of getting back out there on the circuit one last time. So I started up a pretty good business with the horseshoeing, and I've been doing that steady and I'm still doing that now. But thanks to that article, a friend of mine who's got a gym company—Planet Fitness—he always talked to me through the years, and I've gained a lot of weight and I've always been overweight, and I feel bad and embarrassed about the weight I gained. He told me not to worry about it and their whole motto, they call it the "judgment-free zone." So I started going to his gym a little bit, and he started helping out some other riders because his son races. So he's actually sponsoring Keith Johnson and Mike Treadwell this year. So he's asked me if I'd help his son out a bit and he'd help me out with entry fees and gas, so I decided to do it.
It's really cool, and I went to Georgia and I had a chance to ride with Chad Charbonneau—he's coming off a knee injury, and he was training down there. Turns out he's one of the best riders I've ever seen, and we kind of hit it off and I started riding with him. It really inspired me to see somebody training that hard and riding that well. He was talking to me about a lot of the mental aspects of it, so we've been working with each other, and I'm really excited. I got a little disenchanted with the way the tracks were—all the doubles and triples, all the manmade stuff. That's fine for supercross, but when I go to an outdoor track I just want to ride and not worry about a jump or a blind step-up. I realized a lot of it was true, but it was also my own fears. And just riding with him and realizing if you have the skills, a lot of those obstacles aren't as bad as I thought, so I'm really starting to have a lot of fun again.
The fitness thing, everyone knows that motocross is the toughest sport, and if you can go out there and do a 20-minute moto, you're in pretty good shape. I just want to feel like that again, and all of a sudden it's starting to happen, and I'm really excited about it. It's great to back in to something I've loved so much.
I hear you. You'll know exactly how good of shape you're in when you do a 23-minute moto in 110-degree heat at Loretta Lynn's in August. You're going to want to be back out on that boat in Newfoundland!
I know, I already asked myself a couple of times what I'm doing out there, but there's nothing like it.
Every guy I talked to about coming back after a long time off, they just have a ball at Loretta Lynn's. I think you'll really enjoy yourself and the camaraderie. I know that they were printing up some gear for you at No Fear the other day.
You know what's funny? Both you and I were real sports fanatics, and you know how it is when somebody stays in a sport too long, but motocross is totally different. I think it's a lifelong thing, and I'm not going out there to prove anything to anyone, I'm just going out there for the love of it. You're put under a lot of pressure when you were younger, and even when I was riding at a good level, I thought it was something you grew out of and then you did your serious job. But I realize now that this is what I love doing, and if I can be involved in the sport in any way, I'm going to jump at the opportunity, because there's nothing wrong with it, and we both know how big it's gotten.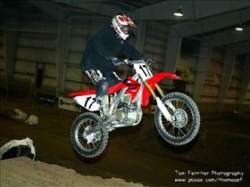 Jo Jo is campaigning a Honda CRF450 in 2007

photo: Tom Ferriter

It's good to have you back, and I can't wait to see you at the regional at Unadilla.
I can't wait either, Davey. And thanks for everything. I still get my Racer X. I don't know if you remember, but I saw you at Southwick about 10 years ago and you got my address and I've gotten the magazine faithfully every month, and that's what really kept me involved, so I owe a lot to you. Your father was one of my heroes, and he and Dick Bettencourt got inducted in to that Hall of Fame the same year, I think, and I always thought about how hard he worked. You see these young guys, if they want to have a career, they've got to work hard off the bike too, as well as on it. And people like your dad are a real inspiration to me when I start getting a little lazy and stuff.
I know all about that kind of motivation. I look forward to seeing you race, and in the meantime, enjoy the ride.
All right. Make sure you just express how thankful I am to have the friends like Ricky C., Bevo, and Jeff Surwall at No Fear. It really makes me happy that I have friends in the industry and people who appreciate what I did riding. I always thought I was kind of a failure at the sport, but I realize there are still people who are willing to help me.