Kawasaki/Racer X Race Report: Orlando
The historic Orlando supercross is over, and that means Ricky Carmichael's supercross career is complete. And although he didn't leave on top, he came within .9 seconds of it after yet another epic 20-lap duel with James Stewart. Ask any of the people in the building who watched it, and they'll tell you that even though RC went out with a second place, he's a winner in every sense of the word.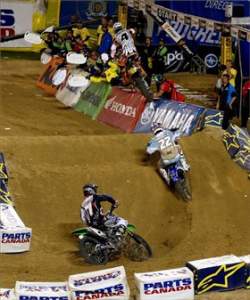 RC leads Reed and Stewart early in the race
After all, the GOAT was able to focus through the excitement of watching his first children enter the world just a day before the race, as well as just about everyone at the race thanking him and saying goodbye. There was a lot going on, but he focused through it all, and when it was race time, he went back to the business of battling
James Stewart
for a win at a supercross race.
It started when the duo ended up almost dead locked on speed in practice. Then Carmichael rode out to a big show opening, and won his heat after he placed one last block pass on Chad Reed. Stewart went about a half second faster in his heat, but everyone was waiting for RC to dip into the magic well of determination one last time for the main.
Reed grabbed the Progressive Direct holeshot, just edging Cermic's Kawasaki rider Jeff Gibson, but soon Carmichael had moved into second and then eventually first. Stewart and Reed began to do battle, and Carmichael tried to put on a quick sprint to open up a gap.

It wouldn't be so easy. Reed made a big mistake and failed to jump a routine triple coming out of a corner, giving Stewart a free pass into second. Then #7 set about reeling Carmichael in, and the crowd settled in knowing they were about to witness one more classic Carmichael and Stewart battle.

Stewart was a little bit faster in the whoops, and he used his advantage there as well as some help from lapped traffic to catch Carmichael. Then they fought for the lead, both showing maximum respect and riding clean. Stewart jumped inside of RC in a hard left-hand turn, but Carmichael grabbed a handful around the outside and went bar to bar with him. The dup rode side by side for nearly half of a lap until Stewart finally got into the lead. Then Carmichael settled in right behind him and began planning one last pass.

"As you guys could see, we were basically identical on speed," said Carmichael. "Unfortunately I led the race during the wrong part!"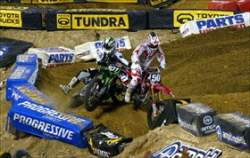 Laninovich and Townley got together in the main
By about lap 15 they were still close, and
Carmichael
started attacking. Flash bulbs were popping all over the Citrus Bowl, and the big moment took place in mid air over a triple.
Carmichael
tried to get under Stewart and they hit the air together, looking over at each other as they jumped. Stewart was just able to hold onto the lead, and then he hung tough through lappers the last few laps to hold on to the win, just .9 seconds ahead of RC when it counted.
"Man, that was just so much fun, you guys have no idea," said
Carmichael
, clearly relieved his whole wild weekend had finally come to a close. "I just have to thank all of these fans one last time. They've always backed me and they're the reason the sport is where it is today."
Stewart was all smiles as well, of course. "I don't know if you could have scripted it out better than that," he said after 20 laps of battling. "When Ricky got around
Chad
, he tried to put a sprint on, and I was like "Don't you run away from me! Don't you run away from me!" It was good to get to race like that one more time, I'm super stoked right now."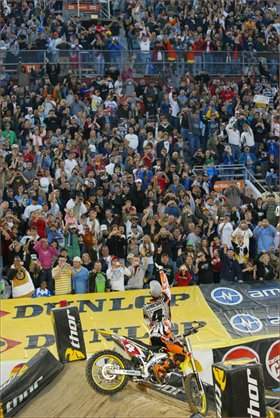 RC says goodbye to supercross
Reed ended up third with
Ivan Tedesco
fourth and
Tim Ferry
coming out of the pack for fifth.
The Lites class offered up some emotional racing as well, as Branden Jesseman took his first supercross win since his East Region Lites Championship season in 2003. Perhaps no one has suffered more bad luck and misfortune than Brando during the last five years, and his win was hard-earned and well-deserved. Amazingly, Jesseman had crashed hard on the first lap of the main along with
Ryan Sipes
, which brought out the red flag. Sipes ended up out of the race with a leg injury, and Makita Suzuki's
Ryan Dungey
couldn't get his bike fixed up in time to get back to the gate for the second start. Brando was bleeding and his bike was bent up, but he went to the line again and snagged a second-place start on the restart behind Sobe No Fear/Samsung Honda's Bill Laninovich. He dug deep to work his way into the lead around the halfway point. The pack behind him was going at it. Ben Townley looked quick on his Monster/Pro Circuit/Kawasaki, but he got into it with Laninovich and found himself on the ground. Yamaha of Troy's
Matt Goerke
fell during the battle as well. In the late laps, Red Bull KTM's
Mike Alessi
got rolling, and he started tracking Jesseman down. He came close, but crashed in the final turn in an all-out last-ditch effort. Jesseman crossed the line first, while Boost Mobile/Yamaha of
Troy
's
Ryan Morais
and Monster/Pro Circuit/Kawasakis Darcy Lange took second and third, and Alessi picked himself up for fourth.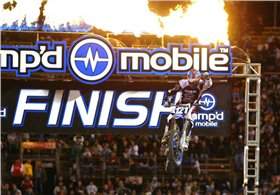 PPG/Motoworldracing.com Yamaha's Branden Jesseman takes home a well-deserved win
For a guy who has been so far down, Jesseman had to be thrilled with a win, but he predictably showed hardly any emotion after the race anyway. To make matters even wilder, he was actually bleeding for the entire 15 laps of the main, the result of the first crash that brought out the red flag!
The riders left it all out on the track in
Orlando
, and the fans will never forget the last time they saw
Ricky Carmichael
race supercross.