5 Minutes With ... Trey Canard
The 13th Annual AMA Parts Unlimited Spring Classic at Lake Whitney, Texas went off last week, and Trey Canard was a dominant force once again. With a SoBe No Fear/Samsung Factory Connection contract for next year already in hand, the kid from Oklahoma topped the 125cc A/Pro Sport, 250cc + A/ProSport, and 4-Stroke 201-650cc Open Skill classes. This continues his roll from last year, where he won every moto at Loretta Lynn's, went 17-for-18 at Ponca City, and took the Pro Circuit Platinum Pipe and the Dunlop Silver Tire awards at the Mini O's.
Now Canard is getting ready to go for the second big race of 2007: The 31st Annual FMF GNC International Motocross Final at Oak Hill, Texas. That's where we tracked him down!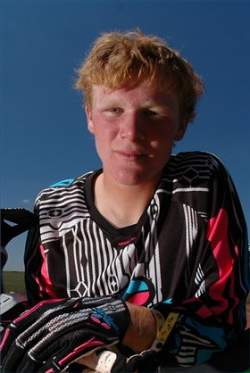 photo: Courtesy of Amateur MX

Racer X: Trey, what are you up to today?
Trey Canard: Just getting ready for my first race here at Oak Hill today.
How did you feel in practice yesterday?
I felt pretty good. I used practice to just learn the track and get comfortable.
Do you like the track?
I do. They hauled in a lot of sand for the track and there are four sections of whoops in it. It's a challenging track.
Going back to the Mini O's in November, your 2007 season is off to a great start. Do you feel good about everything?
Yeah, everything is going good so far. The Mini Olympics went really good for me. It was a nervous race for me, but I managed to work through it. I had a lot of nerves because it was my debut with the Factory Connection team. It was nerve racking because it was one of my first "A" races; it was one of my first races with Honda; and it as one of my first races with the new team. It all came out good, though.
I saw you hanging out in the Team SoBe No Fear/Samsung/Honda pits at Anaheim. I know you were there to get a "feel" for what a professional rider goes through on race day at a supercross. What did you think?
Oh, it was a lot of motivation for me. When compared to the amateur stuff, a supercross race is so much more organized. With the way things are run at a supercross, you know exactly what you are supposed to do and you know exactly when do it. Being there definitely got me pumped up. It was an inspiration to me to keep working my way up to becoming a professional and racing supercross.
Kind of like getting prepared to move up and play in the Major Leagues, huh?
Yeah, it's definitely like baseball — like getting ready to play in the major leagues or like making it to the state championships. Being there definitely had that feel to it.
Did you keep a close eye on the guys that you had raced with when they were amateurs?
Absolutely. It was tough to watch practice and know I could also be out there putting in good lap times. I used the time there to try and learn what the guys were doing. I don't want to say I could run with the guys right then and there, but I know in my head that I could possibly do well when the time comes. It was really cool to get to go there, watch the racing, and to try and begin preparing myself for it all.
You won eight of nine motos at the Lake Whitney Spring Classic. Did everything go to plan?
I felt extremely well at Lake Whitney. I was out in California practicing and training over the winter, so I was not stagnant or anything like that. I felt good. I was never really nervous or thinking too much about things. I had a game plan, I was prepared, and everything went good. I was real happy with how things went. I felt really extremely good and felt like I was riding really well. Wil Hahn was also going really well in all the A classes. I will say, though, that the A classes are extremely difficult compared to B classes I rode last year. It's an absolutely huge difference. You just don't take a spot from a rider. You have to really fight for it. And I'm sure when I get to the pro ranks, it's going to be yet another drastic jump. I know it will definitely be very difficult.
And the fact that amateur races are basically 10-to-15 minute sprints….
Well, I'm training to do that. 30-minute-plus-two-lap-motos now — and on rough tracks. That's what I'm training for because I know that's what I'm going to need to be prepared in the future. That's what I practice the most.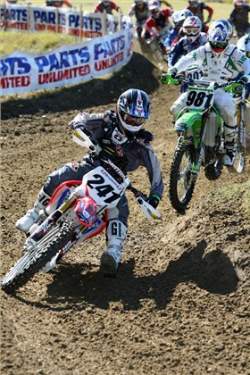 Canard's first pro race will be after Loretta Lynn's this summer

There will be well over 3000 riders at Oak Hill this week. What's it like to walk around the amateur racing community and know that you've earned a spot on a high-profile team in the professional ranks?
To a certain extent, I feel that I'm still far from making it. Yes, I've got a ride, but I have not even entered an AMA pro race yet. I can't consider myself to have made it yet. I mean, how many people can name how many times Ricky Carmichael won at Lake Whitney as an amateur? I don't want to consider myself as making it yet. I feel like I'm far from it.
Will you compete in the World Mini Grand Prix in Las Vegas in April?
Yeah, I will. I like the track. I actually think it's really cool. I have not been there in four years, so I'm looking forward to it.
Okay… The million dollar question: When will you turn professional? Is it still too early to tell?
I'm going to say it's still too early to tell right now. There's never a point where you can be too prepared. I think I could do pretty well right now, but I don't want to turn pro too soon and get in a rut. If you start too early and things don't go right, you can lose confidence and then things can really snowball. Right now I just want to keep preparing to be at that level. When the time to turn pro is right, I'll know. I mean, I'd like to win an outdoor championship right now, but I don't think I can do that. I think racing Loretta Lynn's again this summer would be smart.
So the plan is to run Loretta's again?
Absolutely. That's the plan right now.
Then head to Millville to run the National there?
Yeah, I think that's the plan. My goal would be to race the last four Nationals and to learn. I mean, the Nationals are a totally different way of racing
What do you think the primary differences are?
Well, first off, you have 40 fast guys. And then going off what I have heard and from the things that I have seen, the starts are total chaos. To race the Nationals you definitely have to be prepared and have a game plan for everything. My fitness is good right now, but it can be better. When you are up against 40 fast guys, you have to be on your toes at all times. You also have to be consistent and ready for everything.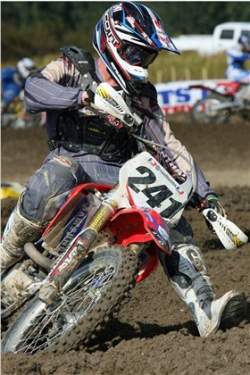 Canard already feels at home with the SoBe No Fear/Samsung Mobile Honda team

Has the SoBe No Fear/Samsung/Honda team accepted you well?
Absolutely! The whole team is awesome. At first I thought it would be awkward. You know: Going to the race shop, being the new guy, nobody really knowing me and all that. But when I got to the race shop the first time, they all really took me in and I immediately felt like I was part of the team. I'm really excited about the team. Everyone is super-cool and super-nice. I'm really excited to be as comfortable as I am with the team and to know they are willing to do anything I need to be successful. I've been with the team since October and they feel like a family. Everyone is super-positive and willing to do whatever they need to do — and a little more.
And what of the 2008 season?
2008 is going to be a rookie season for me, and hopefully, a lot of my learning will be out of the way after racing the last four Nationals in 2007. I'm just going to try my hardest and do my best. Ryan Dungey is doing really well and that makes me feel good. I'll be riding the East Coast in 2008 and my plan is to be really prepared and to be really ready.
Good luck in Texas, Trey.
Thank you.