Monday Conversation #2: Ben Townley
Don't tell Ben Townley that a regional supercross season is toast after a DNF. After dropping out at Round 1 in Atlanta when his bike died, BT101 is third in points already since winning the next two rounds! Townley is still learning, which is bad news for his competition. The 2004 MX2 World Champion is living and training at RC's and on a Monster Energy/Pro Circuit bike. That's a pretty tough combination to beat.
Daytona's first lap had Townley's GP colleague Andrew McFarlane (from Australia) out front in the beginning, so for about a lap it must have been like a Grand Prix, circa '04. Townley got by pretty quick, and only Team Honda's Tommy Hahn was close enough to mix it up and challenge him for the lead.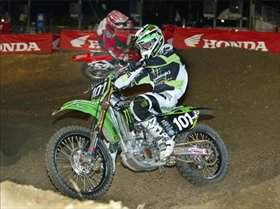 Townley had to battle with Tommy Hahn to start out front.

Racer X: Ben, your second win already, how does it feel?
Ben Townley: Yeah it was real good. I just tried to put in a solid race. I got a decent start - I was second I think, with McFarlane was up there leading. I put the move on him in the second lap I think. I was able to get around him and Tommy Hahn was right there with me. I think he even passed me on the second lap or something. We battled there for a little bit and started inching away a little after that, which made things a bit more comfortable.
With you and McFarlane out front, you must have been thinking, 'Cool, it's a GP out here.'
I knew he would get a good start—he's always been a good starter. But I was surprised to see him start that good from out wide. I knew his lap times had not been up there so I didn't expect him to be out there the whole race. I wasn't too impatient. I just tried to get him when I could and then go from there.

Now that you have done a Daytona, was it everything you expected?
Yeah, it was. Last week I said all of these things are a first for me right now. It's so many dreams coming true. Having my dad here again was awesome. To come back and do it again after last weekend was really awesome.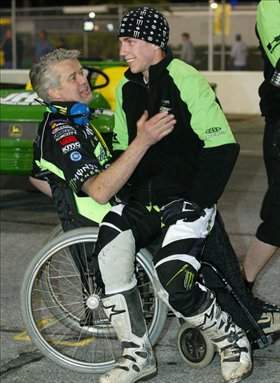 Mitch Payton is very happy with BT101

What is so much different about his race for you?
I somewhat prefer the harder packed supercross. Even the practice tracks we ride on are really hard. It is weird to ride on a track that has so many ruts and it deteriorates a lot. It is a challenge for me to learn it really fast and adapt to those conditions. That's new to me. When you come here to Daytona, it's more like motocross and you know that's going to happen. Riding on the Daytona track was definitely brutal. You have to have patience, that's a big part of it, and mental strength to concentrate on yourself when you are out there and not get caught up in what everyone else is doing. I am learning a lot about the intensity and the different obstacles. I still am learning those things.

Is the way the American's ride about what you expected?
It is what I expected from the year I watched it on TV! The intensity is what I expected; it's real close hard racing. It's fun. It's exciting.

You started on the right team over here didn't you? Kawasaki is winning a lot!
Yeah, for the last few years, no doubt—that is why I signed up with them. They had a good program going right now, especially with Mitch. He has a great group of guys and everyone is working really hard. The proof is in the pudding right now.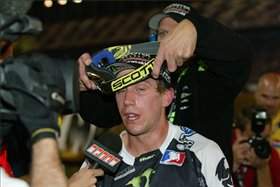 In America, we always talk to TV with our goggles on.

Last one, what's the intensity level like for you right now?
I wouldn't judge it on intensity level; I would judge it on my ability. I don't feel I am riding to my absolute best ability I am still learning. Tonight I seemed to ride a little more relaxed when I was leading, from the get go. On that second lap, I felt like I had been in that situation before. That is why I say I am not to my potential yet. I am learning so much every time I race. As the year goes on, I will be able to pick it up more and more. I just want to be consistent and take it race by race right now.