Between the Motos: Jeff Cernic
If you've been around the U.S. motocross scene in the last 15 years, you have probably noticed the name Jeff Cernic popping up more and more and more. He started out as a quad racer from Johnstown, PA, then he began working in his family's bike shop, Cernic's Suzuki. He also re-opened the old Johnstown track, Pleasure Valley Raceway.
Now his shop has grown into three, Cernic's Racing does global business, and he sponsors a huge variety of racers—from Amp'd Mobile Supercross to amateurs; from ATV Motocross to Toyota AMA Arenacross. And if that didn't cover it all, his main rider—Travis Pastrana—pretty much does!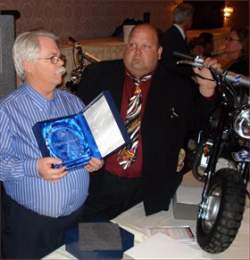 Jeff Cernic (right) with District 5 ref, Doc Holliday.

photo: Zak Lowery

Racer X: Jeff, I know you're always a busy man, and probably never more so than this year. It's Wednesday at Daytona; where are you, and what are you doing?
Jeff Cernic: Well, on Monday I flew to Texas to check on my amateur riders at Lake Whitney, and then I jumped on a plane this morning and flew to Daytona, and I actually just got off the plane about 30 minutes ago and I'm standing in a parking lot in Daytona. Can you hear the bikes roaring by?
Sure can. How were things out at Lake Whitney?
The facility was packed and they got the track looking beautiful. It's the first time I ever been there, and it seems like everything is running pretty good. And our riders are looking real strong. Nico Izzi is there, Shawn Rife, Ian Trettel and Ashley Fiolek. We have a really good chance of brining home a lot of wins there.
So Ashley Fiolek is a Cernic's rider now too?
Yes she is.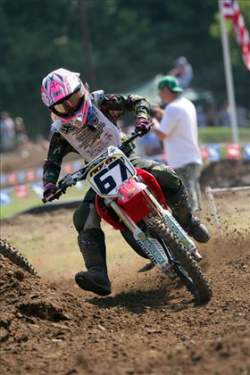 Ashley Fiolek, shown here at Loretta Lynn's 2006, is now a Cernic's-support rider.

photo: Simon Cudby

Holy smokes. Your reach is getting broader and broader. Oh, I want to congratulate you on Danny Smith clinching the Toyota AMA National Arenacross championship.
Yeah, this is our third year working with Dave Antolak at Tuf Racing, and the Cernic's/Tuf arenacross team has done a great job every year. We lost the championship last year by just a few points, and this year Danny was lucky enough to win it and we're very excited, and very proud of Danny and the entire team.
As far as your supercross team goes, I know you have Paul Carpenter, who has been a real revelation to a lot of people, but us east coasters have always known him to be right there with his talent. And then good old Jeff Gibson, another eastern favorite—both guys are right around top 10 or better.
You know what, both of those guys have been running great all year long. Pauly has been in or around the top 10 all year long, and Jeff has been close as well. As a team sponsors/owner, we're really excited about this team. It's something that is going to go on for many years.
I can see both of those guys stepping it up another notch when they get outdoors.
Well, as or right now we're looking to get a corporate sponsor; if we do get enough funding to do the nationals, they will be a force to be reckoned with, that's for sure.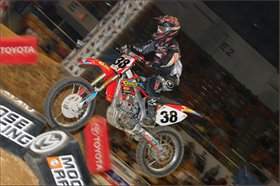 Danny Smith delivered Cernic's their first AMA Arenacross championship

photo: Matt Ware

Right on. Well, last year your Daytona trek meant one person and five things, and that was Travis Pastrana.
[Laughs] Yes it was. Travis, you know he's a unique individual, and he had a mission to come down to Daytona and try every event he could, other than road racing. It wasn't too successful, but if you saw the supercross, we were going strong until he had a small mishap… But Travis is Travis, and we support him in any way we can, and last year in Daytona was really exciting.
It sure was. Travis is not riding this year, but he's not the only one of your old riders sitting at home: What have you heard about Broc Hepler?
Well, I know that he had a really bad crash practicing and he got a severe concussion and he's just waiting for the doctors to say it's okay to ride. And he's being smart, because you sure don't want him hurt and out for the rest of the year.
Between him and Branden Jesseman, us District 5 fans don't have much luck with our local guys staying healthy—at least we haven't up to this point.
That is true, but hopefully the tide will change here, because I really expected a lot of great things from Broc this year. Everything I looked at up to this point, he was turning in some championship lap times.
Let me put you on the spot: Who are you taking in the Supercross Lites class Friday night? Ryan Dungey has worked alongside you when he was with Cole Gress and American Suzuki as an amateur. You sponsor Kawasaki guys now, though not Lange and Townley. And there's the Alessis and Branden Jesseman and Yamaha of Troy a few others who can win… so who are you taking?
Wow. Hmmm…. I think it's a toss up between Townley and Dungey. When I saw Dungey in Atlanta, he reminded me of a young Travis Pastrana, and he really looked good. I think if he wouldn't of crashed last week, he'd maybe have had that win too. I think Townley, with his outdoor experience, and Dungey, with his youth and energy, I think you're going to see one hell of a race.
How about the 450 class. RC's last turn at Daytona on a motorcycle, and then you have Stewart and Reed—which of those three if you had to bet?
I'm going to go with RC all the way. I think Ricky has got Daytona. Even though James is definitely the fast guy this year, RC has the momentum.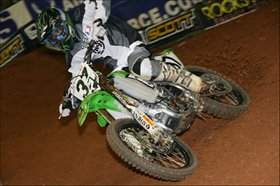 Paul Carpenter is surprising a lot of people this year in the AMA Supercross class

photo: Simon Cudby

Last question, and certainly not a pleasant one: What did you think, and what was going through everyone's minds in Texas, when you heard about Doug Henry's crash?
Man, I heard about it yesterday, and all we have to do is say some prayers for him and hope that he gets healthy again, because he is a true representative of the sport, because he's an all-time hero.
I'm right there with you, and I'm sure all of our readers are. Well, there's probably some race somewhere you have to go visit.
Actually, we're going off to Deland Suzuki because they're having an auction for Roger's Kids, so we're going to take some Travis Pastrana gear down there. I have my partner Moe, and we're going riding today, and tomorrow is a workday.
Enjoy Bike Week, Jeff.
Will do.