Bench Racing Ammo: Opening Round Winners
January 2, 2007 1:09pm
|
by: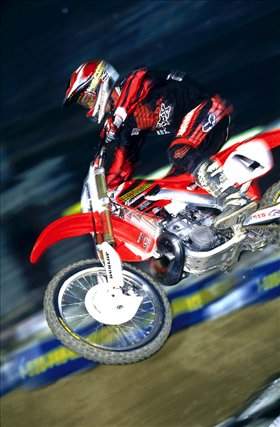 Ezra Lusk won the series opener in '99
Since 1997 the AMA Supercross Series has kicked off in the Golden State of California. Starting the series there just makes sense, as the usually perfect weather and the epicenter of the industry being there makes for a good fit. But before that, the series opener was held in several different locales. In fact, the AMA SX Series has kicked off in five different states over the past 30 years. So let's take a look back at where the series started and who took that coveted opening round win. And it's interesting to note that this is one topic where you won't find
Ricky Carmichael
's name listed anywhere. He has one more chance to change that this Saturday night, so it should be interesting.
Opening round winners:
*Bold denotes that the rider went on to win the championship that season.
2006 Anaheim James Stewart (Kawasaki)
2005 Anaheim Kevin Windham (Honda)
2004 Anaheim Chad Reed (Yamaha)
2003 Anaheim Chad Reed (Yamaha)
2002 Anaheim David Vuillemin (Yamaha)
2001: Anaheim Jeremy McGrath (Yamaha)
2000 Anaheim Jeremy McGrath (Yamaha)
1999: Anaheim Ezra Lusk (Honda)
1998 Los Angeles Sebastien Tortelli (Kawasaki)
1997 Los Angeles Greg Albertyn (Suzuki)
1996 Orlando Jeremy McGrath (Honda)
1995 Orlando Jeremy McGrath (Honda)
1994 Orlando Jeremy McGrath (Honda)
1993 Orlando Mike LaRocco (Kawasaki)
1992 Orlando Mike LaRocco (Kawasaki)
1991 Orlando Jeff Stanton (Honda)
1990 Anaheim Damon Bradshaw (Yamaha)
1989 Anaheim Rick Johnson (Honda)
1988 Houston Jeff Ward (Kawasaki)
1987 Anaheim Jeff Ward (Kawasaki)
1986 Anaheim David Bailey (Honda)
1985 San Diego Johnny O'Mara (Honda)
1984 Anaheim Johnny O'Mara (Honda)
1983 Anaheim David Bailey (Honda)
1982 Anaheim Donnie Hansen (Honda)
1981 Anaheim Kent Howerton (Suzuki)
1980 Seattle Mike Bell (Yamaha)
1979 Oakland Jim Weinert (Kawasaki)
1978 Seattle Jim Ellis (Honda)
1977 Atlanta Bob Hannah (Yamaha)
1976 Daytona Beach Tony DiStefano (Suzuki)
1975 Dallas Jim Ellis (Can-Am)
1974 Daytona Beach, FL Pierre Karsmakers (Yamaha)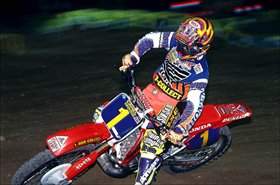 Jeremy McGrath won the season opener five times