Monday Conversation: Michael Byrne
Sunday, December 24, 2006 | 4:30 PM

Alpinestars has been delivering performance of the highest level on the motocross tracks of the world for almost 50 years. Racing on Sunday and developing on Monday is a way of life at Alpinestars. Welcome to the Racer X Monday Conversation.

Tweet

Since 2001, Michael Byrne — straight out of Rockhampton, Queensland, Australia — has been a mainstay on the AMA Supercross circuit. His first real big break came at Anaheim (where he raced to a highly-impressive fourth on a Honda CR250). Byrne used that momentum (also racing to fourth place finishes on the 250 at Anaheim and San Diego in 2003) to ultimately score a full-on factory ride with Kawasaki in 2004. And in the ensuing years, he served the green team well. An injury-induced trip the Asterisk Medical Center at Las Vegas not withstanding, Byrne placed in the top 10 in every supercross main in 2006. However, when the time came to negotiate a new deal for 2007 and beyond, it all went sideways for Byrne (we'll let him tell you about that). Nonetheless, Byrne landed on his boots, signing on to ride a 450F for Suzuki's official satellite outfit in '07: the Rockstar Energy/WBR team. Just before Christmas, Racer X tracked down Byrne's cell phone number and rang him up in Georgia, where he was hard at work getting for Anaheim 1. (Note: This interview was conducted last week.)

Racer X: Michael, what are you up to today?
Michael Byrne: I'm just working out inside today. It's raining out, so I don't think there will be much riding today. Also, I hurt my shoulder at the last Canadian round, so I've been doing a lot of therapy. The shoulder has been getting stronger and I've been focusing on that. After Vancouver I didn't ride for a week. In fact, I just started riding this week. All else is good, though.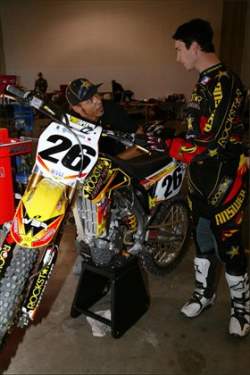 After three seasons aboard Factory Kawasakis, Michael Byrne has switched to the Rockstar Suzuki team

You placed 15th at Toronto and 19th at Vancouver. How were those races for you?
Yeah, at the first raced I wrecked and that was my fault. I hit a hay bale and hit the ground. But we still had a strong start and the first round of the season showed us where we were at as far as the development of the bike goes. You know, I had not raced anything but Kawasaki's for a while, so I was pleased to feel really, really good on the Suzuki in a race situation like that. At the second round I rode a lot better and everything was working better. I got a good start and was battling with David Vuillemin. We were pushing each other and was catching Timmy [Ferry] when, over a blind jump, I caught a hay bale with my footpeg and went down hard. It was a racing incident. I was very disappointed because the team had worked so hard during the week. I was also disappointed because I think I would have been in the top five in both races.
Maybe it's better to get the bad luck out of the way before Anaheim, huh?
Yeah, better to get it out of the way there [in Canada] than in Anaheim.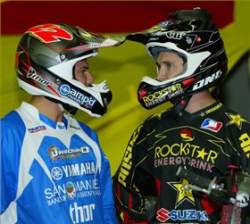 Byrne chats with fellow Australian, Chad Reed

You've raced factory Kawasaki motorcycles since 2004. Are you okay with riding a semi-factory Suzuki now?
Yeah, I actually feel comfortable and confident on the Suzuki. The only big difference is in the suspension and, yes, there are some other small things you don't get from not being on a factory team, but it's a very good team and we try and do everything like a factory team does. I'm using my experience as a factory team rider to try and teach the guys things. I think my knowledge is helping the team out a lot. It's kind of like, "Let's try this." Or "Let's try that." Everyone is motivated and learning how a factory team does things.
Has Suzuki and the factory team been helping out?
Yeah, Suzuki has been a great help. The bike is also really good. I was amazed the first time I rode it. I was really comfortable on the bike. It's all good. Suzuki has been a great help and really wants this program to succeed.
What will make you feel successful in 2007?
The last two years, at least once, I was on the podium. That's the goal: To always be on the podium. Last year I was always in or near the top five. Nothing has changed. I want to be a top five guy. It doesn't matter what I'm riding.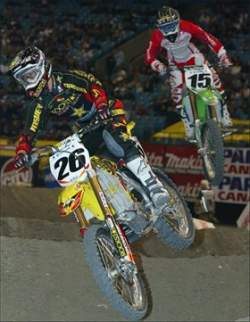 Byrne leads the rider who replaced him at Kawasaki, Tim Ferry.

There were rumors that you were close to signing a factory 250F deal for 2007. What happened with all of that?
I had a few offers to go back to the 250F class, but obviously the AMA shut that down. (Note: The AMA ratified a rule that riders in the top 20 in points in the 450F class could not drop down to the 250F class). So the 250F deal didn't come through. It could have been good for me. Sometimes something fresh can be good. I never really got to finish my 125 career (Note: Byrne left the 125cc class at the end of the 2003 season). I had a few good rides on the 250 in 2002 and 2003 and that provided me with the opportunity to step-up to the 250 class. I didn't want to pass up that opportunity when I had the chance. So it's kind of hard to say it would have been good or bad to go back down to the 250F class. But I'm fine with the way it is now. I like riding the 450 and I'm happy to be riding it because I've been at it a long time.
Was it hard to show up in Toronto and see Tim Ferry on what very well could have been your bike this season? Or was that just the way the ball bounced when you were negotiating?
I guess it was just the way the ball bounced. We just could not come across a deal we both agreed upon. I think injuring my thumb in Vegas also affected things. That was a fluke. That was a simple crash that could probably never be duplicated. The thumb injury was the worst injury I've ever had to deal with. Hanging on to a 450 on a supercross track is not easy. Thinking back, maybe I should have stayed out of the nationals last summer. I should not have come back until I was 100 percent healed. And as far as Timmy, he rode great in the outdoors, but I think in supercross my results were better than his.
You were third at Daytona. That had to be a satisfying result for you…
Yeah, the third at Daytona was great for me. I had a lot of top five and top six finishes in supercross. I was always there. I was always in the battle.
What's Michael Byrne's master plan for the near and immediate future?
I want to keep racing as long as I can and hopefully, after racing, find something to do in the sport. Life is great for me here in America. For me and Chad [Reed], it's like living a dream racing here. I think maybe it means more to us than other people. In fact, I'm in Georgia now. I have some new land and my own track and I'm really excited and happy about that. It's really nice to have a practice track right at my house. That way I can ride and practice every day. It's all been really good. The team has come a long way and my new Suzuki feels great. We should be really good for Anaheim.
Okay, Michael. Thanks for the call and have a great holiday season.
Thanks. You, too, Eric. See you at Anaheim.

Share this article:
Did you like this article?
Check out MONSTERBALL
in our Latest issue of Racer X available now.

Playing soccer on 250cc motorcycles might sound like a strange form of riding, but in Russia they do it with great passion—and for very little reward. Page 112.