But there are some drawbacks. Anytime the whole family is involved in a competitive environment it creates an unusual strain that most "normal" families simply never have to endure or experience. But in the end, in my opinion, it makes you appreciate and love each other so much more. Let's talk a little about motocross and family and get revved up for Thanksgiving.

There was a time when my parents drove my two brothers and I to the track in a small Jayco motorhome that pulled a trailer jam-packed with nine motorcycles. Being the oldest, I had brand new bikes, Clint had my hand-me downs, then Casey had Clint's hand-me-downs. This is how we grew up.

The idea of "vacation" or "camping" meant a trip to Lake Whitney or Gatorback. An ideal weekend meant the three of us rode good, didn't tear up our bikes and didn't get in trouble running around the pits like wild Indians. The days of coming off the track and smacking a high-five with pops and getting a hug from mom were some incredible times. There were also the long rides home in silence with a motorhome full of scraped elbows and a trailer full of bent handlebars. But that was life, as we knew it.
As the years went by, my youngest brother dropped out and began playing stick-and-ball sports, just as Clint and I began getting top tens at the nationals. More pressure would come, which would cause Clint to hang it up while I would embark on a very brief professional career.

I remember the day I hung it up and loaded my van for the last time with my dad before I drove to California to begin my career working in "the industry." We both cried. I know why he did: When I drove away it marked the end of what kept our family together all of those years. He didn't know he would be racing again very soon, albeit in a whole new world of competition, and the day would eventually come when we would all be united again sleeping in the same motorhome at a racetrack--a different type of racetrack, a different sport, but racing together as a family none the less.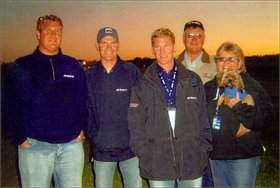 Happy Thanksgiving

I keep a picture of this moment on my desk to remind me how important my family is to me. I glanced over at it this morning and lost a couple tears because I realized this would be the first of my 29 years that I will not be spending Thanksgiving with them. It's okay, though. I'll see them next month for Christmas and family surrounds me as I sit. And that is what I am the most thankful for.
I am so thankful that I was blessed to grow up in such a wonderful family. I am thankful that we grew up racing motocross together as a family. I am thankful for the five years I spent working for the Fox family who treated me like I was one of their own. I am extremely thankful that I currently work for the Coombs family, who do the same. I am thankful that my jobs have centered on motocross families. I am thankful that I have the opportunity to write you wonderful people every week here on the Rev Up. I am thankful that I got to watch Clint drive in the Daytona 500 and that he stayed safe all year. Most of all, I am thankful that it worked out for my Mom and Dad and the Bowyers remain a racing family. Family is important. I love my family very much. I am so proud of both of my brothers and I will miss my family very much today when they all gather at Casey's house in Kansas for Thanksgiving.

Be thankful for what you have. If you are a motocross family, you have a lot. I wish all of you a very Happy Thanksgiving!

-Andy Bowyer