5 Minutes With ... Davi Millsaps
Thursday, October 26, 2006 | 8:56 AM Tweet

Davi Millsaps, the 2006 AMA East Region 250F Champion and third-place finisher in the 2006 Toyota AMA Motocross Series, broke his femur at the Millsaps Training Facility in Cairo, Georgia, last Friday. Not the best way to start an off-season. The news was not all bad, though, as Millsaps received prompt medical attention and, upon leaving the hospital, was informed he'd likely be back on the bike within eight to ten weeks. We spoke to him yesterday to see how things were coming along…

Racer X: Davi, what are you up to at the moment?
Davi Millsaps: Right now, I'm watching some guys play basketball here at the MTF.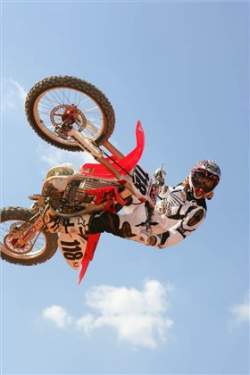 Millsaps should be back to doing this in eight to ten weeks

Is anyone playing there right now any good?
No. No, wait, Bryan Johnson is pretty good.
What have you been doing with yourself the past few days?
After I got hurt on Friday, I laid in the hospital until Sunday. Then I went home and laid around the house on Monday. Yesterday, I went up to Tallahassee. I went to Target.
Buy anything?
No, my girlfriend bought a lot of stuff, though. Wait, I did buy something. I bought the DVD Over the Hedge.
How does your leg feel? Is there much pain?
No, it doesn't hurt. I'm dealing with it. I'm on Advil. It actually doesn't really hurt.
How did you exactly break your femur?
I broke it with the handlebars. My hand came off in the whoops for some odd reason, and when I went into a berm, I slid under the handlebars and broke it. As soon as I hit the ground, I knew it was broke.
From what little we know about the matter, it sounds like it was a pretty clean break.
Yeah, it was a clean break. The break was a little jagged at the end, I guess, but it went right back into place and the doctors put a rod through it.
So the leg will heal pretty quickly then?
The doctors say that I'll be healed in six to ten weeks but that I'll really be all right in eight to ten weeks. So yeah, it should heal really well. It's not the end of the world. It's just a broken bone. A lot of guys who race have broken their femur. There's no reason to make a big deal about it.
Will you be able to do any type of training while the leg heals?
Just my arms. That's all I can really do.
Before you hurt yourself, you were able to attend the U.S. Open in Las Vegas. How was that?
I had fun. I had a good time watching the race. What else can I tell you, boss?
Did you get to gamble?
Nope, I'm not old enough.
Back to the injury. How did Honda react to your broken femur?
They weren't too happy about the broken femur. They were upset, but they're still behind me. They've called a few times to wish me well with everything and [to tell me] that they're 100 percent behind me.
Although you can't ride for the time being, do you feel good about 2007?
I feel good about this season and feel good about 2007. But I don't know, man, I'm just at the beginning. I guess we'll see after supercross and motocross in 2007. But I'm doing good, and I'll be back riding soon.
Share this article:
Did you like this article?
Check out MY LIFE IN MOTORCYCLE RACING
in our Latest issue of Racer X available now.

Jean-Michel Bayle, the iconic superstar of yesteryear, raced motocross for the first time in twenty-one years at the Vets MXdN in England. Page 126.