by
Bad Billy
Bench Racing Ammo: 2007 National Numbers
Tuesday, October 24, 2006 | 12:02 PM
Tweet
In this article…
Riders
Races
Ah, the anticipation was mounting and the big debate seemed to be 'What permanent number Ryan Villopoto will choose?' But after all of the hype and speculation, RV51 is sticking with 51. Some may think it's a bit odd, but it's similar to when Broc Hepler decided to stick with his first-ever national number, #60 – with a twist.
Turns out that #2, #5 and #6, which belong to Jeremy McGrath, Mike LaRocco and Steve Lamson, respectively, are not available right now. Even though all three have stated that they are retired, they earned points this year. Until they go one full year with no points, those numbers remain theirs. The caveat is this: Because Ryan scored his first AMA National MX Championship win in a year when no single digits were available, he will be allowed to have the first pick at the end of the 2007 season, which means he may yet wear MC's #2.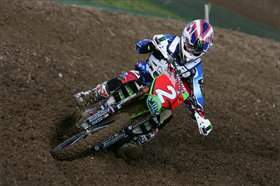 RV didn't take #2 for 2007, but he may take it in 2008.
photo: Simon Cudby
Anyway, with the new list in our hands, there have been several interesting questions that have arose, so for this installment of the Motosport Outlet Bench Racing Ammo, let's try to find some answers.
This question came Racer X reader from Roger Dale: How is it that Robbie Reynard gets to be number 17 in the rider listing? Clark Stiles has more points than him yet he is #38. Can you explain this to me?
Roger, Robbie Reynard is one of the riders with a "permanent number." Robbie has used #17 for several years now, and all he needs to do to maintain that number is score one point each season.
"Woody" from Mototalk posted this: I think the AMA has Jeff Gibson in the wrong place for his national number. If you take the total number of points from supercross and the outdoors he has a total of 149 points which should be national number 41, right behind Steve Boniface with 153 points. Jason Lawrence and Sean Collier have 148 points and they have national number 41 and 42.

Okay, we went straight to the top on this one, and AMA MX/SX boss Steve Whitelock said, "We made a mistake. It was a clerical error, and we are trying to work with Jeff to fix it."
As Woody correctly points out, the AMA left off Gibson's SX points.
Otherwise, he would be right there at 41. Whitelock is in contact with Jeff to either make a fix of sorts or reissue the numbers completely and take full responsibility for the error.
So what kind of deal? Turns out that Matt Walker, who earned #44, is planning on keeping the #122 he wore this year. Steve told us that if Gibson is okay with taking 44, and he's hoping that's the way it works out, the numbers won't have to be reissued. But if he's not, look for a whole new list with everyone between 41 and 62 dropping back one digit (except for #60 Hepler, as that's his permanent number).
Here's one from in-house: Do Jason Thomas and Ryan Clark have permanent numbers, because they have the same numbers for 2007 that they had in 2006?
Actually, neither Thomas or Clark have permanent numbers—they just both score enough points each season to maintain that high of a number, and it's a coincidence that they got the same numbers.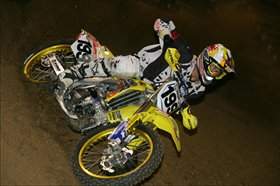 Although Travis didn't score any points, he should be able to maintain #199.
photo: Simon Cudby
And finally, one from Chris Palmer of ESPN Magazine: Why isn't Travis Pastrana listed?

Travis raced two AMA Supercross and Motocross races—Daytona and
Southwick
—but did not score a point at either. However, when he signs up again for his 2007 license, he should be able to get his number back, as the AMA does not plan on handing it over to anyone else as long as Travis plans on coming back and racing.
Got any more questions? Email
[email protected]
and I will do my best to answer.
2007 National Numbers:

No. Rider, hometown
2 Jeremy McGrath, Encinitas, CA
3
Mike Brown
, Johnson City, TN
4
Ricky Carmichael
, Havana, FL
5
Mike LaRocco
, Corona, CA
6 Steve Lamson, Camino, CA
7
James Stewart
, Haines City, FL
8
Grant Langston
, Clermont, FL
9
Ivan Tedesco
, Murrieta, CA
10 Ernesto Fonseca, Murrieta, CA
11
Travis Preston
, Hesperia, CA
12 David Vuillemin, Menifee, CA
13
Heath Voss
, Mico, TX
14
Kevin Windham
, Centreville, MS
15
Timmy Ferry
, Largo, FL
16
John Dowd
, Ludlow, MA
17 Robbie Reynard, Oklahoma City, OK
18 Brock Sellards, Sherrodsville, OH
19 Doug Henry, Torrington, CT
22
Chad Reed
, Tampa, FL
23 Kyle Lewis, Henderson, NV
24 Joshua Grant, Riverside, CA
25
Nathan Ramsey
, Menifee, CA
26
Michael Byrne
, Newnan, GA
27
Nick Wey
, Dewitt, MI
28
Brett Metcalfe
, Murrieta, CA
29
Andrew Short
, Murrieta, CA
30 Andrew McFarlane, Newport Beach, CA
31
Jason Thomas
, Melrose, FL
32
Ryan Clark
, Waddell, AZ
33
Matt Goerke
, Lake Helen, FL
34
Troy Adams
, Brooksville, FL
35
Josh Demuth
, Grapevine, TX
36
Josh Summey
, Stanley, NC
37
Paul Carpenter
, Ithaca, NY
38 Clark Stiles, Athens, AL
39 Danny Smith, Middleton, ID
40
Steve Boniface
, Lewisville, TX
41
Jason Lawrence
, Murrieta, CA
42 Sean Collier, Santa Clarita, CA
43 Jeff Dement, Kingwood, TX
44 Matt Walker, McDonough, GA
45
Martin Davalos
, Cairo, GA
46 Kelly Smith, Ludington, MI
47
Kyle Chisholm
, Seminole, FL
48
Chris Gosselaar
, Victorville, CA
49 Thomas Hahn, Decatur, TX
50 Tyler Evans, Corona, CA
51
Ryan Villopoto
, Poulsbo, WA
52
Robert Kiniry
, LaFayette, NY
53
Ryan Sipes
, Vine Grove, KY
54 Daniel Sani, Clovis, CA
55 Ben Townley, Tallahassee, FL
56
Josh Hill
, Yoncalla, OR
57 Justin Buckelew, Surprise, AZ
58 Jiri Dostal, Murrieta, CA
59
Ryan Dungey
, Bell Plaine, MN
60
Broc Hepler
, Kittanning, PA
61 Josh Woods, Flint, MI
62
Jeff Gibson
, Blacklick, OH
63 Erick Vallejo, Garland, TX
64 Ryan Mills, Clintondale, NY
65 Shaun Skinner, Stuart, FL
66 Brian Gray, Middleburg, FL
67 Juss Laansoo, Chatsworth, CA
68 Bobby Garrison, Sparks, NV
69
Billy Laninovich
, Lake Elsinore, CA
70
Jacob Saylor
, Knoxville, TN
71 Sean Hamblin, Murrieta, CA
72 Mason Phillips, Chino Hills, CA
73
Jake Weimer
, Rupert, ID
74
Kyle Partridge
, Las Vegas, NV
75
Broc Tickle
, Cary, NC
76
Tucker Hibbert
, Centreville, MS
77 Doug DeHaan, Thorndale, ON, Canada
78 Zach Osborne, Abingdon, VA
79
Jacob Marsack
, Allentown, MI
80 Richie Owens, Menifee, CA
81
Adam Chatfield
, Madisonville, TX
82 Jay Marmont, Murrieta, CA
83 Christopher Pugrab, Ellington, CT
84
Michael Willard
, Thornville, OH
85 Michael Blose, Phoenix, AZ
86
Justin Brayton
, Fort Dodge, IA
87 Michael Young, Temecula, CA
88 Joaquim Rodrigues, Temecula, CA
89 Justin Keeney, Lebanon, OR
90
Cole Siebler
, Emmett, ID
91 Michael Lapaglia, Murrieta, CA
92 Barry Carsten, Bayville, NJ
93 Joshua Hansen, Lake Elsinore, CA
94 Brad Modjewski, Hatley, WI
95 Bryan K. Johnson Jr., Cairo, GA
96 Chris Whitcraft, Pickerington, OH
97 Casey Clark, Pine Grove, PA
98 James Povolny, Hudson, WI
99 Kyle Mace, Hesperia, CA
118 David Millsaps, Cairo, GA
800
Mike Alessi
, Victorville, CA
Share this article:
Did you like this article?
Check out MONSTERBALL
in our Latest issue of Racer X available now.

Playing soccer on 250cc motorcycles might sound like a strange form of riding, but in Russia they do it with great passion—and for very little reward. Page 112.