Another interesting aspect of #45 is that it appears to be a progressive number that a lot of guys used on their way up, then served conversely as a digit some guys ran on the way down. Nonetheless, the four-five has some steam behind it. We hope you guys enjoy reading the names of some of the #45 brethren as much as we did.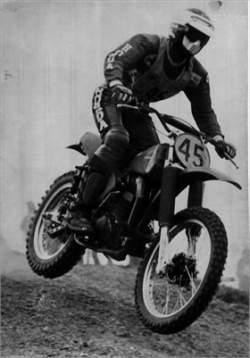 Pierre Karsmakers

photo: Dick Miller Archives

The oldest pic anyone could dig up in the short period of time allotted to this project was one of Pierre Karsmakers from 1976, when he was going back and forth across the Atlantic Ocean, racing various Grand Prix races (as he's doing here) and the AMA circuit. Pierre was from Holland, and so it was no surprise that the two nationals he won that year were St. Petersburg, Florida and Southwick, Massachusetts. But his biggest win of the year may have been a victory in the 500cc Grand Prix of England….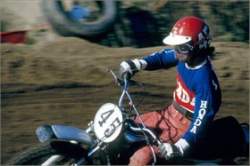 Billy Grossi

photo: Steve French

… Or at least we thought that was the oldest pic until DC pulled this gem out of the Steve French Photo File. That's Billy Grossi, a fan favorite for Team Honda that year, at a race called the Spillway Qualifier. And yes, that's a clear plastic face mask this motocross warrior is wearing!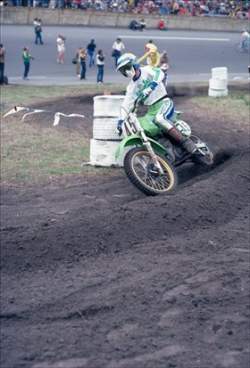 David Bailey

photo: Dick Miller Archives

Here's a rare picture of "The Little Professor" on Kawasaki. It's Daytona 1981. He would go on to finish 15th that day, but two years later, now as a member of Team Honda, he would win his first supercross main event at Anaheim. It's safe to say the 45 was kind to David Bailey, as we all know that he would go on to be the icon he is. Make note of the razor-straight goggle strap on David and the evil, safety barrier-free walls of the big old Superspeedway.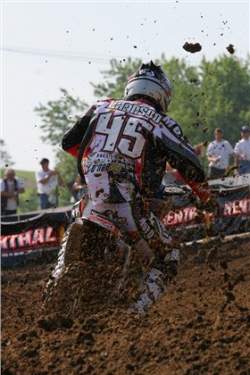 Juss Laansoo

photo: Matt Ware

Now let's fast-forward to some international guys that have an attachment to number 45. First we have Estonia's Juss Laansoo. Juss burst onto the scene in 2005 with some strong showings in the outdoor nationals, earning the AMA's Rookie of the Year Award, but sheesh, where the heck did he go? Injuries have ruined his '06 season; here's hoping Juss is back on the loose come 2007.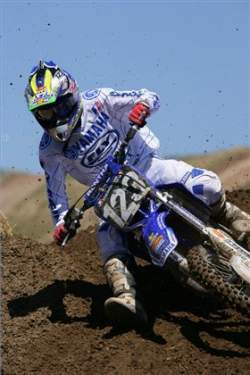 photo: Simon Cudby

Strangely, Australia's Brett Metcalfe earned number 45 for the 2005 season, but he chose instead to stick with his familiar #123 as he raced his heart out on that two-stroke YZ125. Alas, the number 45 was a lonely number in 2005.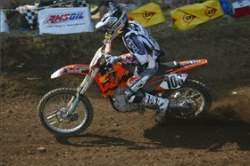 Joaquim Rodrigues

photo: Steve Bruhn

Also, Portugal's Joaquim Rodrigues earned number 45 in 2004 and really put himself on the map. Except, he didn't use the number: Instead, he went with number 108 and rode a KTM450 to come top ten finishes in the outdoor nationals and secured himself a ride with Factory Connection Honda. Then he switched numbers.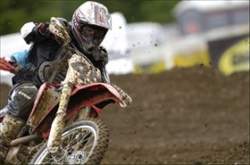 Chuck Mesley

photo: Jason T. Griffiths

Or how about Chuck Mesley from Stayner, Ontario, one of our fast neighbors to the north? Chuck raced his way to 9th place overall in the MX1 series points riding with the number 45!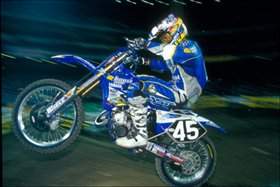 photo: Simon Cudby

Okay, Ivan was born and raised in New Mexico, but with his Mexican heritage and a nickname like Hot Sauce, I believe we can safely stick him in the "international category" even though the man is a two-time Team USA MXdN champ! In 2002, Ivan was just beginning to display the indoor prowess that would eventually see him become a two-time West Region Supercross champion. The event that sticks out the most for me about Ivan this year was his run-in he had with James Stewart at the Dallas SX. Stewart, seemingly on his way to the title in his rookie season, got in a rush and mowed Tedesco down early in the main event, knocking himself out of the championship in the process. Who would have thought they would be celebrating Motocross des Nations glory together four years later!

In my research of the number 45 I ran across some really cool names. Again, a reoccurring theme just seemed to follow the number: Micky Dymond was number 45 in 1985 riding that Husqvarna chainsaw fast enough to catch the attention of Roger DeCoster and Team Honda and would go on to win the 125 AMA National Championship twice over; on the other hand, respected professionals like Rich Taylor ('93), Doug Dubach '(96) and my bro Robbie Skaggs ('98) wore the number as they were slowing down or beginning to have some bad luck.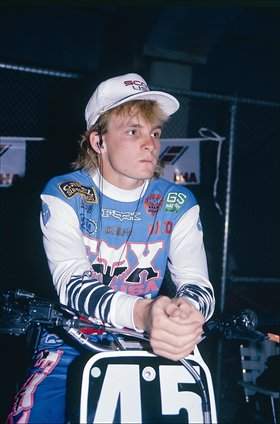 Damon Bradshaw

photo: Courtesy of Moto Verte

The person who epitomizes both the use of the 45 in both one's rise and his fall is American motocross folk hero Damon Bradshaw. As a rookie in 1989, he would blow minds on his white Yamaha YZ125, winning as many races as he threw away with his Bob Hannah-esque riding style. It was with #45 that he won his only professional title—the '89 125 East Region SX title—before moving down a bunch of digits but also becoming more inconsistent.
It all reached a boiling point in 1993 when halfway through the season Bradshaw up and quit, going on a self-proclaimed hiatus while he worked some stuff out. He would come back in '95 wearing #114, then #28 in '96, before reaching #10 in '97 with Manchester Honda (and winning his last major race in the mud at High Point). Then he parked it again…

… For awhile anyway. Bradshaw got the racing bug again in the fall of 2003 and decided to come back out and do some arenacross racing on—you guessed it—the #45 Yamaha! (Only by now Yamahas were blue.) Bradshaw did pretty good too, raced with a smile on his face and battled Josh Demuth all over the country until a badly broken leg pretty much meant the end of the line for the most famous of #45s.
Before I go, I believe my favorite aspect of this week's Shift Number Cruncher were the names I discovered who raced with it at Loretta Lynn's. Check out this #45 band of brothers (and sisters):

#45 Jody North – 85 12-13 Modified 31st
#45 Lowell Thompson - 1987 125cc Pro Am 41st
#45 James Eickel - 1987 125B Modified 11th
#45 Ray Crumb - 1988 250B Stock 4th
#45 Bryan Emig – 125 A Modified 34th
#45 Ryan Carlisle - 1989 250B Stock Champion
#45 Grayson Goodman - 1989 125 A Modified (DNS)
#45 Steve Herman - 1990 125 A Modified 3rd
#45 Derek Natvig – 1992 125 A Modified 5th
#45 Eddie Ray – 1993 250B Stock 25th
#45 Roy Schellenberger - 1994 250 A Modified 5th
#45 "Fast" Freddy Mitchell – 1994 125 B Stock 10th
#45 Mike Lambert - Open B/C 1996
#45 Sarah Whitmore - 1997 Women 12+ 80-125 22nd
#45 Gavin Gracyk - 1997 85 12-13 8th
#45 Branden Jesseman - 1998 250 A Pro Sport 39th
#45 James Marshall - 2000 125 Modified 12-15 2000 10th
#45 Ryan Sipes – 2001 125 B Modified 14th
#45 Kyle Partridge - 2002 125 Modified 12-15 6th
#45 Anthony Poccoroba - 2003 +25 7th

It's a cool thing to go back and read these names and look at those years and remember seeing these people on the track: "Fast" Freddie Mitchell was this really cool short guy from Arkansas; Ryan Carlise was this broad-shouldered dude from Cali that RC used to pal around with; Ray Crumb was the guy that went down with Tommy Clowers, and "Tom Cat" got his leg stuck in the rear wheel of Crumb's bike, so Ray picked up Tommy's bike and took off!

Right on, guys. We hope you have enjoyed this week's edition of Number Cruncher, and hopefully seeing all of these number 45s will spark some cool memories of your own. Tell us about the 45s you remember from back in the day! andy@mxsports.com