Where Are They Now: Rodney Barr
Friday, September 29, 2006 | 9:56 AM

THE BOYESEN LEGACY... For more than 40 years

Boyesen

has specialized in the design and manufacturer of high-performance parts for pros and amateur racers alike. From Boyesen's innovative, industry-leading 2-stroke performance intake systems, to the Race-Proven Supercooler performance water pump system, Boyesen continues to set the standard for motocross and off-road performance.

Tweet

Rodney Barr was always fast on a motorcycle. His dad bought him a mini bike in 1977 when he was just a kid. He would race with his father's friends on a track behind his dads shop, beating them on occasion. His father's friends insisted that Rodney start racing and that is exactly what he did.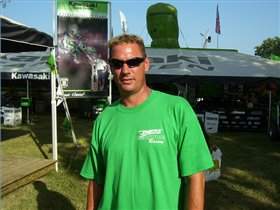 Rodney Barr today
photo: Mike Farber
The first big amateur race that Rodney showed up to was the national at Baja Acres in Michigan. He finished sixth on a Yamaha at that race in 1977 but it was just the beginning for Barr. He became a threat to win any race he showed up at and in 1981 he signed a deal with factory Yamaha. For three years he chased the amateur racing circuit with the Yamaha camp but he never quite felt at home on them.
At Gainesville in 1984, Mark Johnson of Kawasaki approached Rodney and asked if he would consider riding for them. One week later, Barr was on a KX.
"It seemed like when I made that switch something clicked," says Barr. Adding, "I was always really comfortable on the Kawasaki. The only problem was that my dad owned Barr's Competition and Kawasaki had a deal with DMC to use his products. So, a lot of times there was conflict there about that whole situation. Still, we won some races along the way."
Rodney would win the 125 modified pro class at Ponca City in 1985 and then win the 125 east/west shootout at the LA Coliseum later that same year. 1986 was his first full season as a professional. The champion, Eddie Warren, moved up to the 250 class and since Barr finished second in the series that year, he ran the big number one plate at the shootout. Rodney was part of Kawasaki's support team that included Ronnie Tichenor, Tyson Vohland and Bader Manneh. The season was a success but not without its problems, as Rodney explained.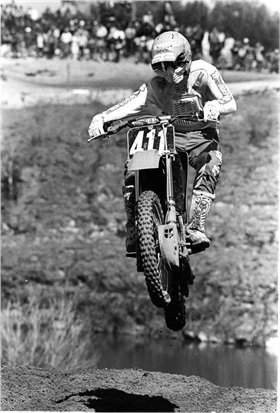 Barr ran #411 in 1985, the same year he won the Rodil Supercross
photo: Paul Buckley
"I crashed in Atlanta that year and did some damage to my foot. I kept racing even though it was bothering me pretty bad. By the end of the season it got really bad and I had to miss the last few rounds of the nationals. The next season, I just couldn't get motivated and I didn't do that well at all."
By 1988, Rodney felt like he needed a change. He signed on with Suzuki but struggled to get comfortable on the bike. The following year he rode a Yamaha but it only made him realize more that he liked the feel of the Kawasaki.
Things changed for Barr in 1989. He got married and also began teaching motocross schools. He continued to race but with mixed results. By 1994, Barr decided to start teaching schools full-time.
Today, Rodney lives in Shelby, North Carolina and works for his dad's company, Barr's Competition. Rodney handles all of the suspension duties while his dad builds the engines. Rodney's suspension service is called RPS and if you've been to an amateur national lately you've probably seen people using it. He also has three kids named Tate, Gage and Logan. They are 16, 12, and 7 years old and all of them race.
To learn more about Rodney's motocross schools e mail him at [email protected] or call (704) 482-5169 and ask for Rodney.
Of his career, Barr has only this regret:
"The one thing I would go back and do differently is in 1985 I moved to Texas and it hurt my career. My father was always my backbone and when I got away from him I lost motivation. Then, when I got hurt, I went down a wrong road and there was nobody there to stop me. He always kept me straight and I should have stayed around him."
Share this article:
Did you like this article?
Check out MY LIFE IN MOTORCYCLE RACING
in our Latest issue of Racer X available now.

Jean-Michel Bayle, the iconic superstar of yesteryear, raced motocross for the first time in twenty-one years at the Vets MXdN in England. Page 126.