Racer X Tested: 2007 KX450F
Friday, September 29, 2006 | 7:06 AM

Pivot Works

is the fast, easy and complete solution to rebuilding a dirt bike or ATV's chassis or suspension. Since 1999 Pivot Works has made OEM quality components for riders alike. With over 1,000 complete kits for nearly 4,000 applications makes Pivot Works the racers choice!

Tweet

In the past two seasons of professional racing, Kawasaki has won five of the six 250F-class titles up for grabs in AMA supercross and motocross. That is impressive. The 2006 KX250F was an all-new effort from Kawasaki, so the 2007 edition is a polished version of its predecessor. How polished? Read on.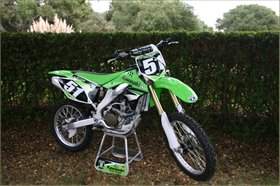 The 2007 Kawasaki KX250F
The '07 Kawasaki has a new longer, straighter airbox funnel to increase low-rpm response, revised carburetor tuning, new hand-polished intake ports, revised ignition timing, revised piston crown, new surface-hardened crankshaft, taller radiators, new five-speed transmission with thicker gears, new shift drum, new ball-bearing shift shaft, stiffer clutch springs, Teflon-lined clutch cable, revised frame spars, revised fork valving, revised shock valving, new sprocket-style chain roller, and a new works-style skid plate.
Kawasaki invited us to Lompoc, California, to ride at a private ranch owned by a man known simply as Doc Huss. Now, I don't know if he's a real doctor or a doctor like Julius Erving was a doctor, but the man definitely owns one spectacular piece of property. The track looks like an advanced level of the Super Mario Brothers video games. There are manicured trees and bushes and ground cover and an elaborate watering system that keeps it all green and lush.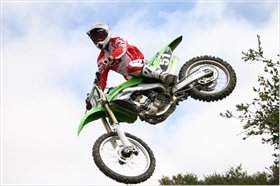 Kyle was right at home on the Kawasaki
I asked Kyle Mace to join the
Racer X
test crew for the day. Kyle is one of the best privateers in the business right now, and he even pocketed some of the
Racer X
Holeshot money when he rocketed out front of the
Thunder Valley
National this year. It was a short-lived lead, but he was at the front of the pack longer than most guys. Kyle suited up and had his turn on the perfectly groomed course.
"This place is crazy," were Kyle's first words when he was done riding. "The track is so tight and narrow and covered with trees and plants that it's hard for me to pay attention. I haven't ridden a 250F in over a year because I've been focusing on the 450 class. I'm really surprised at how quick this bike is. I was expecting it to be pretty slow compared to the bigger bike. I ride Kawasakis, so it was very comfortable to me right away. It seems like it handles well, and it's jetted perfectly right out of the box. It's definitely the best 250F I've ever ridden."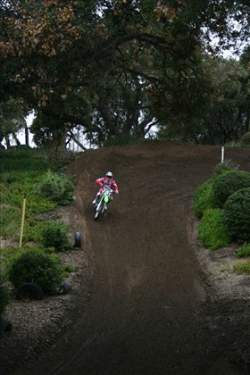 The bike and the scenery were excellent
I hopped on and rode a few laps of my own when Mace was finished, and I immediately knew what he was talking about. The trees shade most of the track, and if you go off the course at any time you will run straight into a perfectly round shrub or right through some deliberately placed ice plant. The bike was as impressive as the track. The power on the KXF was broad and strong, making it very easy to ride. The changes to the chassis and suspension are aimed at making the bike feel lighter and quicker-handling, and they do just that. The tight corners at Doc's place were easily handled on the Kawasaki. The brakes were excellent and the attention to detail is great. I was surprised to see that the new KX250F didn't get the DLC coating on the fork sliders, but the Kawasaki crew reminded me that the 450 comes with Kayaba suspension components (that have the coating) while the 250F comes standard with Showa forks and shock.
At the end of the day, Kyle and I had nothing but good things to say about the new bike. We were equally impressed with Doc Huss' ranch and the Edward Scissorhands sculpting of the foliage there. With this new machine, there is a good chance that Kawasaki could win the Racer X Tested Shootout again. There is also a good chance they could win all three of the 250F-class championships again.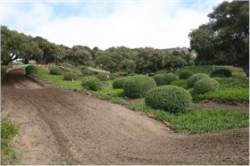 Dirt bike track or hidden level in Super Mario Bros? Too close to call.
Share this article:
Did you like this article?
Check out MONSTERBALL
in our Latest issue of Racer X available now.

Playing soccer on 250cc motorcycles might sound like a strange form of riding, but in Russia they do it with great passion—and for very little reward. Page 112.