Although the Americans were without team captain Ricky Carmichael on the track, the multi-time MxoN winner was on hand to lend moral support to the team in any way feasible. He also took time to show his appreciativeness of the enthusiastic crowd, who always welcome the Americans with open arms.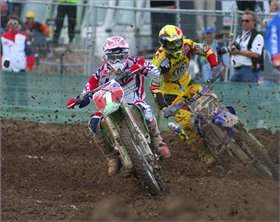 The tale of two styles: James sits while Stefan stands

Young and inexperienced, Team USA was still heavily favored to take home the Peter Chamberlain Trophy for the second consecutive season. A win for the Americans would put them in sole possession of having the most MxoN victories in the world with 17.

On Sunday morning, after a day full of sunshine, everyone at or around the Matterly Basin circuit was awoken to rain. But shortly after 7 a.m. there was a break in the clouds, allowing the sun to show its rays. Although the course was a bit muddy in practice, the track shaped up nicely for the main motos of the day. Rough and rutted, the track didn't look to favor any nationality.

Moto 1
The gate drop for the first moto couldn't come fast enough. But when it finally did, it was the 10-time World Champion Stefan Everts racing into the lead, snaring the holeshot away from Team USA's James Stewart, who was donning the #1 on his Team Kawasaki KX450F.

The stage was set for the battle that every fan was yearning for between Everts and Stewart, and while those two started to inch away, the rest of the top five were jockeying for position throughout the first lap. At the end of lap one American MX2 pilot Ryan Villopoto settled into fourth place on his Monster Energy/Pro Circuit Kawasaki, and things were looking up for Team USA as Stewart closed up to the rear fender of King Stefan's Yamaha.

But just as the loud, lively crowd prepared for what many hoped to be an epic battle, Stewart's front wheel knifed into a rut going into a lefthander and he hit the tacky, English soil, stalling his Kawasaki and allowing Everts to open up a sizeable lead on only the second lap. It wasn't a hard crash, but it was time consuming. He frantically kicked his bike back to life while dropping to third, fourth, fifth... He rejoined the fray barely inside the top 10.

With no pressure, Everts stretched his lead ever so slightly over Villopoto, who passed New Zealand's Ben Townley after he made a mistake squeezing passed Stewart's bike. With Everts out front, it was a train of MX2 riders with Villopoto, newly crowned MX2 Champion Christophe Pourcel, and Ben Townley in tow.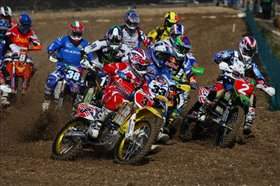 Tedesco pulls the holeshot in the MX2/Open moto

For the next several laps Stewart would charge up through the pack, methodically picking off one rider after another. Meanwhile, out front Everts put in fast, consistent laps and quietly stretched his lead over Villopoto. Although everyone would've loved to see a great battle between two of the fastest motocross riders in the world, it wasn't meant to be. Stewart was able to work his way past his teammate for second, but he wasn't able to chip into Evert's lead. The first moto of the 2006 Fox Motocross of Nations was in the book, with the moto win belonging to Stefan Everts. Team USA's Stewart and Villopoto finished second and third, with France's Christophe Pourcel taking fourth. Everts teammate, Kevin Strijbos, finished in 11th, which would prove costly for Team Belgium. After the first moto, Team USA was leading the MxoN with a score of five points. Townley and Coppins finished a very strong fifth and sixth for a total of 11 points, putting New Zealand in second overall. Belgium sat third as Everts 1st and Strijbos' 11th totaled 12.

Moto 2

When the gate fell for the second moto (MX2/Open), it was Makita Suzuki's Ivan Tedesco taking the holeshot. Meanwhile, it was a shuffle for second place between Christophe Pourcel, Ben Townley, Ryan Villopoto and Antonio Cairoli. Tedesco looked to be putting a little distance between himself and second place, which was briefly occupied by newly-crowned MX2 World Champion Christophe Pourcel. Pourcel would then slide out on a small downhill double jump, losing positions to Villopoto and Cairoli. Much to the delight of American fans, Villopoto then got around Townley for second, and Team USA ran 1-2 early in the early stages of the moto.

Replacing Ricky Carmichael on the team, Tedesco was racing in his second-ever MxoN, his first being last year. It was a last-minute decision for him to be racing on this year's team, as he found out that he was definitely racing on the Thursday prior to the event.

Suddenly, the American luck took a turn for the worse as Villopoto overshot a rough left-handed turn and almost ended up in the fence. He miraculously saved it, but this minor miscue allowed Townley and Cairoli to get by, and the rider that was really on the move was Cairoli.

Around the halfway point, it was becoming obvious that the bigger bike and the rough and rutted course was taking its toll on Tedesco, as this was only Tedesco's second-ever outdoor race on a 450. Tedesco backed it down a notch, not wanting to risk a major crash. Meanwhile, Cairoli battled briefly with Townley, and after getting around he set his sights on Tedesco. He caught and passed IT, and quickly put some time between himself and the New Mexico native.

Villopoto then regained his composure after his close call and caught and passed Townley, but BT101 returned the favor and passed him back. Villopoto then got around Townley, and then both riders were able to get around Tedesco.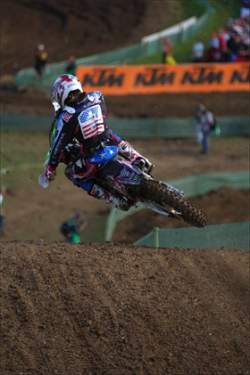 Villopoto impressed everyone today

While the attention seemed to be focused on the top three, Belgium's Steve Ramon seemingly came out of nowhere and motored by Tedesco by the mechanic's area. This was the last lap, and to make matters worse, Tedesco tipped over in the same area that Stewart did, losing another valuable position to South Africa's Tyla Rattray. As the checkered flag flew, the Italian faithful went crazy for Cairoli, who bested every MX2 and Open rider on his Yamaha YZ250F. Villopoto finished second, Townley third, Ramon fourth, Rattray fifth and Tedesco sixth.

But the big development of the second moto was when Belgium's Kevin Strijbos crashed near the end of the race, resulting in a 33rd place finish. Coupled with his 11th place in the first MX2 moto, Strijbos proved to be the weak link in the Belgium team. So after two motos, USA extended their lead in the quest for the MxoN title.

Moto 3

Going into the final moto it was apparent that something drastic had to happen to Team USA for the Peter Chamberlain trophy to slip from their grasp. Villopoto did his work and won the overall in the MX2 class with a solid 3-2, and now it was up to Stewart and Tedesco.


When the gate fell, it was Italian David Philippaerts displaying the quickest reflexes, muscling his KTM into the lead. Everts started around fifth with Stewart and Tedesco farther back than that – near 10th. It took a few laps, but a three-way battle then developed between Everts, Philippaerts, and Stewart, which really got the attention of the massive crowd. Airhorns were blaring and flags were flying as fans witnessed quite possibly the best battle of the weekend. Stewart made a move on Everts and passed into second behind Philippaerts. Unable to make a move to get around the Italian, Stewart then became prey for Everts, who railed around Stewart on a sweeping right-hand corner, standing up!. Everts then shot past Phillippaerts, and Stewart quickly did the same. This set up the battle between Everts and Stewart, but it would never come to be. Everts would maintain a three to four-second cushion over Stewart for the rest of the moto. As for Tedesco, he rode quietly just inside the top ten.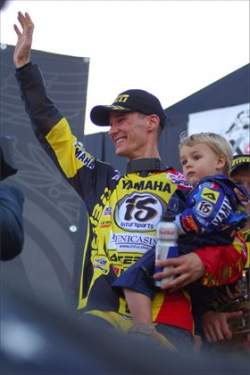 Stefan Everts went out on top

It was obvious at this point that James Stewart, known for his amazing riding ability, wasn't going to challenge King Everts. He was navigating the Matterly Basin circuit smoothly and safely, pumping his fists in the air after seeing the two-lap card. The final laps proved non-climactic, and it was clear what was going to happen. Stefan Everts would finish 1-1, doing his part in Belgium's quest for the title. But it was the consistency of the Americans that would prove victorious on this day. As the riders crossed the finish line they were rushed by an ecstatic crowd; half chanting "Everts;" the other half shouting "Team USA." So although Everts may have won the battle, James Stewart, Ivan Tedesco and Ryan Villopoto won the war.

It was a fitting end to a great race in which everyone got something that they wanted. Team USA wanted to win, and they did. But the emphatic crowd, who all praise King Stefan, got to see their grand champion go out the only way that seemed fitting—on top of the world with a perfect 1-1.

Now if we could only coax him out of retirement to come over to Budds Creek for the 2007 Motocross of Nations...