I've wanted to do this since I was 8 years old
photo: Matt Ware
Hello, everyone, and welcome to the Rev-Up. There will be thunder in the mountains this weekend! Round 7 of the 2006 Toyota AMA Motocross Series will roll into beautiful Lakewood, Colorado, for the second race in the new event's young history. Last year's inaugural Thunder Valley National was a huge success with a large spectator turnout, a perfectly groomed track, and ideal summertime weather. The word on the street is that David Clabaugh's event is going to be nothing short of spectacular! I don't want to spoil the surprise, but I can offer that the racing this Sunday will be very fan-friendly….

Speaking of that, I have been to over half of the AMA Nationals this summer and each one has had a noticeable festival vibe to it. I think this is a step in the right direction. Racing in the stadiums is cool and all, but for my money, it doesn't get much better than being out in the gorgeous green outdoors in the summertime heat. Sunglasses, sunblock, and a frosty one on your mitt while you pump your fist for your favorite rider is what it's all about, doctor! It's great to see the promoters stepping it up with concert-style audio systems and basically trying to make these gigs something you drive home from going, "Damn, that was cool. Junior will remember this weekend for a long time. I'm going back next year and bringing my neighbor with me!"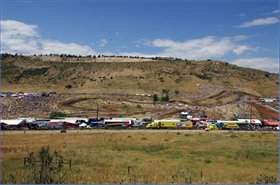 Lots of elevation changes and high altitude
photo: TFS

There is so much potential with these outdoor races. Unadilla was really good last weekend. I was really looking forward to going there for the first time, and my trip was everything I wanted it to be—I said I was going to stand in Gravity Cavity, and I did just that! That was pretty big stuff for this hick kid from Kansas. But enough of that, we have a big race charging our way this weekend. Let's get Revved Up for Thunder Valley!

250F Class

When I take a look over at the scoreboard in this division, I see that Ryan Villopoto now has a field-goal lead over archrival Mike Alessi. After 12 motos, only three points separate these two phenomenal racers. It would seem that these two have been trading wins back and forth, but when you consider that Villopoto suffered a DNF at Southwick, the reality of his overall stranglehold on this class becomes more apparent. Ryan seems to be the only cat in the group who can start outside the top 10 and claw his way to the front. The "Flying Freckle 3" has been riding astonishingly well this summer. But mother momentum is always changing hands. All it takes is a little confidence here and some good (or bad) luck there and a guy can go from up to down in a snap. In the second moto at Unadilla we had a four-rider freight train for 15 minutes that saw guys slingshot back and forth. It was incredible, made-for-TV racing drama that really made you get into he race as a fan. Josh Grant, Andrew Short, Villopoto, and Alessi are riding the wheels off of those 250F bikes. In addition, I made a personal note to myself about halfway through the second moto at Unadilla. It read, "Brett Metcalfe is flying!"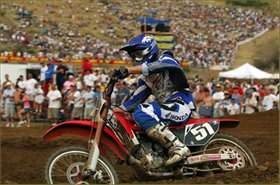 Check out the Denver Broncos helmet!
photo: TFS

Ah, but this weekend there will be a guy who will be riding with little extra. Andrew Short has been right in the thick of every battle all summer. He is one of the strongest guys in the class, and he is looking for that little extra juice to get up and around #800 and #51. Lakewood is Short's backyard. Nothing gets a rider going like having his family and friends leaning over the fence screaming for him. He was fast last year, and I think he'll be the man to beat this time around. It's an important time in the series for him to mount a charge, and he needs to make up some points. Maybe the One Industries guys will do special paint scheme for him this weekend?

450F Class

Forget about the Ricky Carmichael domination or the James Stewart downfalls—there is a lot more going on in this class! There is some really tight racing 40 seconds behind those guys when they're together (20 seconds behind RC when it's just him): Davi Millsaps, Chad Reed, Kevin Windham, Tim Ferry, Nick Wey, and David Vuillemin have really been going at it. And now that Michael Byrne is back, there are even more sparks flying. That's the battle for the top five positions, and it was pretty fierce last weekend. But even better is the battle for the podium. The big-time bonus money begins and ends with podium finishes. Reed was riding hurt last weekend, and when he saw Millsaps begin to fade, he dropped the hammer and went after that podium finish. Davi saw him coming and wicked it up big-time, and for the first time all summer they were both chasing Kevin Windham. Maybe the Motocross des Nations discussions that are well underway lit a fire under K-Dub and he wants to be considered for the team again? What ever it was, it's good to see him riding with some grit. He gave RC some fits at this track last year, and maybe he'll get pissed off and give him another challenge.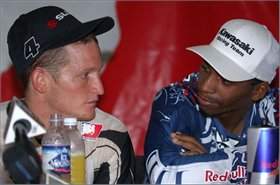 Hopefully, this scene will repeat itself this Sunday afternoon
photo: TFS

The jury is still out on James riding this weekend. He's probable, and I sure hope he makes it: There will be around 20,000 people driving home Sunday night with a bigger smile if he gets to put in two motos. They need him, OLN needs him, and basically, we all need him. Here's hoping James shows up to Colorado ready ... and leaves Colorado healthy.

So here it comes, guys! It's going to be another awesome weekend of outdoor motocross. Thunder Valley is a really cool track cut into the side of a mountain, just a stone's throw from the Red Rocks amphitheater and the Molson/Coors Brewing Company. It will literally be the mud, the blood, and the beer this Sunday afternoon! These ingredients have the two senior members of the 2006 "Ill Communication Tour" heading for the Rockies (of course I am speaking of Racer X soul mates David Brozik and Michael Farber). If you make it to the race this weekend, stop by the Racer X tent and rattle their cage. They'll have free stickers and our latest casualwear at the ready, plus a chance to pick up an Ernesto Powerband. Sissly.

Thanks for reading the Rev-Up. See you next week.