Where Are They Now: Keith Turpin
Thursday, July 13, 2006 | 8:51 AM

THE BOYESEN LEGACY... For more than 40 years

Boyesen

has specialized in the design and manufacturer of high-performance parts for pros and amateur racers alike. From Boyesen's innovative, industry-leading 2-stroke performance intake systems, to the Race-Proven Supercooler performance water pump system, Boyesen continues to set the standard for motocross and off-road performance.

Tweet

Keith Turpin is one of the best motocross racers to ever come out of Georgia. He got his start in the sport in 1974 on a Honda MR50, and his family would go to the local outlaw races near Atlanta and compete on the weekends. He improved over the years, and by 1978 he was the quickest mini rider in the area. Keith rode an RM60 to the GNC Finals win in the Houston Astrodome that year, and the win set him up for much better support.

In 1981, Turpin and Billy Liles, also from Georgia, were chosen as the first two riders on Kawasaki's experimental Team Green. (Coincidentally, both riders will be at Loretta's in August to commemorate the 25th anniversary of the successful program.)

Over the next several years, Turpin would win amateur national championships at Loretta Lynn's and other prestigious national events before turning pro in 1984, joining the Honda support program. Still with Honda in 1986, Turpin won four 125 East Region Supercross main events, including his hometown race at Fulton County Stadium in Atlanta. To this day, he and Ezra Lusk are the only riders from Georgia to win at home; most of Liles' success came racing Grand Prix motocross in Europe. Keith continued with his consistent results, scoring a podium at Southwick and many top-ten finishes.

In 1987 Keith signed with factory Suzuki as their 125 East Region rider. He rewarded them with wins in Houston, Pontiac, and Dallas that year. The following year, he was moved up to the 250 squad at Suzuki. He had a decent year, carding regular top-ten and top-five finishes throughout the season, until Pontiac.

"Pontiac that year was my career-ender," Turpin explains. "We used to go up into the seating, creating an uphill and downhill in the stadium. After you dropped back down, there was always a slight turn and then a triple. When I jumped out of the stands, my feet grabbed a rut and came off the pegs. I was committed to the triple and I hit it lying on the seat. When I came down on the third jump—way too short—I snapped my femur in half. I went home after that surgery and did a lot of soul-searching. I decided that I had had enough."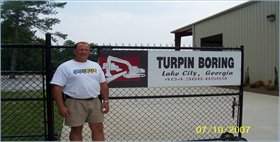 Keith Turpin now
photo: Courtesy of Turpin
Like most racers, Turpin had his share of injuries over the years, and after a while they just weren't worth it anymore. His contract with Suzuki was for another season, but Keith sat down with Pat Alexander and Tosh and they made a clean break at the end of the season.
"I went and did some races in Canada for Morgan Racing the next year or so," Turpin says. "Then I went back to school and studied psychology. After a while I figured the best thing was to work with my dad at his company."
Turpin Horizontal Boring, his father's company, specializes in drilling holes and running steel pipe under freeways and roads for drains, pipes, and culverts. Keith and his brother Ashley run the business now and are currently working with land developers to ready new parcels of land for building.
Keith was married in 1991 and has two kids, Brian and Brad (ages 11 and 9). Both kids rode and raced at a young age but focused more on football than dirt bikes. Keith and his brother coach the little league football team and have won a couple LL Super Bowl championships.
"Now the kids are starting to get back into bikes," Turpin says. "They want to race, and we've been going out riding quite a bit. In fact, I went out a few weeks back and bought myself a new 250F. The first thing I did was order the David Bailey replica graphics and put my old amateur number, #332, on the plates. With all the old guys coming back to race Loretta's, I told the kids we might all just have to try to qualify next year."
Share this article:
Did you like this article?
Check out 10,000 MILES FROM HOME
in our Latest issue of Racer X available now.

Australian Dean Ferris hopes to follow in the footsteps of some of his legendary countrymen. Now contesting the FIM Grand Prix series, he made a huge impression at the Motocross of Nations. Page 138.