Barry Hawk heads to the finish and the fans at the Wisp.

For five years, the Wisp at Deep Creek Mountain Resort has stood as the ultimate obstacle for Suzuki Grand National Cross Country riders. The steep hills and huge boulders on the track provide a real test for even the toughest riders. It's so tough that you will routinely see riders pulled off the track to rest, because the rugged terrain just never lets up.
Since the track is so tough, everyone feared the day rain would become a factor. Combine mud and water with those hills and rocks and you have a recipe for disaster—a rocky, slippery, muddy combination not unlike the legendary Blackwater 100.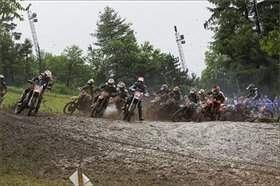 Charlie Mullins grabs the Racer X Holeshot award.


But it turns out Wisp and rain make a good combination, especially if you're Barry Hawk or one of the thousand or so Hawk fans on hand. The Smithfield, PA native nailed the Wisp win for the second-straight year, and the fans were going nuts when he crossed the finish. So pumped was Hawk that he dropped his bike and started making "mud angels" at the finish, and then later jumped in a pond!
"It was awesome, everybody was out there cheering," said Hawk. "I've said it over and over, but, I know it doesn't seem like it means much, but people cheering really does make a big difference."
Yes, it was all fun after the event. But before it, well, no one was sure. The obvious question at the Wisp was: would the rain make the mountain impassable? The second was: Could Juha Salminen step it up?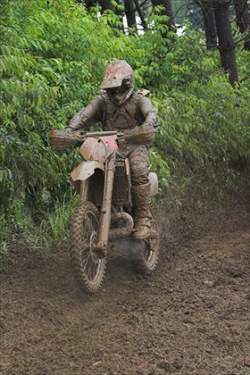 Juha Salminen finished second.


Juha has been the dominant factor in all things GNCC for the past two years. But there was one major chink in his armor. The Wisp is possibly the most prestigious race in the series, but it was also the one where Juha put in his worst ride last year, carding a crash-marred seventh. The Finnish world champion may have just had an off day last year, or perhaps the huge rocks and hills just didn't lend themselves to Juha's riding style.
"Last year the team told me a lot about how different the track would be from all of the others," said Juha before the race. "But I didn't really listen to it. I didn't know how much bigger the rocks would be. This year we have made some changes to the bike."
Juha's factory KTM mechanic Antti Kallonen said the team made changes to their WP suspension and Michelin tires and mousse tubes to get the 250 XC working better.
No changes were needed over at the Am Pro Yamaha truck. Barry Hawk won the race last year and was looking forward to another great run this time. The rain only made things better for him. "This track, I think my riding style works good in the rocks," said Hawk." I really look forward to it. Everyone I talked to couldn't believe it was raining today, but maybe that was the difference. I still wanted it really bad today."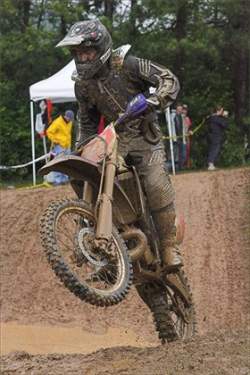 Goggles were a huge factor. Nate Kanney demonstrates how hard it is to keep goggles on for a 30-minute lap.


The rain never let up all day. This was one going to be tough. Hawk's young teammate Charlie Mullins grabbed the Racer X Holeshot award and led the field up the slippery slopes. Soon Juha was into second and then made a pass for the lead. Hawk wasn't going as strong though.
"After my first lap I thought I was never going to catch those guys," said Hawk. "I was way back and I thought it was going to be a long day. My goggles were covered, my grips were muddy. I think I was being too conservative. So I really started flooring it, and it seemed like I was a gear higher than everyone."
Mullins would succumb to brake problems. Brakes and goggles would be a factor with a lot of riders, as the mud and rain wreaked havoc on components. RER Motorcity privateer Nate Kanney was in the hunt early until brake trouble plagued him, too.
By the end of the third lap, Hawk had made his way all the way into the lead. He stopped for goggles at the beginning of lap four while Juha flew past. That lap would tell the story. Now two hours into the race, Salminen fell and covered his gloves in mud.
"It was very tough," said Salminen. "I was the first guy on the first lap. There was water everywhere. There were a lot of rocks but I couldn't see them under the water. It was so difficult, there was just mud every where! It was hard. I lost my game on the fourth lap. I fell down a couple times. My glove was full of mud. That was my mistake. I should have stopped and changed my gloves. I lost everything in that lap."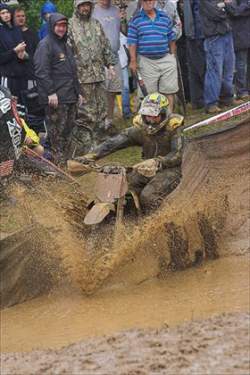 The fans were pumped to see John Dowd at a GNCC. He finished a solid fourth.


Hawk had fresh goggles, and he made the pass on Juha and tried to pull away. He lead swelled to as large as one minute. Juha closed the gap down to 30 seconds, but Hawk put on one more push to hold it through to the end.
"It was four places better than last year, and that was my goal," said Salminen. "It still was not my best, but it's what we could do. Barry was just fast."
"It just seemed like I was running a gear taller than everyone else," said Hawk. "So everyone moved over for me, except Juha. We passed each other back and forth a couple of times. It was good, and it was a tough race."
The tough race featured one of America's toughest motocrossers. John Dowd decided to give GNCC racing a shot. The Wisp is a tough one to make a debut, especially when it's raining. But Dowd is no stranger to mud, and halfway through the race, he was in the hunt for the win.
"It was good. I put in a couple of good laps and a couple of bad ones," said Dowd, always smiling. "I had fun though. I'm pretty sure I am going to come back and race the one at Unadilla. I'd really like to try a dry one!"
Dowd kept his cool and stayed in sight of the leaders for the first two hours. He followed the advice of the FMF Suzuki GNCC pit crew: stop for goggles, gas and gloves, don't ruin your tires by spinning through the paved pit sections, and stay focused. Dowd was running third for a while, but eventually he faded just a bit.
"It's still kind of mind boggling to ride for three hours," said Dowd. "I did good for four laps, but the last two, it was tough after that."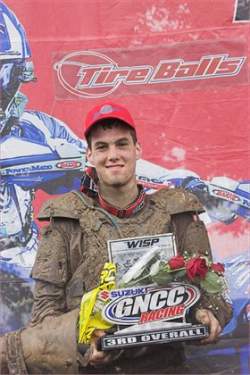 Meet Justin Williamson.


A surprise challenger was on a charge from the back: WilliamsonRacing.com privateer Justin Williamson. The 19-year-old has been slowly working his way through the GNCC pro ranks, and his fitness, smarts and toughness were on display late in the race.
"At the beginning of this year I had to learn the determination and the dedication to run with these guys," said Williamson. "It was raining out there and all I saw was sunshine. The rain and the rocks, it looks like that was a good combination for me."
Ranked 12th in the series last year, Williamson was looking for his first-ever GNCC podium when he got Dowd in his sights.
"I was just inside the top ten," said Williamson. "I started doing my thing, just trying to stay smooth and not make any mistakes. I came up on John Dowd on the second-to-last lap. I passed him in one of those fields and just tried to pull a lead."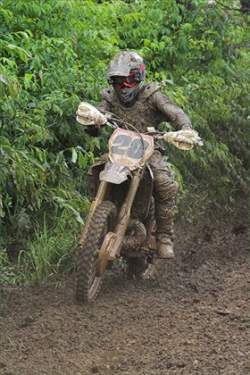 Two-time GNCC Youth Champion Thad DuVall notched to


Dowd was happy with fourth. He should be back to race at Unadilla both in the AMA/Toyota Motocross Championship in July and the Suzuki GNCC in September. And if he makes it to Florida next year and gets to show off his sand skills…look out.
Fifth went to future GNCC star Thad DuVall. The 16-year-old teammate of Hawk and Mullins races in the 250 A class, and he put in his best ride yet to take top amateur honors.
All told, about 1250 riders braved the rugged terrain and non-stop rain to say they challenged the mountain. Now the Suzuki GNCC Series heads into its annual summer break. The series continues on September 9-10 with the Yadkin Valley Stomp GNCC in Yadkinville, NC. For more information, log on to GNCCRacing.com.

Results:
Suzuki Grand National Cross Country Series - Round 9
Parts Unlimited Wisp GNCC
June 25, 2006

Bike Top Twenty Overall
1. Barry Hawk, Smithfield, PA YAM 03:00:11
2. Juha Salminen Finland KTM 03:02:14
3. Justin Williamson Sanford, FL YAM 03:03:39
4. John Dowd Ludlow, MA SUZ 03:06:27
5. Thaddeus Duvall Williamstown, WV YAM 03:06:44
6. Jimmy Jarrett Beloit, OH SUZ 03:07:13
7. Glenn Kearney Australia SUZ 03:07:22
8. Nathan Kanney High Falls, NY YAM 03:10:49
9. Robbie Jenks New Straitsville, OH KTM 03:10:57
10. Paul Whibley New Zealand HON 03:11:43
11. Garrett Edmisten Vero Beach, FL KAW 03:13:12
12. Charles Mullins Hamilton, OH YAM 03:17:21
13. Travis Green Vinton, OH KAW 03:17:45
14. Dustin Gibson Cmbrlnd Frnce, TN KTM 03:19:34
15. Gary Fridley Lost Creek, WV KTM 03:21:13
16. Jake Korn Brookline, NH GAS 03:23:19
17. Brian Lawson Adams, MA YAM 03:25:09
18. John Bennett Allison Park, PA YAM 03:26:47
19. Brett Zofchak Washington, PA KAW 03:27:03
20. Todd Morain Amherst, OH KTM 03:27:39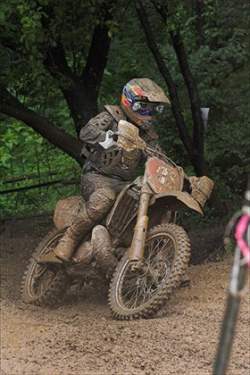 Barry and the rest of the crew are now on break.







Suzuki GNCC Points Standings (After 9 of 13 rounds)

1. Juha Salminen (235/7 wins)
2. Barry Hawk (178/2 wins)
3. Charles Mullins (151)
4. Glenn Kearney (135)
5. Paul Whibley (118)
6. Jimmy Jarrett (107)
7. Fred Andrews (91)
8. Mike Lafferty (90)
9. Robbie Jenks (83)
10. Shane Watts (79)