by
Andy Bowyer
Rev-Up: Mammoth
Thursday, June 22, 2006 | 2:49 PM
Dragon
is a leading mx goggle manufacturer with innovative new styles like the NFX frameless goggle with patented lens technology. To win a  pair of these premium NFX goggles, go to Dragon's
Facebook
or
Instagram
page and pick this week's 450 AMA Supercross winner.
Tweet
In this article…
Riders
Races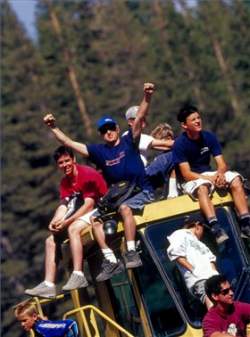 Regis and Bad Brad Woolsey know Mammoth!
photo: Simon Cudby
Hello, everyone, and welcome to the Rev-Up. The 39th running of the Mammoth Mountain Motocross (June 15-25) is underway. The promoters say this is "America's longest-running motocross contest," and I certainly can't think of another. And the fact that it's still alive today is somewhat of a miracle, what with the rumor of it being the "last Mammoth" dating back to, heck, back when I raced the pro class there for the first time in 1995!
That's right, the 1995 running of the Mammoth Mountain MX was yours truly's first professional race. Man, was I excited about getting to go to that one! Ron "Slicer" Heben had called me and said he wanted me to use the Mammoth race to get my feet wet in the pro class. He had arranged a KX125 with "limited" hours on it, which was to be delivered to the track in a Team Green box van. I was getting the whole pro treatment, so to speak: flying to the race, bike waiting under the big green tent, brand-new Fox gear to be delivered by Todd Hicks…. All of these tasty equations, coupled with the fact that I had been hearing such amazing tales about the dirt and how much fun the track was, had me expecting this race to be my best ever. At the conclusion of my trip, I did end up having an amazing time, but all of the fun I had was away from the track.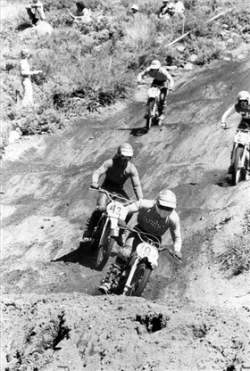 It has always been rough
photo: Dick Miller Archives
The town of Mammoth Lakes is absolutely beautiful. Set way up in the high altitude of Sierras, the location gives you the ability to play a round of golf and go sledding on the mountains all in the same day. There is also a gigantic fault line that you can actually go stand in. There are also mountain bike trails, incredible fishing lakes, and horseback-riding trails. I was lucky enough to get to take part in all of these activities leading up to the days of the race and man, I was having the time of my life. Then race day came.
We had to be up at 5 a.m. and wait in line for the trolley to pick us up and take us to the track. Apparently, the pits are so small that they only allow a certain amount of vehicles to make their way to the top of the mountain to where the track is. Once I arrived at the track, I made my way over to the Team Green tent to take a look around the pits for my bike. The only bikes there were
Ricky Carmichael
's KX80s, which had yellow number plates and the weird #20 on them. My mom and I had traveled out with RC and Jeanie, and we were to pit out of the same trailer Team Green had brought along. Ricky poked me in the side and said something like, "Yeah, check it out. They have my stuff looking good, huh? Where's your mule?" At this time, one of the Team Green technicians wheeled out a fairly haggard-looking KX125 that had a big tank on it and a steering stabilizer. Surely that wasn't my bike. Ricky was pointing and laughing. It was my bike.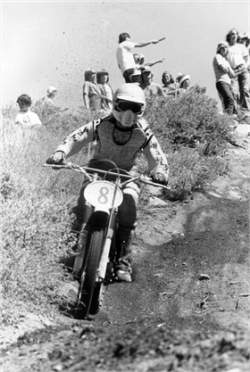 It has alwasy been rocky
photo: Dick Miller Archives
Heben made his way over to me and said, "Hey, Andy, this is the bike Larry Roeseler used to do the desert race for us a couple weeks ago. It's got pretty decent suspension and one heck of a Pro Circuit cylinder." The thing looked like it had been ghost-ridden through a football field of rocks and cactus trees! "Larry won the race on it, it should be just fine." Scratching my head, I contemplated the fact that I was in California for the first time, and Todd Hicks did just drop off some brand new Fox gear for me. Things were still relatively good. I had brought some new graphics and my own suspension while one of the mechanics helped me take off the big off road tank. The only thing left was the steering stabilizer mount that was welded onto the gooseneck of the frame. It would have to do.
Up next was practice—the highlight of my weekend, as far as riding was concerned. There are few things motocross-related on earth that can compare to riding the opening laps of practice at Mammoth. With the snowcapped mountains in the background, the smooth track surface for practice is like surfing on an onion bed. It's pure motocross nirvana … at least for a little while. Keep in mind, the track hovers around the 10,000 ft. mark, so your machine (especially my KX125) has the potency of a vacuum sweeper.
After about three rounds of practice, the topsoil fluff that the winter of snow coverage (Mammoth gets 385 inches of snow a year) has created gets roosted into the evergreen trees. What is left is a horse of a different color. And whatever color it is, it has a lot of rocks.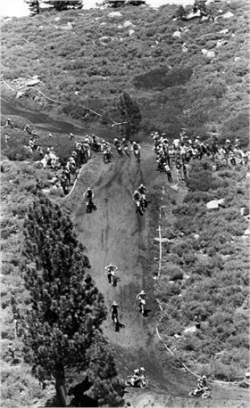 The famous Mammoth downhill
photo: Dick Miller Archives
My next trip to the track would be later in the afternoon for my heat-race qualifier. I was pretty pumped up for the qualifier because I was super fast in the practice session. I thought I was pretty suave being under the Team Green tent, too. Nobody passed me and my lap times were in the top 15 of all of the pros. Sure, the track was a freeway, but heck, how much rougher could it get? Turns out, a whole lot rougher. How about, so much rougher that it isn't even the same track? And did I mention it was rocky?
All the same, I ended up grabbing the holeshot and leading the pack up the first gargantuan uphill. With a big smile, I noticed a photographer at the top of the hill waiting to get a good shot. I cocked my bike sideways and put my elbows up, leg out, and was going to go for a picture-perfect bar-dragger around the berm. Just as my tires were about to meet the bottom of the loamy berm banking, something nailed me so hard that I was looking out of the bottom of my helmet and my bike was in neutral. I regained my composure just in time to see a huge guy with a big hole torn in the back of his jersey, and peering through the hole were letters spelling "Healey" inked on his skin in big Olde English letters. It was at this time that the photographer snapped his shot.
I ended up getting seventh or something in the heat and making it to the main. Ty Davis ended up winning the main (and everything else that weekend) and I ended up pulling off the track several times to puke my guts out. My first pro experience made me realize two things: 1) I was never going to be tough enough to race at 10,000 feet, and 2) I would never be tough enough to race at 10,000 feet. At least Ricky got beat that weekend too. I'm not certain, but I believe it was Charley Bogard or maybe some other fast Suzuki prospect that accomplished that. RC had bike problems and there would be no laughing or finger-pointing out of him. I guess he knew he'd have the last laugh or 14.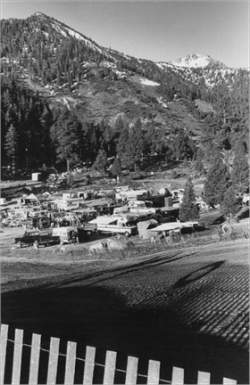 Not much room in the pits to view the snow-capped mountains
photo: Dick Miller Archives
Nonetheless, Mammoth is going on right now. They are in the middle stages of the event, as the Vet classes have already concluded their weekend. Jeremy McGrath took the Vet Pro overall, while
Jake Canada
grabbed the victory in the 85cc 14-15 class. Coming up this weekend will be the pro divisions. With this being a weekend off, we can expect to see a lot of guys show up to do some damage and grab a chunk of the always-hefty pro payout. I wouldn't be surprised to see guys like Steve Lamson,
Ryan Villopoto
, and probably Super Mac himself. I hope they all enjoy themselves, because this just might be the last one. Right? Long live Mammoth Mountain Motocross!
Next week is
Red Bud
. Guess who's back! Thanks for reading, see you next week.
Share this article:
Did you like this article?
Check out MOTO GIFT GUIDE
in our Latest issue of Racer X available now.

Our annual gift guide has something (or maybe even a few somethings) for everyone on your holiday list. Page 146.