Privateer Profile: Shaun Skinner
Thursday, June 22, 2006 | 1:38 PM

SHOEI

combines state-of-the-art manufacturing technology and the most advanced materials known with over 50 years of experience to deliver the finest handcrafted motorcycle helmets available. Recognizing that the privateer is the heart and soul of motocross,

SHOEI

is proud to present to you the Privateer Profile.

Tweet
In this article…
Riders
Races
At only 19 years of age, Shaun Skinner is one of the younger pilots in the 450 class. In fact, Budds Creek was only his fifth AMA National, and he already scored a top-ten moto finish! But Shaun has been an up-and-coming amateur for the past five years, and he's not wasting any time moving up. He started out with a Novice championship at Loretta Lynn's in 2001 and rapidly climbed the ladder to being an Expert. He's been aboard Suzukis his entire amateur motocross career up until last Thursday, when he picked up a brand new Honda CRF450R from Champion's Honda and headed to Budds Creek, Maryland, where he went 10-35 for 16th overall. We talked to Shaun today for this edition of the Sponsorhouse.com Privateer Profile. Be sure to show Shaun and his sponsors some support by clicking on the links at the bottom of the page.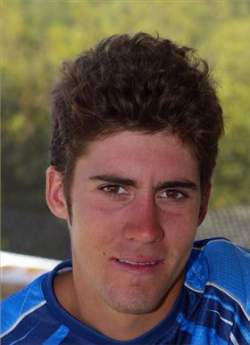 Stuart, Florida's Shaun Skinner
photo: Steve Bruhn

Racer X: Shaun, this past weekend at Budds Creek we saw you on a different-colored bike for the first time in a very long time. You switched from Suzuki to Honda and went out and put in your best moto of your career, which was a 10th. So first off all, congratulations on the 10th-place finish.
Shaun Skinner: Thanks, I appreciate it. I was pumped. I jumped on a Honda that Thursday before the weekend, and I felt good on it right away. I got a brand-new one and hauled it up there in a crate, put a pipe on it, and raced it. Now we're just trying to get some other stuff dialed in within these two weeks and it should get better from here on out.

What was the reason for the switch? It seemed you were a lifelong Suzuki rider.
Yeah, it's nothing against Suzuki, but it just wasn't working out with the team and my dad and I decided to make that switch. We thought it would be for the best. I was on the Maestro team for three outdoor races this season. I was supposed to be with the team for supercross, but I got hurt.

If I remember correctly, you raced the Steel City National last year, right?
Yeah, I just did Steel City. It didn't go that well—I finished 38th.

Tell us about your new deal with Hondas.
Well, my dad and I were talking about it, and there's a shop here in Florida that would always help us out if we needed anything, so we just decided to do it on our own for the rest of the season to see how it goes. Like I said, it just wasn't working out over at Maestro, so I have a few people behind me helping me out right now, so it's looking pretty good so far.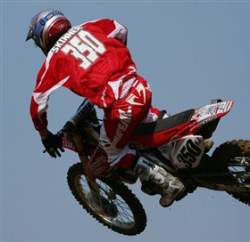 Racing a Honda for the first time, Skinner finished 10th in the first moto at Budds Creek
photo: Simon Cudby

Well, your bike was pitted with the Butler Brothers Honda team. Are they helping you out, too?
Oh, no, they're from Florida, so they're hauling my bike. Just Champion's Honda and Willie Manning are helping me out. We're just setting up a little tent next to the Butler Brothers for now.

Willie Manning at WMR has been helping you for a while, right?
Yeah, he did all of my amateur stuff, so it's nice being close to him and getting everything set up on my Hondas.

Is your dad your mechanic?
Yeah, he is, plus I have a friend that helps me out. His name is Paul Perebijnos. He raced pro a little, but he's been helping me out a bit.

For our readers who really don't know who you are, give us some background about yourself.
I'm 19 now, and I'll be 20 in July. I started riding when I was 13, and I grew up in Stuart, FL. I started riding in the woods for like two years, and then I decided to jump over to motocross and try it out. We went to Loretta's one year and watched and decided we wanted to go there the next year. So we did motocross and I trained hard, and I ended up winning C class the next year. And it just kept on going from there.

So you weren't a minicycle ace like so many other riders.
No, I actually started out on a Honda XR80, and then after a month I went to a CR80.

Where exactly is Stuart, FL?
It's probably 40 minutes north of West Palm Beach and like two hours south of Daytona.

Do you have a lot of practice tracks in that area?
Yeah, it's not too bad. I usually go to Matt Goerke's house quite often, and we push each other a lot.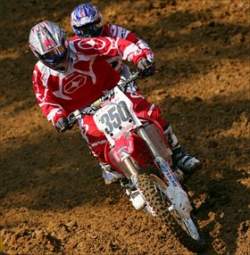 Shawn hopes to start finishing consistently inside the top 15 in the 2006 Toyota AMA Nationals
photo: Simon Cudby

It seems like since you started racing motocross, you came a long way pretty fast.
Yeah, definitely. Since that first title at Loretta's, everything has been happening really fast. My confidence just keeps getting boosted. And with the help of being at Goerke's house and Ronnie Tichenor helping me out, it's all working out.

When did you realize you might be able to make a career out of racing?
Probably after the Loretta's title in the B class. All I did after that was train and ride. I beat a lot of good guys and decided this is what I want to do.

Away from racing, do you have any hobbies that doesn't involve two wheels?
Yeah, actually, it involves four wheels! I have a big mud truck and we trailer that to big mudfests here in Florida. We'll just drop everything and camp out and have fun for the weekend. I also like to surf. But lately, I've just been riding and training.

Looking ahead to 2007, are you planning on racing supercross?
Yeah, definitely! I was looking forward to doing it this year but ended up teaing my ACL. I'm hoping to get a good ride.

What's your goal for the outdoors this year?
I just want to be consistent and be there at the end of the season. My goal is to be top-15, so I just want to keep plugging away and take it one race at a time and not get too anxious.

Who do you want to thank?
I'd like to thank Willie Manning at WMR, definitely Champion's Honda for helping me out at the last second, No Fear, Scott, BBMX, Jeff Cernic, and my mom, dad, and sister.

Any plans for the off-weekend?
I've been training really hard this week, so I think I'll just hang out at the beach this weekend. Then I'm going to train and ride really hard next weekend getting ready for Red Bud. I want to get in that top ten again!

Good luck, Shaun.
Thanks, Billy.

Shaun Skinner's sponsors:

Share this article:
Did you like this article?
Check out THE MOTOCROSS OF 40 NATIONS
in our Latest issue of Racer X available now.

The 2013 FIM Motocross of Nations at Teutschenthal, Germany, hosted teams from a record forty countries. Here's how it played out for each of them. Page 90.