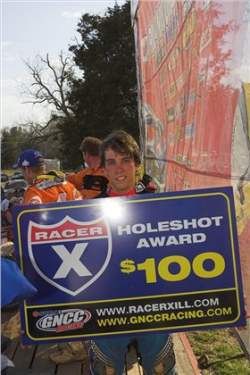 Charlie Mullins.


Charlie what's up?

I'm just working on my bikes. It was a pretty tough race over the weekend. The cylinder and all, it takes a beating.

So you're still working on your own bikes?

I pretty much work on it all day, and then my dad will come home from work and help out. But as far as the graphics and plastics and all of that, I'm pretty much on my own.

Last year I know you were working a regular job during the week. You're not doing that anymore, are you?

No. All I do is race now.

So Sunday – you were leading on the last lap!

It was a good race. I was in the lead, and I hit a rock. It threw my front end out. I ended up slicing my arm on a rock. I had to get stitches. I went on the podium and loaded stuff up, and then I went to the hospital.

Wow. So, before that, did you feel comfortable with that pace, or were you pushing it?

Last lap, it seemed like I tried to pick up the pace. I made a couple of bobbles, and then that rock threw my front end out. I was a little nervous, since that was the last lap and all. I passed Juha a couple of times before that, and when I was in the lead at that time, I wasn't nervous, but I guess I was at the end because it was the last lap.

Yeah but man, that's the last step. You've come a long, long way since winning on 80s. And what's happened in these last two races? All of a sudden you're battling with Juha all the way!

I think it's the start. The past two races, like Loretta's, I was right behind him off the start, and this weekend I was third or fourth. So it definitely helps getting the start. I think that's most of it – being there at the start.

Well you're finally combining it. It seemed like earlier, whenever you would get a good start, you would make a mistake early on. Now you're getting the start and not making the mistake.

Yup. I just want to stay right with him until the last lap, and that's pretty much what happened at this race. I got in the lead, and one mistake cost me two positions. But you learn from your mistakes.

You have to be stoked the way the year is going.

Yeah I'm pretty happy. I'm right in the hunt for second in the points. Salminen is pretty far out front.

What's more important: having the good number at the end of the year or winning a race?

Well I would like to have a good number. Juha is incredible, and I can't take anything away from him. My goal for the year was to finish on the podium in every race. I'm pretty sure the wins will come, but, it seems like, well, I'm already wanting to win. I'm getting tired of second and third. I'm still happy with that, but it seems like, it's pretty much time to pick it up now and … win! And that's where I'm at right now.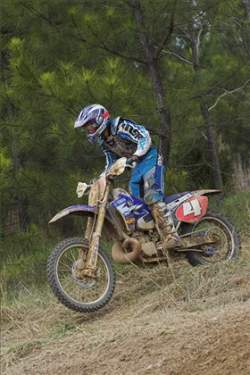 Mullins is trying to be patient, but he knows he's overdue for a win.


Well it's too bad for you because usually even the guy who is leading the series makes a few mistakes and has a few bad races. But Juha has been almost flawless. You've gotta' be thinking, "When is this guy going to give us a break?"

Yeah. He's unreal. But I'm glad he's here. I think following him in these last few races has made me, I wouldn't say faster, but I'm just learning off of him. I'm learning little things. I'm pretty sure I have the speed, but I've learned a lot of things following him. I'm glad he's here, because you have to ride with faster people to get faster. I think the year is going pretty well so far.

Oh yeah! I don't know if anyone your age, or coming right out of the 250 A ranks, has done quite this well. Have you looked at the other 250 A Champions and tried to do something different?

Not really. I've pretty much kept the same program I did in 250 A. I might be training a little harder, but I don't know what it is. Maybe I've matured a little faster than those guys, in figuring out when to go fast and when to go slow. I mean, you look at Andy Shea, Cole Calkins and Jimmy Jarrett, and they still do good, but I don't really know what I did different to be up here. I don't feel like I did that much different from this point last year.

Is there stuff that you have learned from working with Randy and Barry and the Am Pro team?

I've been doing my own training, and we all have our own thing that we do. But I guess the biggest thing, and they've been trying to help me, is with suspension. I really don't have any problem with suspension, but Randy and Factory Connection were working with me this winter, to help me understand what the bike actually does. They wanted me to tell them what I like, but after all winter, I'm pretty much no better that I was back then. I just try to keep a positive attitude, and not let things like suspension get in my head. I talked to Barry about it, and he said when he was my age, he didn't know much about suspension, either. So I just ride whatever they give me.

Have you been riding four-strokes?

Yeah, I rode two mid-east hare scrambles on the YZ250F. It's a fun bike, but I don't think I would race it in a GNCC because it's down on power. I would like to try a 450 at the end of the year.

Is life totally different for you now?

No, it hasn't changed one bit. I haven't let it go to my head. I'm just thankful that I'm able to do this and don't have to make an actual living. I mean, I'm making a living, but I'm having fun doing it.

Was this the goal all along?

Yeah. I remember when I left the mini class in GNCC, and I was on the podium. Then I was watching the pros on the podium after my race, and I said to my dad, "When do you think I'll get back up there?" and he said, "It will be sooner than you think." And four years later, I was up there.

And you just turned 20. A lot of the other GNCC contenders are much older. You can do this for a long, long time.

Yeah I was just thinking about that. I want to stay healthy and be as fast as I can, so I can keep doing this. This is what I want.

We've got an Ohio race coming up at the Wiseco John Penton GNCC at Sunday Creek in two weeks. Are you more confident now?

Yeah I'm real confident. I just want to do what I did, and then hopefully cut back on my mistakes.

That last race was a tough one.

Well, I thought the fields were the toughest part. The woods were okay; they were just a little wet. But the fields, they were muddy. Juha, I don't see how he can go that fast on that slick of stuff. He rides it like it's dry. I tried to watch him to see how he does it. I made it through, but I wasn't nearly as smooth or as quick as he was. In the woods, I think we're on the same pace. But on the grass track, we're on a different level.

But if you get into the lead at the next race, will it be easier?

Yeah. I think I'll have a different mindset. I'm going to ride my own race, because I'm the one in control and he has to pass me. I'm just going to try not to make mistakes. I think the speed and my fitness is all pretty good.

Okay, Charlie. We'll see you at The John Penton.

Yeah. I'm going to race an OMA race this weekend. I raced one in Indiana and it was really muddy. I led all day until I buried it in the mud on the last lap. I was bummed, because I still got second. They're not nearly as big as the GNCCs, but I want to win something!

I think it's right around the corner.

Yeah. It will come. I just have to be patient.




(For more information on Charlie Mullins and the entire Suzuki GNCC Series, visit www.GNCCRacing.com)