by
Bryan Stealey
James Stewart Media Call
Saturday, April 29, 2006 | 1:17 PM
Tweet
In this article…
Riders
Races
Earlier this week, Team Kawasaki's James Stewart, the current leader of the Amp'd Mobile World Supercross GP Series, had a media call in which he candidly talked with members of the media. Here's what he had to say:
On winning the Amp'd Mobile AMA Supercross championship: "I think my chances are good. We just saw what happened to Ricky this week. Of course I'm going to need some luck with two races to go, but I'm really excited to be in the points lead in the World. People kind of tend to forget about that. I pretty much call it the same series because it's the same people racing every single race. I think with everything going on and how my year has gone, I'm just happy to be in a position where I'm in first place. And after what went down in St. Louis, it was a bummer. And I had a couple races in a row with bad luck. But I seemed to have turned that around now and we're doing good."
On racing for the fans: "I think it's good for fans because right now you have three guys within ten points going for a championship. And just the way races have been going, fans that don't really know a lot about the sport, you have the three best guys in the world with two races left trying to win this thing. So, of course there is going to be a little heated action down there and I think it's good for fans and even like family. People that have younger kids, you could bring them to the race and they'll have good time."
On getting nervous: "I'll tell you myself that I definitely get nervous. It's not really nervous about racing, it's just nervous about making sure everything is going good and I don't get hurt. Any racer that doesn't tell you that they're nervous, it's a lie. We're all nervous at one point in time. I think this year, for me, I know that I do all my homework during the week. So I'm never nervous about did I train enough, did I ride enough? That's one thing I never have to worry about and I'm excited."
On RC getting his points back: "That's kind of a touchy subject, but I think things happen for a reason. There's really nothing we can do about that now, as far as a change. I always want to win a title straight up, and you know if I beat him in the world then I'll feel like I beat him straight up there. And if I win the AMA, it'd be nice to just say that I beat points back and everything. It's just a touchy subject, but hopefully it just makes everything better now and we won't have to worry about a rule like that any more."
On the difference between motocross and supercross: "The difference between indoor and outdoor is with indoors you're racing in a stadium. You're racing in Seattle, Vegas, Anaheim – outdoors you're racing out at Prairie City, which is just kind of in the middle of nowhere. The difference is at supercross you're racing at night and there are a lot of jumps and the races are only 15 to 20 minutes long, where outdoors you're racing in the dead heat at one or two in the afternoon. The lap times are anywhere from two to two and a half minutes and the races is about 35 minutes long. There is definitely a difference in it and I prefer supercross better. I just think it gets more attention, gets more fans and it's just a lot cooler of a show, but I seem to do pretty good at both."
On preparing for outdoor motocross on the KX450F: "I just think my whole mental attitude going in to it is different. I just think off the start we have a better situation going in with a 450 instead of going in with a 250. Last year I was already down on that. But, I just think how the supercross season has been going with me racing all of these races that I'm only getting stronger as the season goes, so it's going to carry my momentum right in to the outdoors and hopefully I have a real good chance this year."
On approaching these final two supercrosses: "I think I'm going to approach them the same. The one thing I do have on my side is speed. I feel like every singe weekend we got a race I've been the fastest. So that's one thing – I don't have to try and pick up my pace, so that's one less thing I have to worry about. And I just think for me, just to stay out of the carnage and stuff and ride smart. I feel I can win these next two."
On being referred to as "the Tiger Woods of motocross": "For me, I think it's great to be able to say that I'm doing something for the sport, and I for sure feel like I'm doing that. You come to the races and there are definitely a lot more black people at the races then there was a few years ago. But I don't sit there and say 'This is my job, to bring people from a different race in to the sport.' I just feel like I'm a racer, but it also feels good to have young black kids come up to me and say, 'Oh, you're my role model!' It makes me feel good."
On family in racing: "I think family is very important. You look at all the top athletes and somewhere along the line they have their mom or dad being a part of their career. I think it just helps. I think when the pressure gets on, it's just nice to sit back and have people that's always are going to talk to you and always going to hopefully cheer you up."
On little brother Malcolm: "He's been doing good. He just got back from Texas a few weeks ago and he's coming up. I don't think he's going to be as good as me, but he just likes to have fun and ride."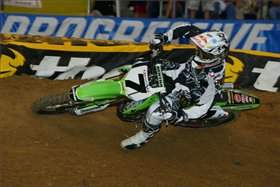 Although it's going to take some luck, James is feeling confident on his chances of winning the Amp'd Mobile AMA Supercross championship this season

photo: Steve Bruhn

On the differences for him from last year to this year: "I think just mentally. Last year was such a draining year. There are always improvements to make, as far as myself. I just think the way I've trained and the way I've been riding. Instead of worrying about one race I'm worried about 18 races. I'm worried about a series instead of just trying to win one race. I just think my whole mental attitude is totally different and I'm a lot stronger than I was last year."
On getting caught up in the hype last year: "I think Phoenix was a freak thing. I knew the hype was around me, but I always say that hype is not real, I'm all real. I don't go off the hype or anything like that. It was just hype surrounding about somebody actually giving Ricky a run and maybe beating him straight up. So when I came in they all figured that I was that guy, and I seemed to have been the last few races and stuff. I've been doing my job. But at Phoenix, things happened. I just ended up going down and just landed the wrong way."
On going to NASCAR: "I think that whole thing just blew out of proportion. I think me going to a go-kart track and saying, 'Hey man, this seems like fun,' and then winning and saying, 'Maybe one day I'd like to do this!' Somebody heard that and told their friend, and they told their friend – the next thing you know it's like, 'James is moving to NASCAR.' I definitely have an interest for it, but not any time soon. My particular focus right now is just racing and winning the series I'm in. I'd be a fool for leaving motocross right now. Just the stage I'm in my career, this is what I want to do."
On his future after racing: "Hopefully that's a long time from now. I haven't really thought about it at this moment. Of course if I do decide to hang it up, maybe that is one thing I'd really like to go in to is NASCAR, for sure. But right now that's the least of my worries."
On RC's greatest attributes: "I think it's just his determination. The strongest thing he has is his mental strength. He knows what it takes to be a champion; he knows what it takes to win races. I think that's what changed for me. I feel like now I'm as mentally strong as he is. I know what it takes to win races; I know what it takes to be in a serious title fight. I just think that takes time for me. I'm only 20 years old, but it just took a little time and I think I'm getting close to having that figured out."
On the 2006 Motocross des Nations: "Yeah, I actually tried racing it last year. Just between the team's decision and a few other people, it's just something they didn't want to do. But I definitely want to race it. If I get picked this year and everything works out I definitely want to go."
On what he has learned this year: "I know 13 weeks is a long time, but it wasn't as bad as I thought it'd be. I thought for sure that at the end of the 13 weeks I'd be over it, but I was actually pretty happy. I just learned that it's a lot longer of a season – a lot longer than what you think it is. After St. Louis and a few races there, I was thinking, 'Man, this is over with.' But now to be within 10 points again and win another series – it's nice. I just know that it's a long series."
On the World Series vs. the AMA series: "For me, I want to win both of them, for sure. A championship is a championship to me. Like I said, we all race the same races, so I'd like to win them both, but right now my focus is trying to win the world."
On 250F riders coming up: "I see a lot of potential between Grant and Andrew and Davi, of course. You have Villopoto and I see a lot of guys coming up, but there's not really one rider that stands out to me. I think there will be a lot of guys coming but, but hopefully by then I have that mentally of Ricky and like, 'Look, just stay away from me and we'll be fine.' I think there will be a lot of competition in the next few years, but we'll just have to see what happens when they get on the 450."
On being an African-American growing up in the sport: "Pretty much from my side of it, it was just kind of like being another racer. I never really heard anything that's been thrown out to me coming up in amateur stuff. To me it felt like just being another person, but I'm sure my parents probably heard more stuff than I did, but it was no big deal."
On Hangtown 2006: "For me, the outdoors will hopefully be a different year, nothing close to last year. I'm a winner, so when you're not winning, it hurts pretty bad. And I'm sure all of us – Ricky, Chad, all of us – feel that way. We just want to win. So, I think this year I feel like I have something to prove in the outdoors. I just want to go out and do my best. I think the track last year at Sacramento, I really didn't think it was that good. I thought it was better the year before. It was a little faster, but we'll see what they change this year. But I'm just looking forward to racing."
On being approached by Kawasaki to possibly race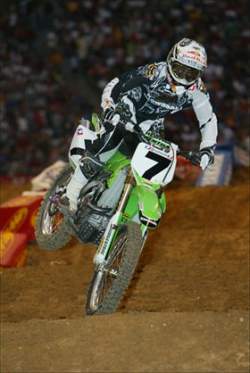 Stewart won last year in Seattle

photo: Steve Bruhn

superbikes: "No, they got two guys over there that are real good in the Hayden brothers. Those dudes go way too fast for me. Being in a car is different, but going that fast on a motorcycle and maybe having one of the tires pop out or something like that, I just don't see James Stewart doing that."
On coming back to Seattle where he won last year: "The first year I raced in that stadium it was nice to go out and win that. The rain kind of put a damper on the whole day, but I think this weekend is supposed to be pretty clear and hopefully it should be fun."
Share this article:
Did you like this article?
Check out MOTO GIFT GUIDE
in our Latest issue of Racer X available now.

Our annual gift guide has something (or maybe even a few somethings) for everyone on your holiday list. Page 146.