The 1985 World Mini GP Race of Champions included Jeff Emig and Denny Stephenson (front row left)
photo: Racer X Archives
Hello, everyone, and welcome to the Rev-Up. I've said it before—motocross is one of the greatest family sports there is—and this week's column will further cement my opinion of that. Motocross offers more opportunities for a kid to experience new people, places, and culture than any sport I can think of. The amateur motocross scene takes a kid across the country to faraway places. There's the annual Thanksgiving trip to Gatorback Cycle Park in Gainesville, FL, where he or she will encounter the brutal lime rock-based track that has an actual pit that glows green in its center. Then there's the trip to Texas and one of the most desolate track venues imaginable when the family drives down that endless gravel road to Lake Whitney Cycle Ranch, followed by the trek out to Oak Hill MX and the GNC, which is not exactly in downtown Dallas, either.

Ah, but the next venue that arrives on the heels of the spring season is a horse of a different color. Since I was 10 years old, the third week of April meant one thing: I would be traveling to Las Vegas! I remember my first trip to the World Mini Grand Prix like it was yesterday. I recall bragging to my classmates and teachers that I would be using the next three school days to travel to Vegas for my next big race. For a hick kid from Kansas, this was a pretty damn big deal. Although I would soon learn that this race in "Fabulous Las Vegas" wasn't exactly on the strip or in the bright, well-lit lobby of the MGM, or next to the Hard Rock pool, either. In fact, it remains to this day one of the gnarliest tests of motocross mettle I have ever encountered.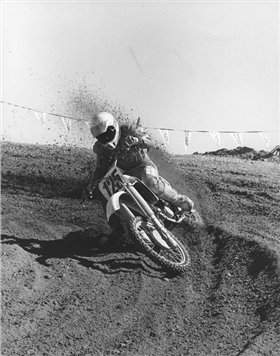 That's Jeremy McGrath, and we think that's the old World Mini GP track

Now, 2006 brings us the 35th Annual World Mini Grand Prix, and here is a little history and some fast facts about this duel in the desert.

There were two things on my mind as we sped west down I-40. One was the fact that we would be staying at Circus Circus Hotel and Casino, which was rumored to have the largest arcade in the world. The other was that I would get to see the illustrious Kawasaki Race of Champions firsthand. I could hardly wait to see my heroes, who had names like Jeff Emig, Kyle Lewis, Jimmy Gaddis, Buddy Antunez, John Kitsch, Brian Swink, and Chad Pederson, all go at it on identical brand new KX80s!

But to my surprise, one of the coolest parts of making that trip didn't have anything to do with the Vegas Strip, video games, or racing at all. It was the stop my mom and dad made at he Hoover Dam that left the biggest impression on me. We all stopped and peeked over the edge and stared down at the endless stretch of concrete that kept the Colorado River at bay. We also checked out the memorial for the dozens of workers who fell in while pouring the concrete and are forever entombed in silence among the immense walls of the dam. My dad told me, "This thing helps make power to keep the lights on where we're going." With wide eyes, I asked back, "Geez, how many lights does this place have, man?" He would just smile and rub his hand on my head then yell for us to load up and head out.

Dad had planned for us to arrive in Vegas just after dark so we could gain a perspective to the true awesomeness of Sin City. Riding on the anxiety of being on the road for 22 hours, I had perched myself about three inches from the windshield in anticipation to finally get there. Nothing by way of a town, much less a city, appeared to be in sight. In fact, we seemed to be as far in the middle of the desert as humanly possible. Then, a glow began to emerge on the horizon. Slowly but surely, that glow grew and became brighter. Before I could say "Are we there yet?" for the 1,243rd time, a blast of light beamed through the windshield and nearly knocked me out of my chair! Pops just smiled and said, "Yeah, we're here." I could only stare ahead at the incredible explosion of lights that spanned the horizon and burned with the intensity of a billion stars.

Next stop was the Vegas Strip and the calamity that comes with it. I remember feeling the rush of excitement as we entered the cotton-candy-pink venue of Circus Circus, where my dreams of playing in the world's largest arcade became reality. That night, Pops gave me an entire roll of quarters to keep me busy while he gambled. At the time, that was the coolest thing ever. Records on Excitebike and Pole Position would fall that night. But all of the geography lessons and constant stimulation of Vegas would grind down to business the following day. In the morning, we would be traveling out to the track! All I could think was, Man, this place is incredible - I bet the track is sweet!

The year was 1987, and while the race the kids will be competing at this weekend is at an entirely different venue altogether, it's still very much in the middle of the freaking desert. Amateur racing is one of the most perfect farm systems in all of sports because the different events and tracks will throw any element imaginable your way. But the World Mini Grand Prix pitches you some of the harshest conditions a young rider will ever encounter.

The first thing I learned about the desert is that the wind blows, and it blows hard. I recall sitting in the staging area for practice and seeing a bike being pushed past me with the right side of its handlebars bent around the gas tank. It was a KX500, and Tommy Watts was its rider. Apparently, he had aired out one of the many large jumps and been taken by the wind off the track. Upon seeing this, I stared up at Dad with nervous eyes, to which he replied, "Don't worry, that bike is bigger and catches more wind. You'll be fine."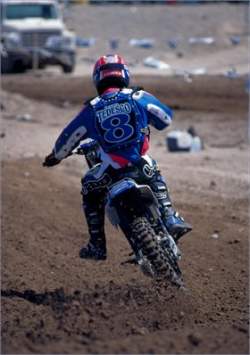 Ivan Tedesco on a Yamaha? It wasn't that long ago at the World Mini.

That practice session was the beginning of a 15-year tale of pain that never saw me finish in the top 10 at the World Mini GP. In my amateur career, I won championships at all of the big amateur races, but I never so much as made an impression at the Vegas race.

Today the race remains one of the biggest of the year for the up-and-coming amateur racer. It's as close as the amateur scene gets to the mighty mecca of Southern California and one of the few times a kid from across the country gets to shine in front of the industry brass. The Race of Champions no longer exists, but every year, thousands of contestants with stars in their eyes make the trip from all over the country to roll the dice in Vegas. Ron Hendrickson and the NMA do a very good job of putting on the event and do as professional a job as most any. For an aspiring amateur, the road to greatness goes through Florida, Texas, Las Vegas, Oklahoma, and ultimately, Tennessee.

It makes me smile to think that right now there are hundreds of families having similar experiences to mine all those years back. I know that sometime this week a motocross kid got to see the Hoover Dam and that incredible city of lights for the first time. For some it will be the beginning of a great list of memories of racing in Vegas. Almost all of the greatest American riders from the past two decades have cut their teeth on the desert facility of the World Mini Grand Prix.

But for me, the Hoover Dam and Circus Circus remain my favorite memories from that place.

Thanks for reading, see you next week!

(For more on the 2006 World Mini GP this week, keep an eye on www.amateurmx.com.)