Travis Pastrana's new show debuts on CMT this weekend

photo: Paul Buckley
Travis TV is a new reality pilot that will air on Country Music Television this weekend. The premise of the show has the ever-adventurous Travis Pastrana and his friends meeting up in Oklahoma to try and pull off a car/hydroplane stunt that has never been attempted. Never been attempted? That has "Pastrana" written all over it! The pilot will highlight just what Travis and crew are capable of when the put their minds—and idle hands—to work.

"This show has been four years in the making and finally, a network has given us a chance," says executive producer Troy Adamitis. "Back in 2002, No Fear MX and I did a movie called Chapter 2. It was shot in a reality-TV style. After reviewing our footage while making the movie, I thought, Travis Pastrana is a walking TV show and the guy needs his own show! So we pitched the idea to a number of executives, but we didn't have the right connections in the TV world at that point and no one wanted to finance the show.

"After two years of rejection," Adamitis continues, "I partnered up with Marcel Wolthers and we scrounged up some money and a crew that included producers Mahira Amir Khan and Darrin Rolls and DPs Jessica Young and John Rushton. We decided to make the show ourselves. Then we went out and shopped it around."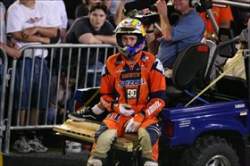 Pastrana's non-moto antics will be captured on Travis TV, which could become a regular series

photo: Paul Buckley

That's where CMT comes into the picture. "Country Music Television saw the show and embraced it immediately," Adamitis says. "We really need to thank Melanie Moreau and Paul Villadolid at CMT for sharing the vision we had. It's a great network to call home for Travis TV. CMT gives us the freedom we need for Travis and his friends to be creative. The idea of the show is not really about the guys pulling the stunt off or not; it's more about their journey along the way. Travis, Kenny Bartram, Cam McQueen, and Greg Powell all have a unique chemistry that is engaging. I really think the viewers will pick up on it right away. The cool thing about the show is that it's not a huge concept; it's just what these guys do on a day-to-day basis. It is amazing how these down-to-earth, clean-cut guys have huge balls of steel and are not afraid of anything."

Will Travis TV fly? Tune in and find out. We know Travis will. "We are all excited to see what will happen next because, if the pilot does well, Travis TV will go to series and air in the fall," Adamitis says.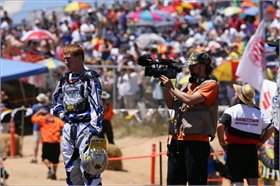 Troy Adamitis (right) is the series' executive producer

photo: Simon Cudby

If you do tune in and like what you see, please write in to CMT.com and provide the network with your feedback.


Travis TV air times:

Fri 3.17
9:00 PM

Fri 3.17
10:30 PM

Sat 3.18
3:00 PM

Sat 3.18
10:30 PM

Sun 3.19
4:00 PM

Sun 3.19
10:00 PM

Mon 3.20
5:00 PM

Tue 3.21
8:30 PM

Thu 3.23
11:30 PM

Fri 3.24
10:00 PM

Sun 3.26
1:30 AM

Sun 3.26
5:00 PM