Racer X Tested: The All-New 2006 Yamaha YZ450F
Thursday, November 10, 2005 | 9:41 AM

Pivot Works

is the fast, easy and complete solution to rebuilding a dirt bike or ATV's chassis or suspension. Since 1999 Pivot Works has made OEM quality components for riders alike. With over 1,000 complete kits for nearly 4,000 applications makes Pivot Works the racers choice!

Tweet

After months of hearing about the completely new Yamaha YZ450F, we finally got a chance to ride one. Yamaha's new big bike is one of the most anticipated bikes of the year, and we were just as excited as anyone to ride it. This motorcycle is all-new from the ground up. In fact, there are only two part numbers that are the same from 2005! And both of those parts are insignificant gaskets or bolts. Don't believe me? Check out this list of improvements.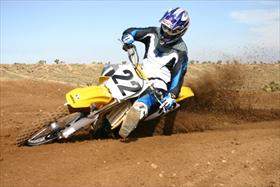 Casey Johnson tears through a soft berm on the YZ450F
The 2006 Yamaha 450 has a new aluminum frame, five-speed transmission, integrated oil tank, new carburetor settings, new front fork, new rear shock, new radiators, titanium shock spring, new triple clamps, new Pro Taper handlebars, adjustable handlebar position, new bodywork, new seat, new swingarm, new rear tire, new quick adjust clutch, new front brake lever, new rear-brake pads, new rear-brake caliper, and a completely redesigned engine!
The first thing you notice about the new YZ450F on the track is the smooth, broad power that the new engine makes. Throttle response is quick on the new motor, and it keeps making horsepower as long as you keep the throttle turned. It is one of the easiest 450s to ride, because the power is so smooth and so spread out. If you like to short-shift, go ahead; if you want to rev it up, that works too. It is a blast to ride.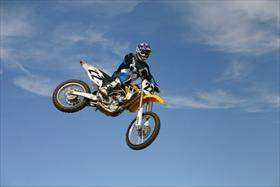 The light feel of the new Yamaha makes it easy to throw around
The bike has a very light feel to it. Yamaha engineers tipped the engine upright and focused on the centering and lowering the bike's weight to give it that feel. Their theory paid off. The bike turns quick when you want it to, but it is also very stable around faster, sweeping corners. Jumping is one of the new Yamaha's strongest points. In the air, the bike feels like a 250F. It flies straight and stable but can be flicked around if you want to. It is also much more comfortable than its predecessor. The new frame and bodywork give the YZF a thin, comfortable feel. The seat height is actually 20mm lower than last year's bike, but the seat foam is thicker and softer. It is a much more comfortable ride.
The suspension is also head and shoulders above last year's machine. The new frame gives the Yamaha a stable feel in rough, choppy sections and sweepers. The back end stays put in even the most chewed-up sections of the track. The forks also complement the new bike, absorbing anything from chatter to hard landings with predictability. We dropped the forks from flush to the first line and got a much more positive feel out of the front end. Sag was set at 95mm.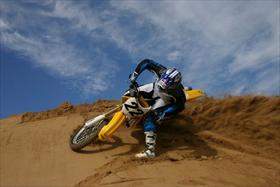 The new Yamaha turns tight and quick
Our test rider, Casey Johnson, has been instrumental in testing GYT-R parts for the '06 450 and has spent hours on the new bike. He gave us his thoughts on the new Yamaha, saying, "I have been really surprised with this bike. I mean, everything about it is new, so you can't even compare it to last year's bike—it's a thousand times better. The motor is strong but very rider-friendly. The new aluminum frame geometry is amazing. It handles just as good as any 450 I've ever ridden. The suspension is good right out of the box too. This is a great bike, and I think it is going to really surprise a lot of people."
The 2006 Yamaha YZ450F will be available at your local Yamaha dealer soon. Retail price is $6,899, or $7,099 for the anniversary (retro yellow) model. Go to
www.yamaha.com
for bike specs and more information.
The Racer X Online 450F shootout is only weeks away, so be sure to check in for our back-to-back-to-back-to-back-to-back comparison of all the new 450s.
Share this article:
Did you like this article?
Check out MOTO GIFT GUIDE
in our Latest issue of Racer X available now.

Our annual gift guide has something (or maybe even a few somethings) for everyone on your holiday list. Page 146.