by
Aaron Hansel
Racer X Race Report: Seattle
Sunday, April 21, 2013 | 5:10 AM
Since 1968,
Thor
has maintained its position as a top motocross apparel brand. From trails, deserts, to the most famous racetracks in the world,
Thor
supports racing on the track and off with its sponsorship of race reports.
Tweet
When coupled with the unpredictable weather of Seattle, CenturyLink Field's open-air stadium is one of the biggest question marks of Monster Energy Supercross. When the rain falls, like it did today throughout the afternoon, the mud always threatens to shake things up and it often offers riders who are in desperate need of points late in the season the opportunity to gain some much needed ground. But the sword cuts both ways, and mud races have just as much potential to damage a rider's championship bid as they do to help it, which is something that Ryan Dungey and Eli Tomac came face to face with tonight.
When the gate dropped on the 450SX main, things went wrong almost instantly for three riders; Chad Reed, Josh Hill and Ryan Dungey all went down on the start. Hill and Dungey were able to get back in the race but Reed called it quits and walked back to the pits. Meanwhile, up front, Justin Barcia was leading Mike Alessi, Ryan Villopoto and Davi Millsaps. Villopoto and Millsaps got past Alessi relatively quickly and the crowd anxiously braced themselves for the upcoming battle that was sure to take place, as everyone in the building was expecting Villopoto to catch Barcia. But things didn't quite work out that way, as Barcia was riding on a different level than he's been at for the last few rounds. Villopoto was able to inch in several times when Barcia made a few mistakes, but Barcia would almost immediately stretch the lead back out. Behind them, Millsaps was laying down the race's fastest laps in the first stage of the race, and it looked like he was going to get in on the action. As the race progressed however, he started to lose time and he eventually lost touch with the leaders.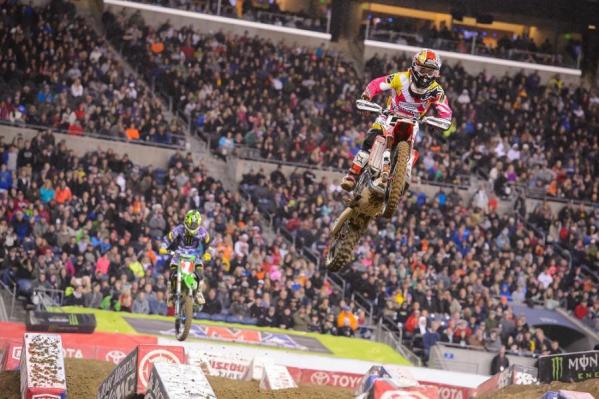 Barcia and Villopoto were roughly this close for most of the race.
Cudby Photo
Further back in the pack, Dungey was on the move and was making things happen in a hurry. Roughly a quarter of the way through the race he'd already worked his way up to sixth, which is especially impressive considering how one-lined tonight's track was in the main. Elsewhere there was a good battle developing between Andrew Short, Vince Friese, Jake Weimer and Justin Brayton. Weimer and Brayton would eventually break from the group, and for a moment it looked like Brayton was going to make it past Weimer and make a run at a top five finish, but he ended up crashing. Brayton was quick in his heat and the main tonight, and his result is not a good indicator of how well he was riding in Seattle. Trey Canard's result also doesn't tell the whole story. He had fourth all but locked down but he stalled in a corner and lost a few positions. Several laps later he stalled in the exact same spot and his bike started throwing out smoke when he got it re-fired. Shortly after that Canard pulled out.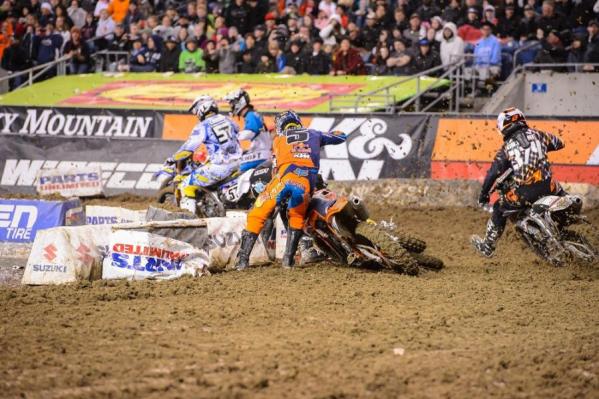 Dungey had his work cut out for him early.
Cudby Photo
With the race beginning to dwindle, Barcia had built up a comfortable gap over Villopoto, Millsaps was all alone in third and Dungey had charged all the way up to fourth after starting the race miles behind the pack. And that's where they would finish. Barcia, who after the race admitted that there were several instances in which he thought he was going down, took the second win of his rookie year. Millsaps gave up more points to Villopoto, but the good news for the Rockstar Energy Racing camp is that Millsaps took back second place in the points after losing it to Dungey last week in Minneapolis.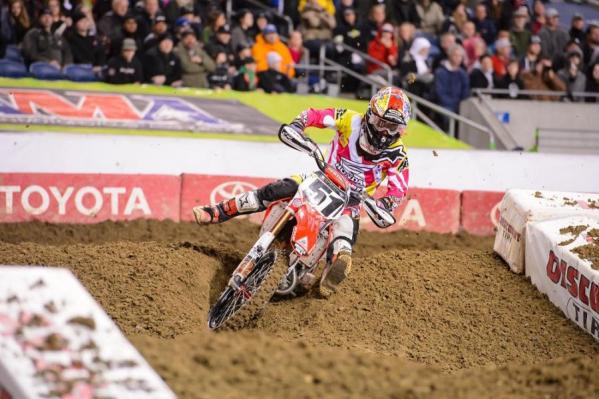 Despite a few sketchy situations, Barcia stayed on the gas.
Cudby Photo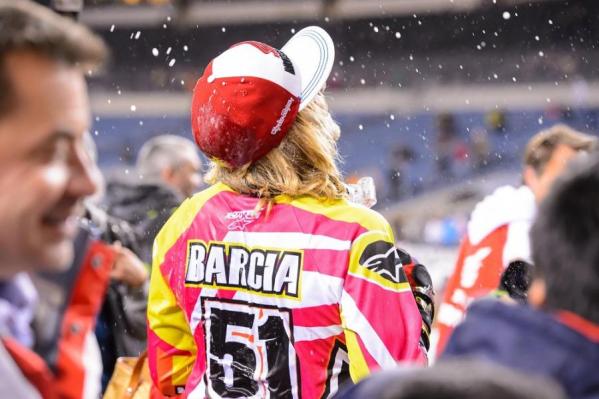 It paid off with his second win of the season.
Cudby Photo
When the 250SX main got under way things were looking good for Eli Tomac. Not only did the GEICO Honda rider nab the holeshot, an extremely rare feat, but Roczen was in fourth behind Christian Craig and Ryan Sipes, and wasn't in a position to challenge for the lead. By the time Roczen had worked his way into second place, Tomac had built a comfortable gap. Of course, no lead is safe, especially on a nasty technical track, and late in the race disaster struck for Tomac when he made a mistake in the whoops that turned into a mistake on the ensuing double jump that sent Tomac over the bars. He and Roczen were so far ahead of Zach Osborne in third place that he was able to remount in second, but his bike was mangled and Roczen was absolutely gone by then.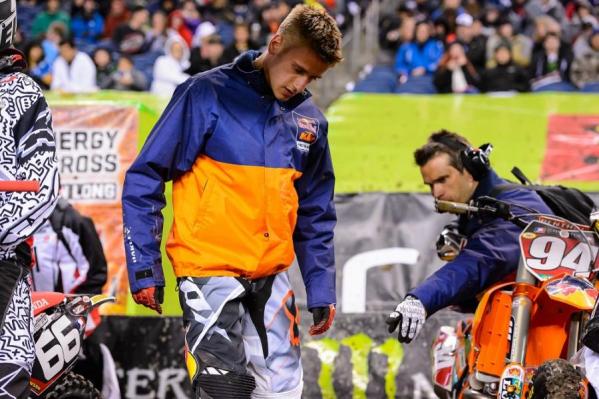 Despite a less than stellar gate pick, Roczen managed to pull out a decent fourth-place start.
Cudby Photo
One of the most impressive rides of the race came from Cole Seely, who got a bad start and charged from well outside the top ten. He started making moves early, and consistently turned faster laps than anyone else. He ended up in fourth, but had there been another lap in the race, there's a good chance he would have been on the podium, as he was all over Zach Osborne on the final lap. The pair was actually catching Tomac in second, but they ran out of time before getting close enough to make a move.
The battle for fifth was good too. Ryan Sipes, who at one point was running in third, was going at it with Martin Davalos and Tyla Rattray. It ended when Davalos and Sipes got together in corner. Neither crashed, but they held each other up and Rattray got away. Shortly thereafter Davalos went down, and Sipes developed a case of arm pump that caused him to fade to seventh by race's end.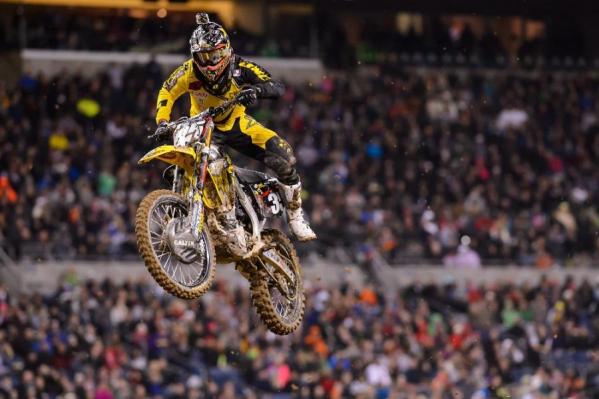 Sipes picked a tough race to make his comeback
Cudby Photo
The spectacular-crash-of-the-night award goes to Kyle Cunningham, who got squirrely in the whoops, went over the bars, smashed hard into the face of the next jump and slid into a deep mud puddle. It was an ugly one, but Cunningham deserves credit for pulling himself together and getting back in the fight. Nobody would have blamed him for packing it in after a crash like that.
As unhappy as Tomac probably is about throwing away the win, it really didn't change the championship situation much. Instead of being fourteen points back of Roczen, which is where he would be if he hadn't crashed, he's now twenty points out. With two races left, there's not an awful lot of difference between the two, especially since Roczen has yet to finish worse than second place this season.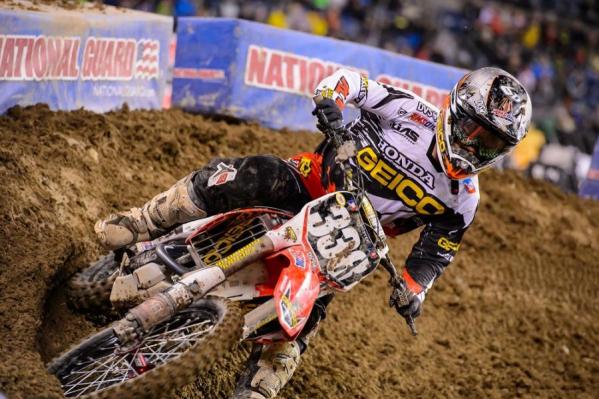 Zach Osborne finally got on the podium.
Cudby Photo
For an in-depth look at what happened tonight, be sure to check out our newest feature, Saturday Night Live.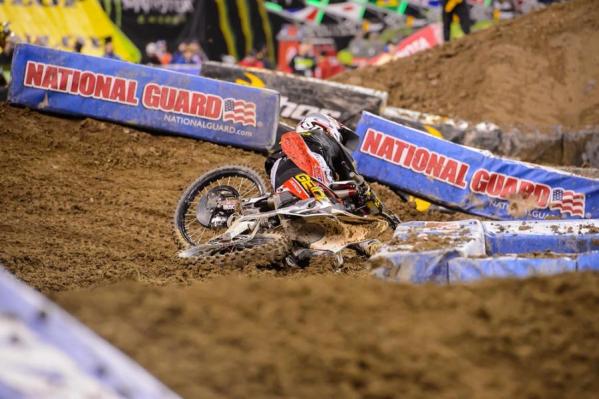 Cudby Photo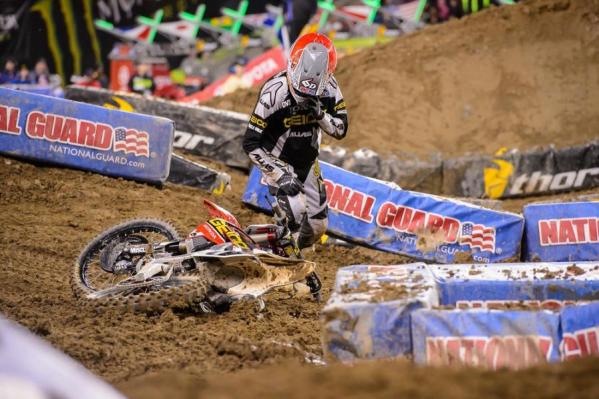 Cudby Photo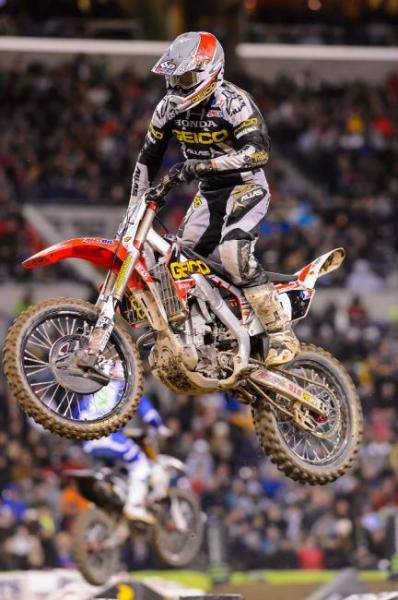 Tomac was forced to race the remainder of the race on a twisted machine.
Cudby Photo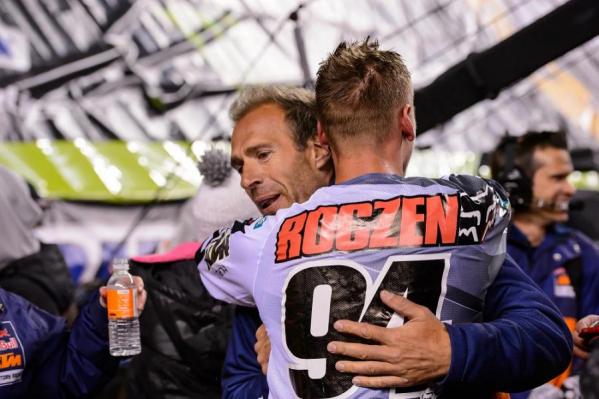 Cudby Photo
250SX Results
1. K. Roczen
2. E. Tomac
3. Z. Osborne
4. C. Seely
5. T. Rattray
6. A. Politelli
7. R. Sipes
8. J. Savatgy
9. M. Davalos
10. J. Anderson
11. M. Stewart
12. C. Craig
13. K. Rusk
14. J. Canada
15. T. Baker
16. S. Champion
17. T. Bright
18. K. Cunningham
19. B. Stewart
20. T. Ivey
450SX Results
1. J. Barcia
2. R. Villopoto
3. D. Millsaps
4. R. Dungey
5. J. Weimer
6. M. Alessi
7. B. Tickle
8. J. Brayton
9. A. Short
10. P. Nicoletti
11. V. Friese
12. J. Hill
13. B. Lamay
14. C. Blose
15. C. Gilmore
16. W. Peick
17. K. Partridge
18. T. Canard
19. M. Horban
20. C. Reed
250SX Points
1 94 Ken Roczen 163
2 1 Eli Tomac 143
3 43 Cole Seely 113
4 338 Zach Osborne 102
5 21 Jason Anderson 99
6 40 Martin Davalos 94
7 38 Kyle Cunningham 86
8 176 Joey Savatgy 75
9 28 Tyla Rattray 74
10 76 Austin Politelli 72
450SX Points
1 1 Ryan Villopoto Seattle, WA 321 163
2 18 David Millsaps Murrieta, CA 296 163
3 5 Ryan Dungey Belle Plaine, MN 295 163
4 51 Justin Barcia Pinetta, FL 245 
5 22 Chad Reed Dade City, FL 213 
6 41 Trey Canard Shawnee, OK 202
7 29 Andrew Short Smithville, TX 189 
8 7 James Stewart Haines City, FL 174 
9 10 Justin Brayton Cornelius, NC 162 
10 20 Broc Tickle Holly, MI 155
For a complete list of standings, please visit results.amasupercross.com
Share this article:
Did you like this article?
Check out 10,000 MILES FROM HOME
in our Latest issue of Racer X available now.

Australian Dean Ferris hopes to follow in the footsteps of some of his legendary countrymen. Now contesting the FIM Grand Prix series, he made a huge impression at the Motocross of Nations. Page 138.
Look for the verified symbol
The Conversation